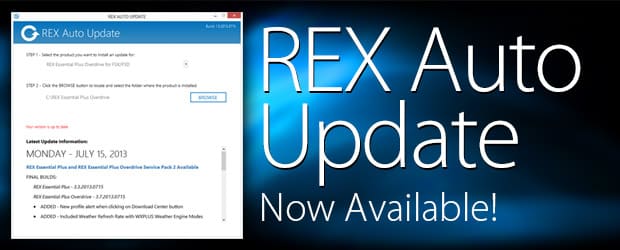 Users of the as massive as impressive REX Essential Plus (with Overdrive textures pack) for FSX and P3D are invited to download an auto-update program of their weather, environement textures and flight planning software.
So now it will be all automatic. Start by visiting this page, download and run the EXE file. Later, you will be informed that you are eligible for the Service Update 2. Detailed infos about setup and content of this Service Pack 2 can be found in their forum here.
Press Release copy :
"REX Auto Update Now Available!
REX Game Studios announces the release of REX Auto Update. REX Auto Update is a new utility that provides a seamless means to download and install the latest updates to ensure users have the latest features and improvements.
REX Auto Update can be freely downloaded here:
http://www.realenvironmentxtreme.com/auto.html
See what others are saying about REX Essential PLUS/OverDrive at:
http://www.realenvironmentxtreme.com/reviews.html
http://www.realenvironmentxtreme.com/testimonials.html"