London Heathrow Airport or Heathrow, ICAO: EGLL, is a major international airport serving London, England. The airport can trace its roots back to when it originally opened as a small airfield in 1929. It was located on land just south-east of the hamlet of Heathrow next to farms and orchards. This is how it got the name Heathrow. 1944 was the beginning of the expansion of Heathrow into a very big airfield. Work was started to make it into a airbase for long distance military aircraft going to the Far-East but before it could be completed the War ended. The government decided to carry on with the airport's expansion but as a civilian airport. At that time it was renamed London Airport but was later changed to Heathrow Airport.
It is the busiest airport in the United Kingdom and since 2012 has been the third busiest airport in the world in terms of total passenger traffic with over 70 million people using the facilities. It also handles more international passengers than any other airport in the world. Looking at Europe overall, it is the busiest airport for passenger traffic and the third busiest by traffic movements. The airport has two runways: 09L/27R @ 12,795ft and 09R/27L @ 12,008ft.
Installation
When you make your purchase at simMarket you get a link that allows you to download the full installer and retrieve the product key code from the UK2000 website. If you already have an account you simply log in but if this is your first purchase you will need to create an account which is also a very simple process.
Once you are logged into the site you will see the choices available for download, FS2004, FSX and P3D.
The installation process is pretty straight forward as most are nowadays but it is a two-step process. You run the installer executable file, enter your product keycode, choose and confirm the installation path. Before it adds the files there is an information screen that highlights some of the v3 features.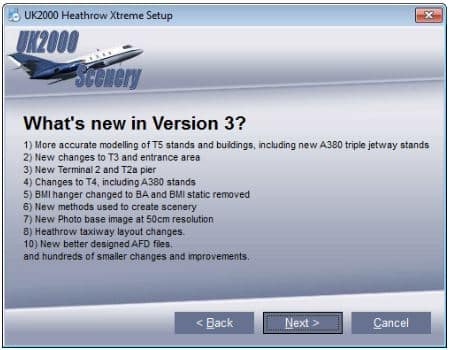 The final step of the first part of the process is to add the scenery to the FSX scenery library.
Configuration
The second part to the installation process takes you through several configuration screens; the choices you are asked to make are straight forward and you can always change your selections by going to "Options – Configuration" in the UK2000 – UK2000 Heathrow Xtreme FSX program group.
Documentation
With Heathrow Xtreme v3 you get a 13 page PDF manual that applies to both the FS2004 and FSX versions of the product. It can be accessed via an entry in the UK2000 Scenery – UK2000 Heathrow Xtreme FSX program group. The manual is packed with lots of good information that includes the usual basics such as general airport info, install and uninstall but there is so much more. They explain many of the scenery's features giving insight into how they work and how they may impact your experience. Also included are their recommendations for FSX display settings. All in all this manual is a worthwhile read and may save you some head scratching.
No charts are provided but they include a link to where they can be accessed.
Scenery
Ground textures
Hi resolution photo imagery is used throughout the entire scenery coverage area giving us the most detailed base possible. North of runway 27R/09L with the huge vehicle parking lots and the main core area where we find the cluster of terminal buildings and the maze of roadways are two areas that clearly show off the positive attributes with the many details that can be seen. There are several problems however with those same detailed images. One is when you view them at very low altitudes. If they haven't been supplemented with additional 3d objects  you're left looking at flat ground images. Another thing is that in a few areas like the one around the new terminal that show the ground in the midst of construction the buildings don't seem to fit in with what we see in the ground images. Luckily the positives outweigh the negatives and the results overall were still impressive.
A large area of Heathrow is made up of hard surfaces, more specifically aprons, taxiways and runways. The quality of the textures is excellent however for such as busy place the aprons looked a bit too pristine. I was expecting to see more signs of wear and tear, weathering and aging from the high volumes of aircraft traffic.
Heathrow has several tunnels allowing road traffic to pass under taxiways between various aprons plus there is an underground roadway from the main entrance going underneath runway 09L/27R to the central terminal complex. Unfortunately none of these are recreated in the scenery and were only visible in the ground imagery.
Buildings
This version of the airport scenery includes a number of real world airport upgrades including the newly constructed and soon to be opened terminal 2A building.
The general layout of the airport is as follows. Between runways 09L/27R and 09R/27L are terminals 1, 2A, 2B, 3, 5A, 5B and 5C, the control tower, fire station, a maintenance area with multiple hangars and north fuel farms. South of runway 09R/27L is where you find terminal 4, the south fuel farm  and the cargo terminals. North of runway 09L/27R are a number of smaller structures, the airport's entrance and several large parking lots.
Buildings are definitely a big part of the airport experience at Heathrow and being one of the busiest airports by passenger traffic the multiple terminals dominate the airport's landscape. The thing I found with this package was that when viewed from a distance the quality of the structures looked top notch. This was due in large part to their use of hi resolution imagery that clearly shows lots of details on the building surfaces. This was true throughout the entire airport.
As you got closer however certain aspects of the quality started to degrade. Details that looked 3 dimensional became simple flat images. Images clearly show features such as doorways, windows, light fixtures and differences in building materials and that's good but many walls lacked depth and there was very little in the way of additional 3d details that would have taken the visuals to the next level. Perhaps this was deliberately done to try and minimize the impact on performance?
They've captured obvious and major features of many of  the buildings like the scalloped roof of the new terminal 2A building and the sloped roof of terminal 5A.
Terminal piers were also very interesting as each one was different. For the most part they had multi-faceted walls with rather complex lines. This is also where you find the jet ways which in themselves are also complex with some having up to three extendable ramps. These piers were in my opinion the best modelled structures of the scenery.
Central core
The central core area where we find the main cluster of buildings is also the area with the most complexity. Terminals 2A, 2B, 1 and 3 along with the control tower and several large parking garages are closely  and intricately co-located here. To add to the crowding there is also a network of roadways and several elevated pedestrian walkways that go between some of these buildings.
In addition to my earlier comments another problem came to light. When two different structures were interconnected by a walkway as an example things didn't quite line up and it made for poor visuals. I saw this again near terminal 4. Here are several screenshots to show what I mean.
Terminal 4 is south of runway 09R/27L and gives us another example of where a structure interconnecting two buildings doesn't line up quite right. In this case it looks like a pedestrian walkway between the terminal and adjacent Hilton Hotel. The west facing part of the terminal with the jet ways was really well done.
Terminal 5 consists of several buildings; 5A, 5B and 5C. This terminal showcases some of the better work they did in recreating the airport's structures. The large sloped roof of terminal 5A, the large car park and of course the two satellite buildings 5B and 5C.
Located east of terminal 5C between taxiways D and E is the fire station and northern fuel farm.
The cargo area has several large warehouse type buildings, the south fuel farm with its storage tanks and then the tiny Royal suite situated next to taxiway W. The Royal Suite is a small structure sitting off of taxiway W. It has been given some extra attention such as colourful hedges, flags and a red carpet leading up to the building's entrance.
The maintenance area is centrally located just beyond the ends of runway 27L and 27R has a half dozen large hangars. Most of these buildings have the flat walls that are noticeable when viewed up close. There are details in the images but they haven't been recreated in the structures.
One building in the maintenance area that stood out was the large British Airways hangar. It has been depicted with its doors open affording us a view into its interior complete with maintenance stairs and pallets of freight.
Objects and Vehicles
This is definitely one airport that has a lot going on and they've gone to great lengths to make it appear that way. All of the objects and vehicles that they've added allow the sim pilot to become immersed in the various day to day operations. I was looking for variety, quantity, quality and placement and how they worked together to enhance the sense of realism. Overall I have to say that they did a very good job at making Heathrow look and feel realistic. Aircraft servicing and passenger and freight handling are among the most prevalent activities you find happening and each one of these can be imagined through the inclusion of both static objects/vehicles and also animated vehicular traffic. The aprons which is where the bulk of activities takes place were filled with the quantity and mix of vehicles/objects you'd expect to find in those areas. Being at ground level it really gave me the sense of being in amongst all the hustle and bustle of this very busy airport.
Of course, there is so much more that goes on at any airport for it to function properly; safety, security, airport maintenance, navigation and met being just some of the other ones that come to mind. All of these were supported as well by including the appropriate objects/vehicles. I won't get into naming all the different objects or vehicles I spotted as I explored the airport but will say that skulking around all the nooks and crannies I came across lots of variety and was impressed by what I saw.
One area where there was a distinct lack of vehicles was in the large parking lots and parking garages found throughout the airport. This was unlike their other recent releases where they were filled with vehicles. Although it would have been much more realistic at very low altitudes I can see why they might have decided not to add any. The alternative could have been to include them but give the user, via their config utility, an option to remove them if there was too great of an impact on performance.
One thing that I don't care for and they keep including, are the low resolution, one dimensional people that are scattered throughout the airport. They look like holdovers from FS2004 at best so why they keep using them is a mystery. I don't see any added value in having them and they only serve to bring down the quality of the product. Luckily there aren't many of them but they are still noticeable.
Animations
The scenery comes with a number of built in animations; custom vehicle traffic on the various roadways both within the airport and along its perimeter. Visual docking systems throughout the airport are also active and work quite well. Rotating radar dishes are also included.
Night
Flying in and out of Heathrow at night was lots of fun as it is a whole different environment. It is a very colourful place with all of the different types of lights; ground lighting, apron lighting, building lights and then all of the aircraft, it is a visual feast. Another thing to keep in mind is that the airport is almost as busy during the night as it is during the day so there was still lots of activity taking place. One area that I thought was especially good was their use of high quality imagery for the large glassed walls of the terminals. It allowed us to peer into the terminal's interiors, seeing the people milling about and waiting for their flights or doing whatever else people do while in a terminal. It was very realistic looking.
Ground lighting was another night time highlight. They intensity of the lighting wasn't overdone and it had the additional effect of illuminating the ground area around the base of each fixture. Again, overall the night time experience was very good.
Performance is always a concern with large busy airports. Nobody wants to fly their complex aircraft into a slide show. Heathrow is very busy and when you use a program such as UT2 that adds AI aircraft traffic you need to be aware that these aircraft can have a huge impact on performance, it's not always the airport scenery that is causing you to have issues. I flew with the recommended settings and chose to dial down the amount of AI aircraft traffic.  As with other large airports of this type I fly different approaches and departures using aircraft of varying complexities. There were no real surprises here as I found the combination of this airport with the PMDG 737NGX to be the hardest on frame rates. My experiences with the Airbus Extended and Majestic Dash 8 which aren't quite so system intensive provided very good results. You will ultimately need to decide what you want to sacrifice, if anything, in terms of visuals to boost performance should you have problems.
Final Thoughts
Heathrow is one of the busiest airports in the world and a destination that is likely to be on your radar if you fly large passenger or freight aircraft. Interacting with the scenery I got a sense of the intensity that you'd expect to find at an airport with such high volumes of aircraft traffic. Visually, I don't think it was up to the high standards of their previous products but if you must experience Heathrow in its latest configuration this is currently your best option.
My Ratings
Installer: Very good.
Documentation: Good.
Modelling: Good.
Extras: Configuration utility. Visual docking systems modelled.
Download Size: FSX 65Mb
Price: EUR 22.99 without VAT
Developer Homepage: http://www.uk2000scenery.com/
Link http://secure.simmarket.com/uk2000-scenery-heathrow-xtreme-v3.phtml
Test System:
Intel i7 960 OC @ 4.2 Ghz, 6 Gb RAM, Gigabyte GTX780 w3Gb video, Win 7 Ultimate 64, FSX w/acceleration, DX9, UT2, REX Overdrive, GEXn, UTX, AES, GSX, FSUIPC.
Richard Desjardins