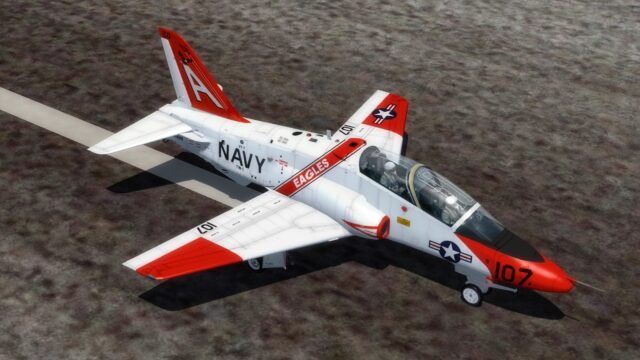 Over the weekend, Dino Cattaneo released what may be the final, version 2.70, update for his freeware FSX/P3D Boeing T-45C Goshawk naval training aircraft.
Over the years since the release of the Goshawk, it has seen many, many iterations and improvements and is one of the best pieces of freeware available for the sim platforms. According to a blog post on Saturday 20th September, however, Dino has announced that with other, newer, projects dominating his time, the little Goshawk is considered at its final version… Probably.
According to the blog post, which follows an earlier announcement, "Specifically, and tentatively, this is meant to be the last and final update to the project. Of course it is possible that I have made some mistakes and introduced new bugs… so there may be a fix if there are major mistakes."
With the S-3 Viking recently joining Dino's release list and a number of work in progress models, we think the entire hobby more than appreciates the work that Dino and others have put into their projects, including, but not limited to, the T-45C.
All Dino's releases can be downloaded vis his India India Alpha Foxtrot Echo blog, which can be found here.