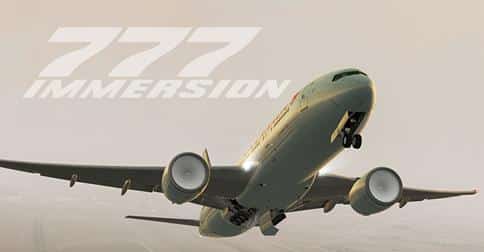 The developers of the 777 Immersion add-on, FSFX Packages, describe the new pack as being "the most advanced aircraft-specific effects package ever made" – a bold claim, but backed up by some good reviews of their previously released precipitFX title.
To read the full press release regarding this new add-on for the PMDG 777-200LR and -300ER, click "Read More".
FSFX Packages announces the release of 777 Immersion, the most advanced aircraft-specific effects package ever made! 777 Immersion offers a vast selection of effects found on the real 777 aircraft. FSFX Packages newest product will bring new and innovative condensation effects, impressive lighting effects  and other brilliant additions that have never been done for Flight Simulator X. 777 Immersion will bring your Flight Simming experience to new heights and add realism for both, Flight deck pilots and enthusiasts alike.
777 Immersion is now available at FSFX Packages website (http://fsfx.oldprop.com/en/777Immersion/)
777 Immersion is the second product signed FSFX Packages. The positive feedback  received for PrecipitFX represents a sign of quality, which is also present in 777 Immersion. PrecipitFX has ranked several times as the best selling effects package during the past months. 777 Immersion will be a must-have for all 777 pilots.
PrecipitFX users will benefit from a  discount upon purchase of 777 Immersion, exclusively available through the FSFX Packages  website.
FSFX Packages is committed to work their products up to First-class Flight Simulator add-ons. The team hereby works on several anticipated products for the Flight simulator community, which  will bring a very much needed realistic touch, signed FSFX Packages.
Immersion includes the following features:
• outstanding multi-stage engine condensation
• amazing multi-stage wing condensation
• 3D multi-­stage flaps' leading edge condensation
• 3D multi-­stage engine nacelle's lift vanes condensation
• 3D multi-­stage wingtip vortices
• realistic multi-­stage custom contrails which are regulated by weather variables
• special high altitude wing condensation
• remarkable water vortex from the ground into the engine
• great water and snow vortices at wingtips upon rotation
• volumetric logo light under fog, mist, and low visibility conditions
• volumetric landing and taxi lights under fog, mist, and low visibility conditions
• landing and taxi lights fade-­in and fade-­out
• volumetric runway turnoff and strobe lights under fog, mist, and low visibility conditions
• new touchdown effect
• new engine start-­up smoke under cold conditions
• brake dust effect when retracting the landing gear
• enhanced wheel effects under rain and snow conditions
• enhanced engine jet wash effects under rain and snow conditions
• impressive engine jet wash effects with reversers under rain and snow conditions