With the well known phrase that "history is written by the victors", we don't tend to mention anniversaries of military events here on simFlight… We'd rather not have the politics involved with them, thanks. However, there's a good reason to mention the events that started this week 75 years ago, because there are some pretty good simulations out there based on them.
With one line delivered in the House of Commons in the Summer of 1940, British Prime Minister Winston Churchill immortalised the upcoming period: "What General Weygand has called The Battle of France is over. The Battle of Britain is about to begin".
You can read the full text of Churchill's speech if you wish, at Wikipedia, and with the mentioning of those words, which you probably read in Churchill's sombre tones, most war film fans' brains will promptly launch into Goodwin's "Aces High", the main theme of the 1969 film.
However, that's not why we're here. We're here to talk period flight simulations, so instead of Aces High, which is a subscription-based general WW2 flight sim, we'll instead talk about Rowan's Battle of Britain, from 2000 (For more details, see old-games.com)
This much loved title not only gave you the opportunity to fly both sides of the conflict, but also put you firmly in the role of RAF Fighter Command's hierarchy, instructing Squadrons on how they should respond the threats, from where and in what numbers, being followed up by a pop-up message that allowed you to take over the intercept once combat was joined.
Rowan's sim was not the first sim to cover the battle, however. Microsoft's Combat Flight Simulator – the original one – featured a number of scenarios involving early war aircraft, plus the ability to add FS98 models at will, so there were innumerable online combats, user scenarios and missions taking place over Northern France, Southern England and the Channel in between. Its successor, CFS2, spawned even more BoB related add-ons, including, tangentally, a licensed recreation of the Royal Air Force's modern day Battle of Britain Memorial Flight from JustFlight, which it shared with FS2000 and FS2002.
Due to the sheer number of add-ons for the MSFS, X-Plane, FlightGear, etc. simulators, it simply isn't possible to cover them all, especially not in an overview article such as this, but I will come back to some of the current ones towards the end, Instead, I'll step forward to 2002, to Microsoft and JustFlight again, this time with a dedicated Battle of Britain campaign add-on pack to Microsoft Game Studios' Combat Flight Simulator 3.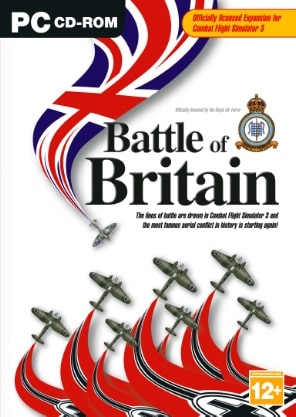 CFS3 was developed as a sim covering the invasion of Europe by the Allied forces in the summer of 1944, but JustFlight pre-dated that fighting by four years and backdated the Spitfires to Mk.IAs, the Mustangs to Hurricanes, Bf109Gs to Es and more. While the aerial combat was considered fairly good, the engine unfortunately did not really fit the British side of the campaign and most users discovered that, with only machine gun armed fighters at their disposal, ground and ship attack was impossible, thus rendering the campaign extremely difficult to win, regardless of how many successful intercepts the player completed. There were, however, lots of missions included, as well as bombers on the German side in the form of the Junkers Ju-87B Stuka and Heinkel He111, so options did exist that were less 'awkward' to complete.
Following CFS3, which proved difficult to develop for and the campaign mechanism disliked by many users, a company called Shockwave Productions, previously known for MSFS and CFS add-ons, entered the fray, developing a follow-up based on the massively popular Rowan title from a few years earlier, entitled Battle of Britain II: Wings of Victory.
Unfortunately the new launch was not without its difficulties. Promised documentation was not included by the publisher and the title was not particularly well received itself – it should be noted, though, that the problems were almost entirely due to the publisher. This can be proven very quickly by the fact that not only is BoB2 still used and supported, but also it is still being actively developed by a team hosted at the new name of Shockwave – a little bunch called A2A Simulations that most simmers will have heard of, these days. Following the closure of GMX Media, A2A now sell the sim themselves, through their online store, here.
As of today, version 2.12 of BoB2 is the latest, available via this link at the A2A forum. The volunteer development team is still very active on the forums, however, and at the time of writing, posts on the forum have been made within the last couple of hours.
Although Maddox Games released IL-2 Sturmovik in 2001, the original sim did not, nor did any of its follow-ons or add-ons up to IL-2:1946 in 2006, cover the Battle of Britain. The console release IL-2 Stumovik: Birds of Prey did briefly cover the Battle of Britain period at the start of its gameplay, but not in a very historical authentic way and quickly progressed beyond to cover other areas of the air war.
That wasn't the end of the story for IL-2, though, as owners of IL-2:1946 can get add-on packs such as those by WWII Expansions Simulators, available here at simMarket. Because of limitations of the host package, these aren't particularly realistic once more, but if IL-2 is your sim of choice then they are certainly an option.
The most recent entry into the Battle of Britain combat sim genre is another game that was really not at all well thought of when first released, again an IL-2 title, but using a completely different game engine – IL-2 Sturmovik: Cliffs of Dover.
Cliffs of Dover, often referred to as "CloD", was released incomplete, buggy and unstable, with many problems and hence extremely negative reviews throughout 2011, its year of release. Official patches removed many of the instabilities, but many users still weren't impressed by the content and a group got together that came to be known as Team Fusion, who developed a complete revamp of the simulator that is currently up to version 4.312, available here, from the TAAG forum. The team Fusion mod is now considered a "must have" for Cliffs of Dover users and has turned reviewers' opinions around dramatically.
This is far from an exhaustive list of options available for computer pilots wishing to fly in the
Battle of Britain era and remember events that started, as previously mentioned, 75 years ago this week. Honourable mentions should go to the various Hurricane, Spitfire, Messerschmitt and Stuka add-ons available, as well as lesser known types that still played a major part in events such as the Avro Anson, Bristol Blenheim,  Fieseler Storch, and Westland Lysander.
WW2 scenery, or scenery suitable for commemorating events, can be found courtesy of developers such as TeamSDB (the FCS Hurricane and Wellington packs contain TeamSDB sceneries), FS Addon (the Lysander pack and Normandy 1944 photoscenery), Airfield Construction Group, as well as my own sceneries for FSX.
Unfortunately, this article is not and could never be an exhaustive list of either sims that cover the Battle of Britain as part of their content, nor is it even close to an exhaustive list of add-ons for any sim that cover the period. Games such as War Thunder and Wings of Prey by Gaijin Entertainment both include historical battles from the era, for example.
While we enjoy flying the aircraft of the period and get an idea of events of that time, however, it's still worth taking a moment to remember those who didn't return from sorties, who were seriously injured or permanently scarred by the fighting, both in the air and on the ground. From whatever side or viewpoint, the sacrifice and loss of the world's largest and most deadly conflict should never be forgotten.