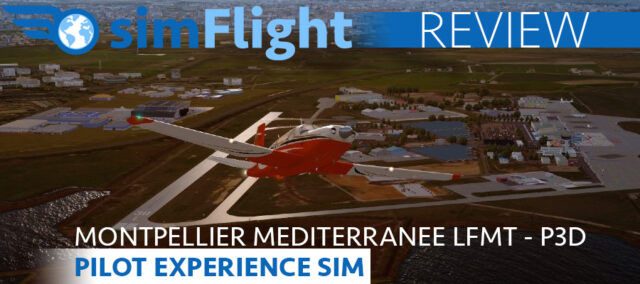 Foreword
Oh, how lucky we are by having these passionate and daring talents around, artists who unearth long-forgotten marvels from often completely ignored corners of the world for us to behold! Where our cherished hobby would be without them if they haven't the courage, that innate drive to challenge themselves, pushing the limits further with every release!
Proof to this digital evolution is Pilot Experience Sim's Montpellier-Mediterranée (LFMT), a medium-sized public aerodrome in the south of France, handling somewhat under 2 million passengers annually, a scenery one least expects yet greatly appreciates! This is exactly the kind of airport that makes our virtual world truly come to life, filling those gaps, lighting up the grey areas of the vast uncharted. There is so much more to explore than the endless hustle and bustle of a select few crowded megacities whose blinding lights seemingly cast a spell upon us and we utterly fail to notice the myriad of less-frequented sights in the shadow of the mainstream.
If only we knew about these paths untrodden, leading to and revealing points of interest unheard of, bringing fresh air, variety, and in turn, a great deal of satisfaction to the life of us curious armchair pilots!
Into the eye of the storm
Whenever I get to add a new destination to my ever-expanding flight sim realm, a well-tried and tested means of getting to know it is picking a suitable aircraft, taking off from a nearby strip, and flying there. It's like unboxing a parcel that has just been delivered; removing the outer packaging first and then slowly digging deeper down into the contents, all while holding the breath with excitement as the piece gradually reveals its secrets. On this occasion, however, I took the "unorthodox" approach and following a quick and easy installation, I spawned "in medias res" onto RWY 30R at Montpellier. Let the feast for the eyes begin!
Bienvenue à Montpellier!
Torrential rain greeted me – thanks to the historical weather provided by my favourite weather engine, HiFi's Active Sky – immediately causing my jaw to drop!
A moment of ultimate confusion when accidentally casting my eyes upon those cracks on the runway surface amidst all the puddles, featuring PBR of course, rendering a fascinating sight that can be mistaken to be real for the uninitiated wanderer! Panning around, vivid volumetric grass all around, a pleasure to rest my gaze upon, so full of life, each blade telling a story.
What a relief for a vegetation-nerd like myself, seeking Mother Nature in everything! Forget about cheap, plastic-looking pseudo-meadows: even your cattle would gladly approve these pastures of green! As meaningless this decor may seem, it can silently catapult a product to dizzying heights without the visitor noticing what exactly makes the difference. But it can also easily ruin one if not treated with due respect. Mind the garden around your house and it will fill your heart with love and joy each time you look out the window. Thankfully, Pilot Experience Sim recognized that the question of grass is not to be overlooked as it often covers a large part of airports, therefore it is crucial to get it right.
On the other hand, those who prefer not to take advantage of certain features can get rid of them by a click of a button in the excellent config tool.
Out with the cutting edge!
Outstanding is the quality of textures as well. Even when getting up close or zooming in, they pass the test, showing no signs of blurriness, no ugly artefacts under any lighting conditions. This is unquestionably a tough part of scenery development and when done right, it's half a success already. To be able to examine them further, I asked the gods of rain to stop pouring down – by shutting down Active Sky – so that I can observe how Montpellier looks on a lovely summer afternoon. It felt like suddenly teleporting to a whole new domain! As if the entire area moulted its murky shell, replacing it with the festive clothing of bright, vibrant colours.
These awe-inspiring moments are highlights of any flight sim enthusiast's career – especially of those who have been around for long enough – when one can't help but raise his glass recognizing how far our beloved hobby advanced.
Under the veil of night
The GSX Level 2 jetways work like a charm and require no messing around, their decals crisp clear which is another telltale sign of attention to detail. But the same can be observed throughout the entire area, every logo, text, placard, every banner looks sharp as a knife and effortlessly readable. No different is the vast array of static and dynamic vehicles.
Rather than scattering them all over the place, they are logically positioned to where they "naturally" belong, each having a life of their own, even if immobile. Fuel and fire trucks, helicopters, static aircraft, you name it; all nicely modelled and textured, they significantly contribute to the immersion, enhancing the environment with their sheer presence rather than causing distraction.
The night lighting of the aprons and buildings is stunning, I especially love the taxiway edge lights: their blue well captures that unspeakable atmosphere of night airports that enchanted me as a child and didn't let go ever since. Very inviting and inspiring indeed, miss no opportunity boarding post-sunset flights.
Attention to detail as a recipe for supremacy
Those with one or more layers of ORBX products are not to worry either: Montpellier's LOD 16 photo scenery is perfectly compatible with FTX Global/Vector/OpenLC EU, seamlessly blending into the surrounding landscape in all four seasons, something that I am also sensitive about. Nothing is more annoying than a rough transition between the featured area and the outside world but PESIM went far beyond the call of duty to ensure it is smooth, without any misaligned roads or messed up geographic particulars. The new terminal building was not forgotten about either, thus making the airport future-proof. No effort was spared, everything is set to blow away the mind of the pilot who decides to pay a visit to this Mediterranean city.
A touch of perfection
I have long been waiting for a decent representation of MPL and now it is here in all its glory. No matter where you are coming from and where you are about to go, from time to time you will be appreciating its hidden treasures as it presents you with something yet unrevealed, visit after visit. Pilot Experience Sim has done a truly magnificent job from top to bottom, inside-outside, a work of art that will hardly ever cease to amaze you.
For me, it was the prime example of love at first sight, considering the attention to detail and overall quality this scenery has to offer. It is also warmly welcome that slowly but steadily the once barren flight simulator map of France gets nicely populated. Whatever unique destination Kem and his team will deliver following their current flagship product, Bordeaux-Merignac (LFBD), will surely be worth checking out.
Wherever the wind may take you
I wholeheartedly recommend Montpellier to anyone considering expanding their area of operations with an extremely charming European airport. Be it general aviation, domestic or international flying, it has a plethora of movements to offer, from short regional hops to even intercontinental routes across the Mediterranean Sea to North Africa.
Everyone will find something motivating about it in a blink of an eye, from the novice student doing his very first circuits to the seasoned airliner captain dumping the next bunch of holidaymakers. Sunny southern France is waiting for you and there is no reason not to heed its call!
Conclusion
This review is based on the Prepar3D V4.5 version of the product.
Pros
– photo texture covering immediate surroundings
– accurate, precise modelling of the architectural features
– superb textures down to the smallest details such as rust on rooftops or cracks on concrete
– unparalleled night lighting that stirs emotions, inspires and captivates
– complete ORBX FTX compatibility
– easy-to-use and handy configurator tool
Cons
– could do with 3D animated people
– more volumetric grass, extending to less frequented ones would be beneficial
– certain features still do not work fully under Prepar3D V5 due to software limitation (subject to change as the platform is improved)
Computer specification
I7 6700K 4.6 GHz
16GB DDR4 Corsair Vengeance 2666 MHz RAM
MSI Geforce GTX 1070 8GB GDDR5
750GB SSD + 1TB HDD
by Zsolt