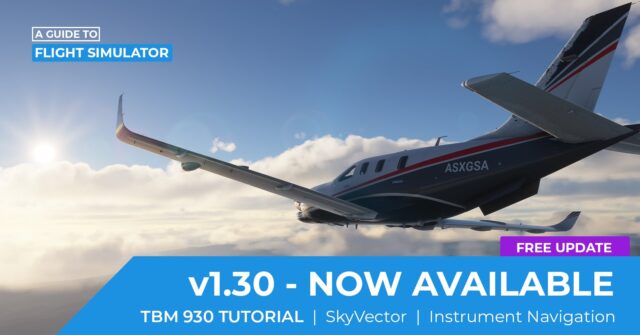 The Version 1.30 of A Guide to Flight Simulator focuses on an all-new tutorial for the fantastic TBM 930. This fast, dynamic and exciting aircraft packs a punch when flying thanks to its aerodynamic design. Because it features nice onboard equipment, retractable landing gear and also packs huge range and cruising altitude, we felt users of the guide would appreciate going beyond the smaller Cessna aircraft. The tutorial will take customers on a trip from Telluride Airport over to Aspen Airport, whilst navigating the dangerous terrain down below. Not only does the guide go over flying, but also how to program a VOR, use the onboard autopilot and also an introduction to using SkyVector to help with flight planning. This is really an extensive update!
Another key part of this update is the inclusion of linked page numbers. We had numerous pieces of feedback asking for this to be implemented and now we have. Thanks to all of those customers who have given us feedback so we can continue to improve the quality of the guide.
The update brings an additional 20 pages (total now 190).
V1.30 | Release Date: 16SEP2020
——————————
NEW – TBM 930 Tutorial [Part of TBM Tutorial]
NEW – Information on SkyVector Flight Planning [Part of TBM Tutorial]
NEW – Information on using VOR navigation [Part of TBM Tutorial]
ADDED – Page numbers now link directly to pages within the guide
FIX – Minor spelling error on In-Sim Menu Options on page 48
FIX – Minor spelling error on ATC communication options on page 49
FIX – Minor spelling errors on Airliner section on pages 68 and 69
FIX – Some page numbers were incorrect after guide updates; now fixed
You can read more details at our blog posts.