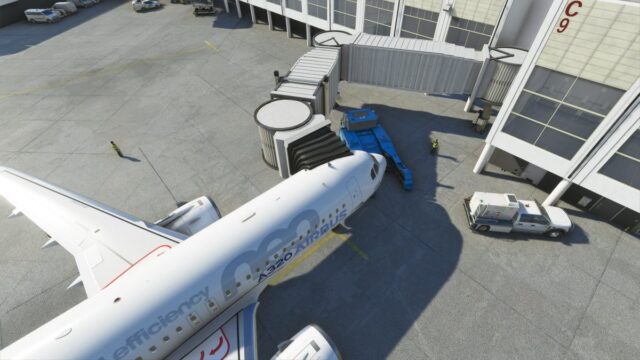 In the latest update from SoFly for their Guide to Flight Simulator, the version 1.50 adds a flight tutorial onboard the default Airbus A320 Neo, that will explain the procedures from start-up to the shut-down during the flight between San Francisco to Seattle Tacoma, including autoland and derated take-off features.
Download the updated guide from your simMarket account. Full changes list in v1.50 :
NEW – A320Neo Tutorial Flight
ADDED – Information on Microsoft Flight Simulator Build 1.9.3.0 [Japan Update]
CHANGED – Updated credits list in relation to upcoming language translations and other contributors.
FIX – Various minor spelling errors throughout the guide [Thanks to Brian B]
FIX – Corrected link to SkyVector
What's next at SoFly ?
Weather Preset Pro
Weather Preset Pro adds over 40 custom made presets that cover a wide range of weather types and scenarios. Many of the presets go beyond what can be achieved through the built-in system by adding even deeper snow layers, reduced visibility and increasing the amount of precipitation. This enables users to experience much more realistic storm scenarios, opens up the possibilities for sandstorms and also helps to reduce visibility for those CAT III approaches.
Weather Preset Pro is perfect for those who are looking to recreate breathtaking weather conditions anywhere in the world. Have a blizzard sweep across humid destinations or a Tropical Storm take place in the heart of London. All of the changes can be made on-the-fly from within the simulator without the need for an additional application.
Weather Preset Pro doesn't change or alter live weather and is aimed at those looking to have different weather types in their sim from a range we've included. Many of the presets included are custom-made beyond what is possible using the in-built sliders meaning conditions such as Sandstorms, Hurricanes and Tropical Storms are even more daunting and realistic.
More Information: https://sofly.io/weather-preset-pro/
Available soon at simMarket.com.
PRODUCT INFORMATION
Experience torrential tropical storms, harsh hurricanes and brutal blizzards all with the click of a button thanks to Weather Preset Pro. Weather Preset Pro goes beyond what is possible with the built-in tools to provide 40 brand-new weather presets to Microsoft Flight Simulator.
Weather Preset Pro is the perfect way to try out challenging conditions anywhere in the world. Land at difficult airports in zero visibility or test our your skills with gusty winds sweeping your aircraft from side-to-side. Content creators will be able to also quickly jump between stunning clear skies to towering storms for those incredible cinematic shots.
So whether you're looking to experience the crisp morning dew air or battle through terrifying sandstorms, Weather Preset Pro will enable you to let your imagination run wild.
Price: £4.99 / €5.49 / $6.95 / $8.99AUD