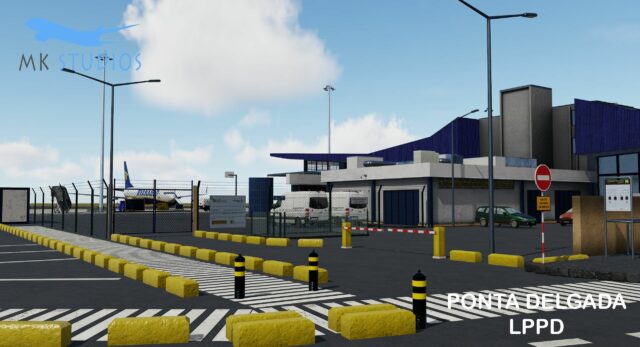 Now you can visit and enjoy the airport of Ponta Delgada P3D (LPPD) in the Azores archipelago with the level of details and the quality of MK Studios.
The remote islands of Portugal, in the middle of the Atlantic Ocean, receives their new scenery for P3D5, and P3D4.5 at simMarket, in its latest version available.
The developers group also published a statement on their projects, updates, progress status for MSFS and P3D, like Cork for MSFS and Rome Fiumicino for P3D.
Cork MSFS (Ireland)
We're doing some last work on the airport buildings and general airport layout. We'll move then to the commercial area behind the terminal and as soon as it's finished beta testing should begin. Porto P3D is progressing nicely. We faced a few problems related to P3D that had to be resolved in general as well as we worked out a way to keep things working between P3Dv4 – P3Dv5 and MSFS.
Helsinki P3D
– Removed crashboxes.
Ponta Delgada P3D
– P3D v4.5 version,
– Satellite color fix,
– Stand numbers fix.
Vagar P3D
– P3D v4.5 version,
– Satellite image fixes.
Rome P3D
General work on the scenery was put on hold as we wanted to fix things reported by you in the MSFS version first. All these changes will be included in the P3D version as well. We expect to release the MSFS fix next week and focus on the P3D version then. A confirmed release date will be published when we're close to beta.