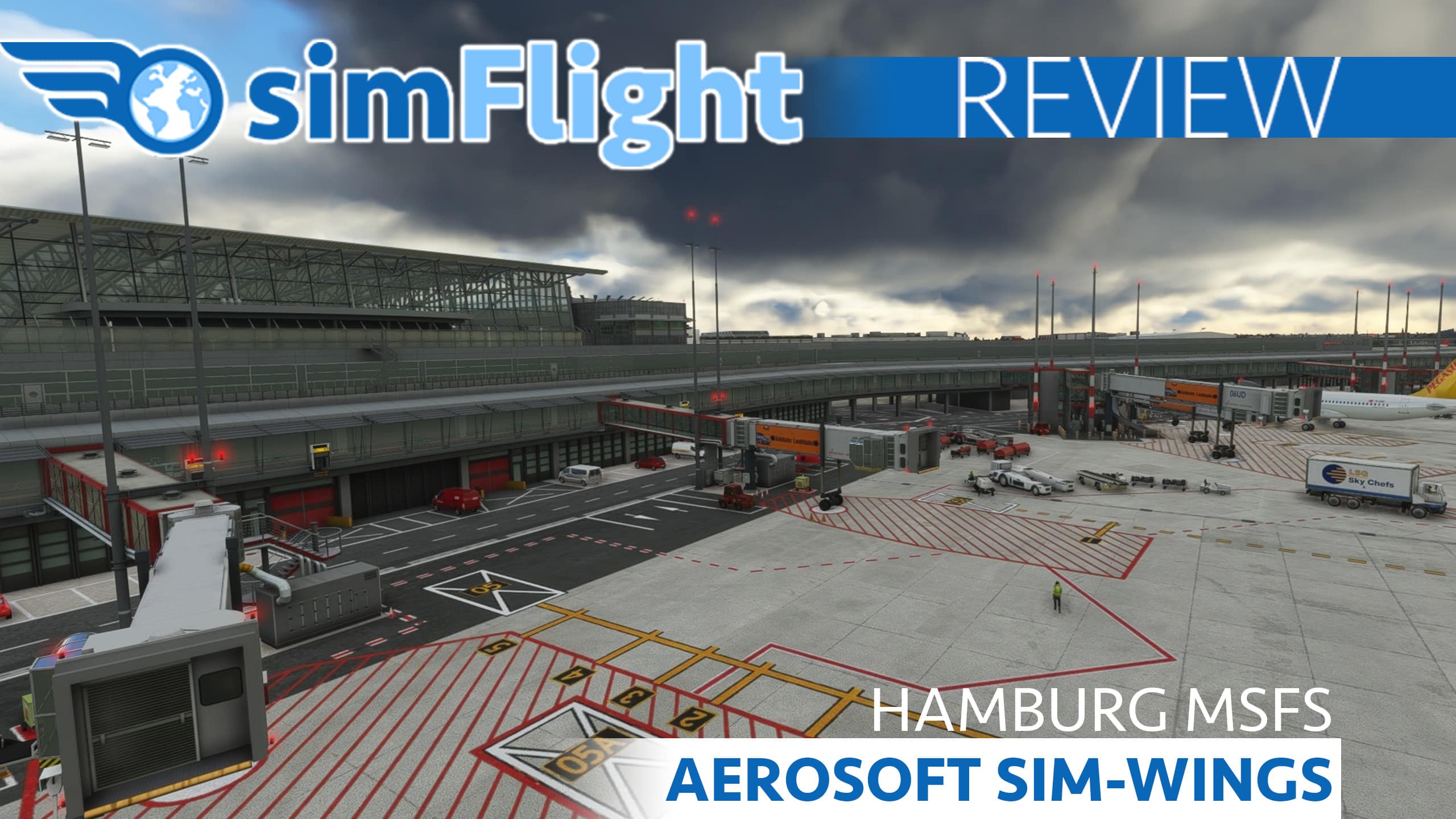 Introduction
In 2019, I had the wonderful opportunity to visit Germany and as an aviation enthusiast, departing from the Hamburg airport was a memorable experience for numerous reasons. This being the case, when Aerosoft/Sim-Wings released their rendition of this airport for Microsoft Flight Simulator, I couldn't resist the opportunity to see the level of detail packed into this scenery product. For anyone who isn't familiar with Sim-Wings, this company has been a scenery developer for many years, spanning numerous versions of Microsoft Flight Simulator and P3D. The name Sim-Wings has become synonymous with high quality, and many can attest to this from their most recent projects for the P3D platform. With MSFS opening the door for significant improvements in scenery design, the sky is the limit for what this developer will achieve going forward. Let's start our review by taking a closer look at the features of this airport as advertised.
Features:
Highly detailed scenery of Hamburg Airport and the immediate vicinity
Realistic 3D ground with elevated Lufthansa maintenance, lowered highway and half covered highway
Sloped runways according to aeronautical charts
Aerial photo for the airport and the surrounding area, elaborately color-corrected for a true color display
Detailed ground lines and stands
New "Interims Terminal" and new stands according to ground maps of the airport operator
Extremely detailed Hamburg airport buildings with interiors and all auxiliary buildings
Lufthansa maintenance area
Animated jetways
Many static apron vehicles
Realistic night time dynamic lighting
MSFS SDK materials (PBR)
The features listed above may seem minimal in comparison to the features typically listed on previous scenery products for FSX and P3D. My assumption is that the MSFS platform offers such a superior "blank canvas" to scenery developers, that they can now direct their time and efforts to creating an immersive airport environment. Here is a preview video which also showcases the features of this scenery product.
LANDSIDE AND TERMINAL DESIGN
Hamburg airport has a rich history and it has seen numerous improvements since accepting its first flight many decades ago. As we look at the layout of the terminal buildings, the ramp, and the runways, recreating this airport in all its glory may easily pose a challenge to any developer due to the level of detail required. For example, as we look closer at this airport, we can see that the developer did an outstanding job of recreating the architectural details found throughout the exterior and some interior portions of the main terminal building.
Additionally, while some developers tend to focus their attention to the airside of an airport, we can see that an admirable level of detail was also applied to the landside areas of the airport. These details included parking facilities, complexed roadways and other buildings which nicely blend into the surrounding default scenery. Here are a few screenshots which nicely captures the stunning level of detail found throughout this airport.
From the screenshots featured thus far, I'm sure you would agree that the developer went above and beyond to create an authentic airport environment. To complement the detailed design, the level of detail found in the textures were equally impressive. While one may argue that having detailed textures throughout the interior of the main terminal is unnecessary, I certainly appreciate that the developer sought to maintain a high standard even in areas that may remain unseen by the average user. This level of detail allows adventurous users and content creators to explore the airport environment in a manner which was previously not possible.
AIRSIDE DESIGN
Moving to the ramp, taxiways, runways, and other airside features, we see a high level of detail throughout the airside with the addition of static vehicles, accurate ground markings, signs and stands which correspond to current airport charts. An interesting feature on the airside of this airport is the Lufthansa maintenance facility. While the buildings were accurately designed, the most impressive aspect of this feature was the elevated terrain on which it is located. This highlights a most welcomed feature of MSFS which allows developers to accurately depict the slope and elevation of any area of an airport. This is also seen extensively on the taxiways and the runways, which adds a high level of immersion to the user experience.
When flying at night, the airside of the terminal comes to life with a realistic implementation of dynamic lighting throughout the airport. If you've been an avid flight simulator enthusiast for more than 20 years, I think you will agree that the nighttime environment of airports has historically been unrealistic and bland to say the least. While this significantly improved with P3D, I can honestly say that MSFS has taken the nighttime experience to another level with light sources having a realistic lighting effect on surrounding objects. With the implementing accurate dynamic lighting, the airport environment blends perfectly with the stunning nighttime environment of MSFS, and I think many users will enjoy this feature.
For those who enjoy winter operations, the airport takes on a completely different look with the ground textures being covered by snow. Personally, I've found that in some cases the winter environment may seem a bit unrealistic as far as snow cover is concerned, however, I think the developers did a satisfactory job at implementing the most realistic appearance for the ramps, taxiways, and runways during winter. Here are a few screenshots showcasing various airside features, along with the nighttime and winter environment.
Before we conclude this review, I thought it would be worth mentioning that while MSFS offers a default ground service feature, users of 3rd party products such as GSX Pro (seen in this review) will be happy to know it works well with this scenery product. Additionally, for those who utilize AI Traffic programs, I was quite pleased with the results of using both AIG and FSLTL, which had little to no impact on my overall performance. The level of detail found throughout this airport certainly brought back many fond memories of visiting the real airport, and it creates a level of immersion that few developers can emulate. Ultimately, I think this product is an outstanding addition to MSFS and whether you enjoy flying short, medium, or long-haul flights, I would highly recommend this airport as your next virtual destination!
Pro
Con
– Highly detailed buildings.
– Extensive use of PBR
– Accurate ground markings, stands and terrain layout
– Detailed landside features
– Interior model for the main terminal
– Impressive use of dynamic lighting
– Little to no impact on performance when using GSX Pro or AI Traffic Programs.
None that I can think of.
Purchase
Test System
Simmarket
Developer: Aerosoft/Sim-Wings
Price: EUR 16.77 Special Upgrade price for owners of the P3D 4.5-5 version: EUR 10.90
Ryzen 5 3600 3.6GHz
GTX 1660 Super 6GB
500GB & 1TB SSD
16GB DDR4 3000MHz
Windows 10×64,