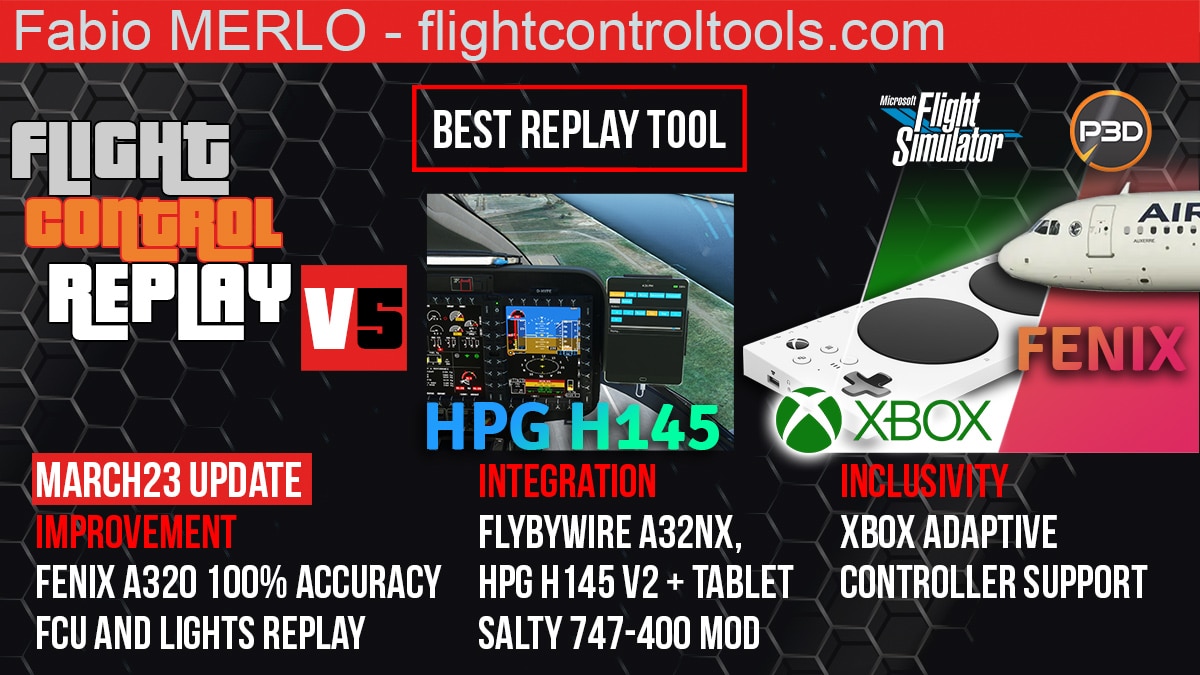 FlightControlReplay version 5 for Microsoft Flight Simulator and Prepar3D 5.x is a complete tool to handle an easy and efficient Replay, to record MP4 videos, with capability of creating enhanced flightsim content with advanced and innovative features.
FENIX A320 ENHANCED SUPPORT and NEW : FBW A32NX + SALTY 747-400 SUPPORT
The new March23 Update expands again the list of supported advanced airliner add-ons with the addition of both the FlyByWire Simulations freeware A32NX, and Salty 747-400 freeware Mod in MSFS.
Refined improvements for Fenix A320, also in MSFS with 100% accuracy of spoilers, flaps, and gear animations). I also added support of all FCU, lights, APU video Recording and Replay.
HPG H145 V2 INTEGRATION OF FCR INTERFACE IN THE COCKPIT TABLET
About aircraft integration, we start to support the popular HPG H145 helicopter, from Version 2 Build 399.
The initial support includes the reproduction of cyclic pedals, and collective control of the H145.
In the future, there will be a complete integration of FlightControlReplay V5 with HPG products for full animations support during Replay and Video recording. Note that Live Ghost is not supported yet.
XBOX ADAPTIVE CONTROLLER SUPPORT
This device allows players with reduced mobility to play and control their video games. By adding customized buttons and joysticks, such people can enjoy their hobby with accurate control. For example, you can manage MSFS and FlightControlReplay V5 !
If you configure Slider move Forward or Slider move Backward feature with either Xbox Adaptive Controller, or another standard joystick, and if you keep pressed the button on the device, the slider will now move fast forward or fast backward.
NEW OPTIONS REPLAY IMPROVEMENT
Based upon users feedback, I'm also happy to introduce 2 new features in FlightControlReplay V5:
1. AUTORECORD you can activate a new option that makes the Record to start automatically whenever you start a new flight. And the recording sessions also automatically ends when you return to the main menu of Flight Simulator.
2. and a second handy feature is to set Pause to the recording at the same time when you set a pause in Flight Simulator. This way, you can still check something aside during the Live flight, and you always end with a smooth Recording session in the end without noticing that you had to use Pause.
DISABILITY PROGRAM
I've been already in touch with Flylillo group to create the first virtual cockpit emulation for XBOX Adaptive Controller. The device of Microsoft will be combined with the HUB software manager Logitech G to help disabled persons for a better experience in flight simming hobby.
That's a separate and new project, out of FCR scope, but we are trying to find money (with Microsoft and an Italian bank) to fund this inclusive project.
Microsoft officially supports this action, and recently communicated about it with one of their public post about Community Spotlight: Lillo and Roberto – Microsoft Flight Simulator
"Accessibility is one of the core values at Microsoft", read more about it here : https://www.flightsimulator.com/community-spotlight-lillo-and-roberto/
CONSOLIDATED LIST OF MSFS AIRCRAFT ADD-ONS WITH CUSTOM SUPPORT BY FLIGHTCONTROLREPLAY V5
PMDG 737
Fenix A320
Fly The Maddog MD-82 plus MD-83/88 expansion
iniBuilds A310
Just Flight 146 Professional
Aerosoft CRJ
Asobo Cabri G2
Asobo Bell 407
FlyByWire A32NX Freeware A320neo
Salty 747-400 Freeware Mod
HypePerformanceGroup H145 (from v2.0 build 399) : partial support, including cyclic pedals and collective. Live Ghost feature not supported yet.
OWNERS OF OLDER FCR4.5 ? UPGRADE TO FCR5 FOR A REDUCED PRICE !
Ensure to get the latest Replay refinements, performance, and the widest selection of airliner add-ons compatibility : Upgrade your current version 4.5 if your are still using it for MSFS or P3D5.
For more accuracy, a better look, get today the new version 5 and take advantage of the reduced price specially set for you, only EUR 8,25 (+tax).
MAIN EXISTING FEATURES V5
• New User Interface (MSFS + P3D)
• Customizable Size and Transparency (MSFS + P3D)
• MSFS Toolbar integration and in-game controls (MSFS only)
• Cinematic Replay with Automatic Cameras Switch (MSFS only)
• GhostPlane : formation flying live with AI duet pilot (MSFS + P3D)
• Next gen memory management for performance upgrade (MSFS + P3D)
• Landing Touchdown Report (MSFS + P3D)
• Crash-to-desktop recovery
• Easy setup of the software
• MSFS users : all included in 1 automatic setup
• P3D users : the same 1 automatic setup and 2 Microsoft separate packages are required
• FREE download of the User Manual PDF
How to update ?
Log in your customer account at simMarket, and download the new build ! This is a full and updated installer.
New customer and curious ?
I invite you to watch my Official Trailers in 4K !
Or download for free the complete User Manual PDF.