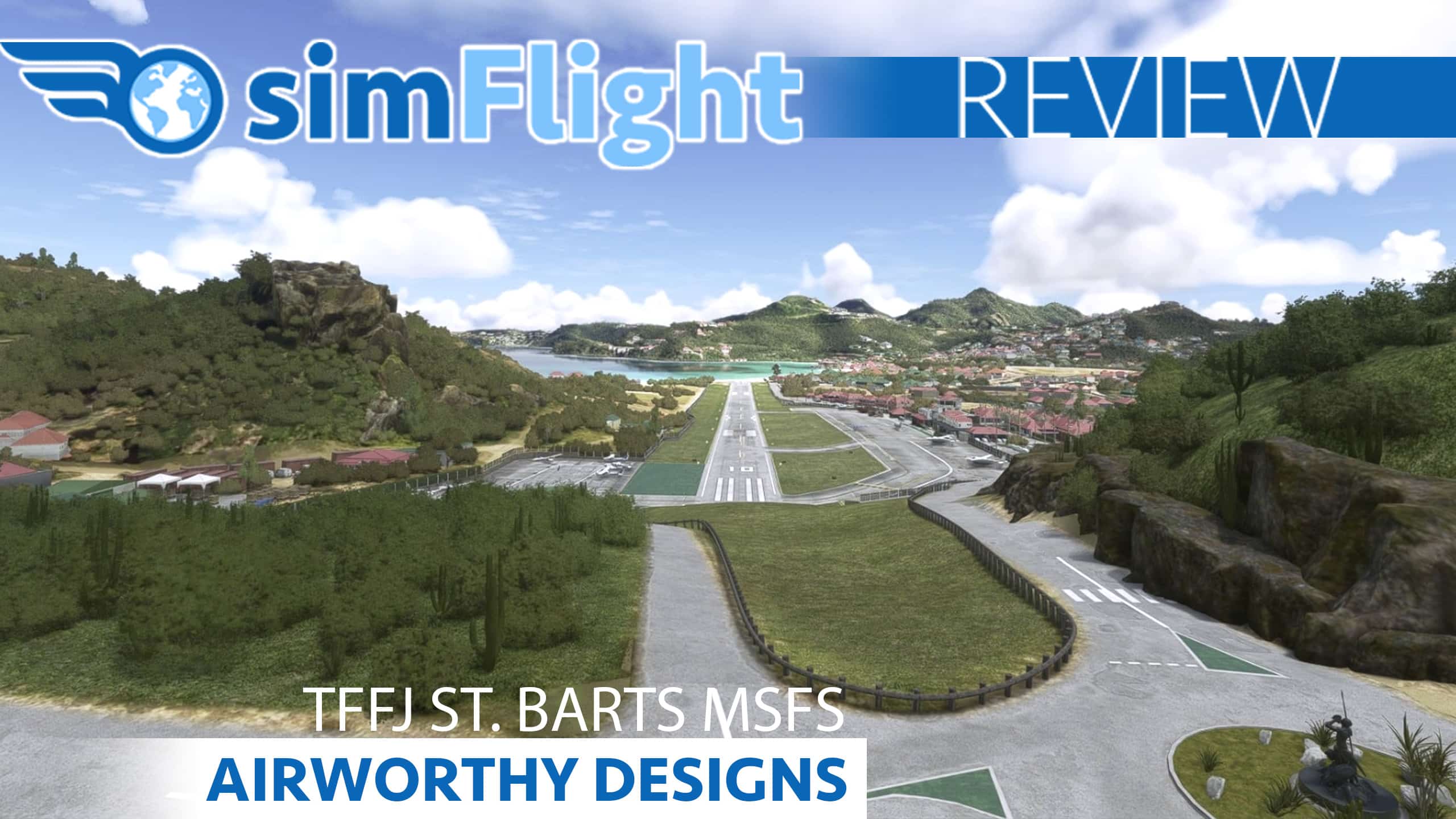 Review by Rick Desjardins
Introduction
Gustaf III Airport, ICAO: TFFJ, also commonly known as Saint Barthélemy Airport, is a public use airport located in the village of St. Jean on the Caribbean island of Saint Barthélemy. The airport has a single 2,119 ft concrete runway 10/28.
The airport was ranked by The History Channel documentary Most Extreme Airports as the third most dangerous airport in the world behind Toncontin International Airport and Lukla Airport due to its very short runway, very close proximity to automotive traffic on a nearby road, and the requirement for a license to land at the airport.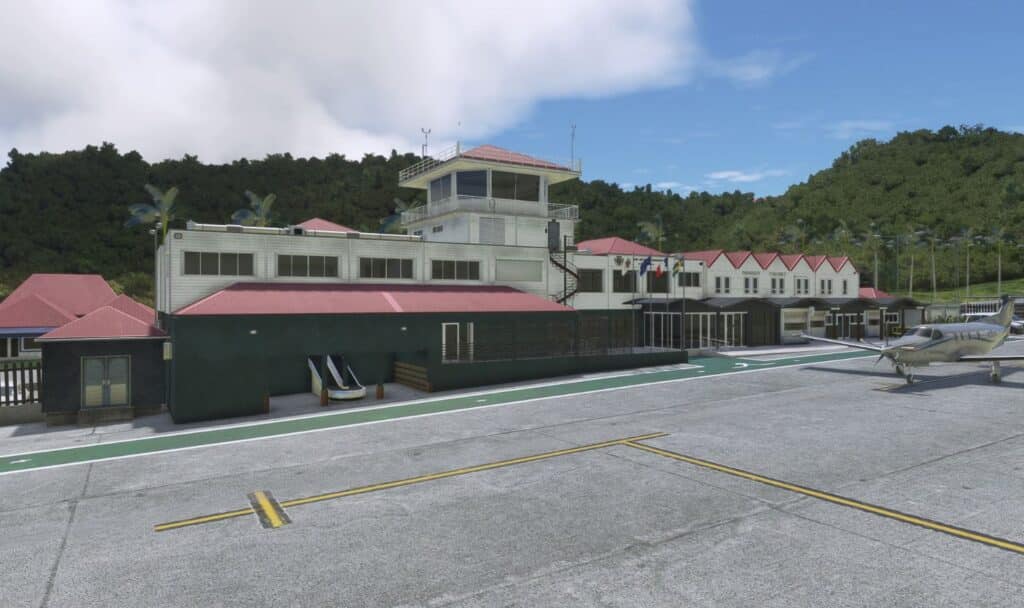 What initially drew me to the scenery was my love of the Caribbean and also the fact that the scenery addon was more than just an airport it also included a detailed rendition of the entire island. I like this because it allows the airport to seamlessly integrate with the surrounding landmass.
Installation
After purchasing the product it is downloaded and installed via the SimMarket app which a very simple process. The download is a modest 168Mbs and once it is installed it takes up approx 468 Mbs.
SCENERY VISUALS
The Airport
This is a simple airport; it consists of a single runway with the main terminal building that also houses the airport's control tower. In front of the terminal is the main apron with a general aviation area on the other side of runway 10. This area also has several small hangars and misc buildings. The airport has a sloped runway with one end having an elevation of 4' and the other end 48'. This has been modelled and is quite convincing, presenting a challenge you will clearly encounter when attempting to land here.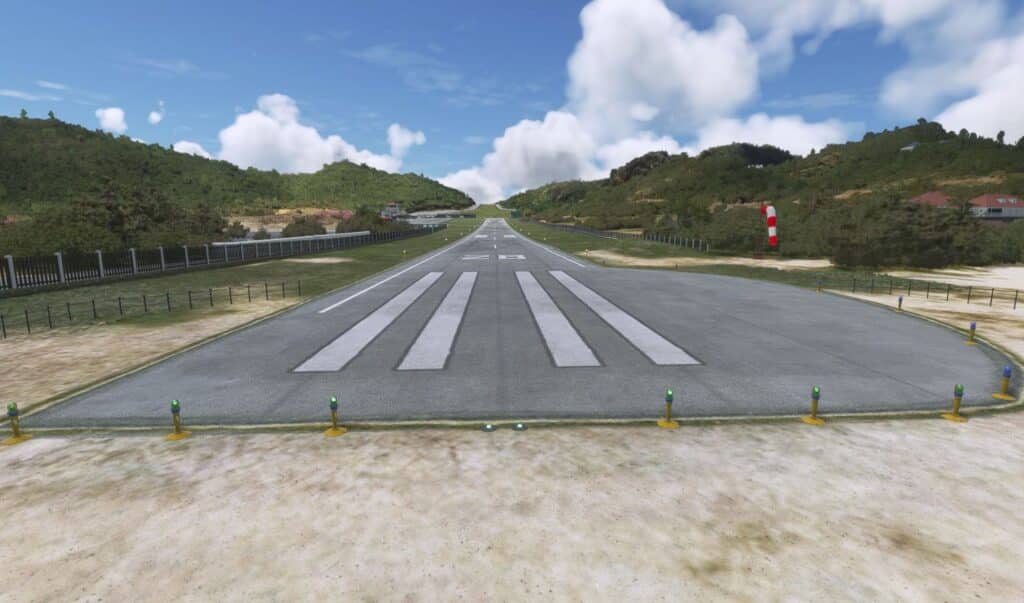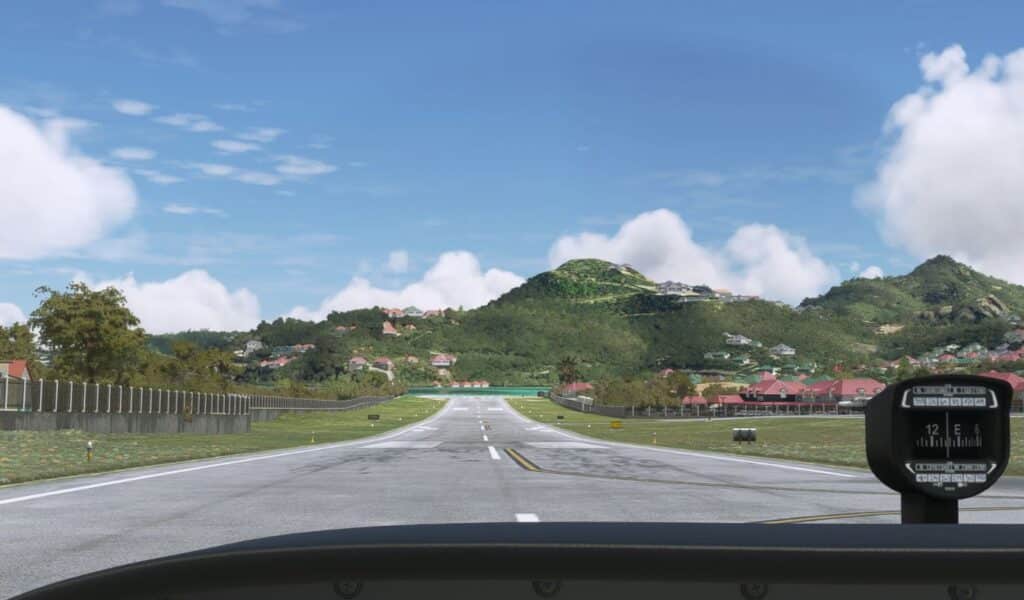 All of the airport's structures have been nicely recreated inside and out so we get to appreciate what it would be like for those who pass through the airport and its facilities. Some of the techniques used by the developer are; high resolution textures, colours, details, weathering, differences in building materials, etc. These same qualities were also used for the various other objects located at the airport; objects such as lighting and signage. As I stated earlier this is a small simple airport but they have made it interesting and immersive. Various animations such as wind socks and flags are included. Vehicle traffic is also seen in and around the airport.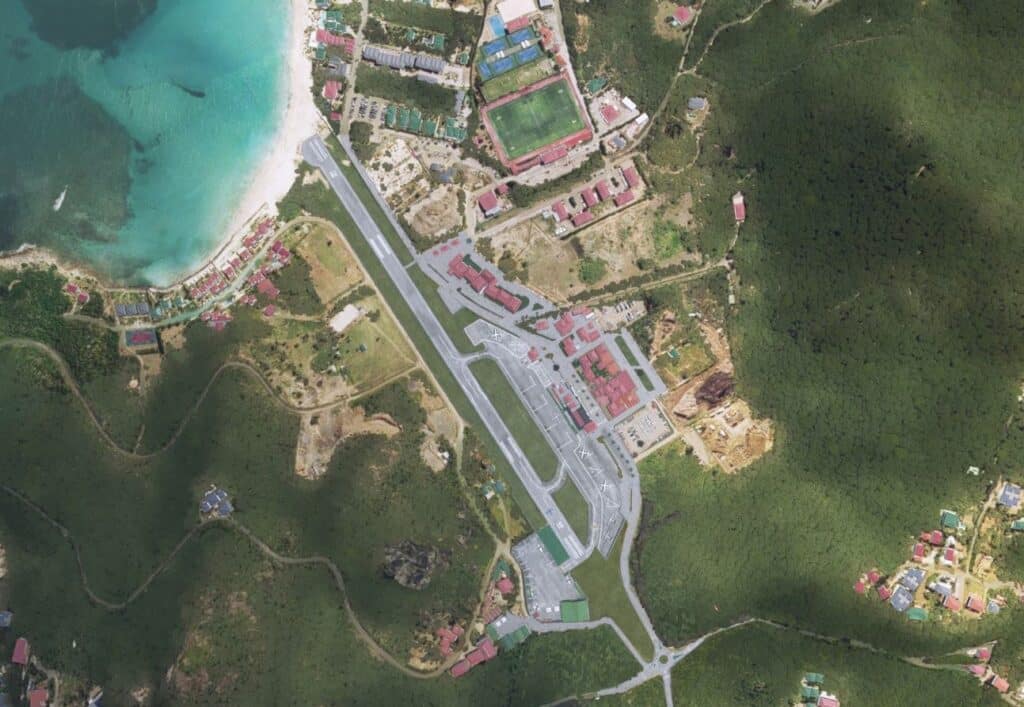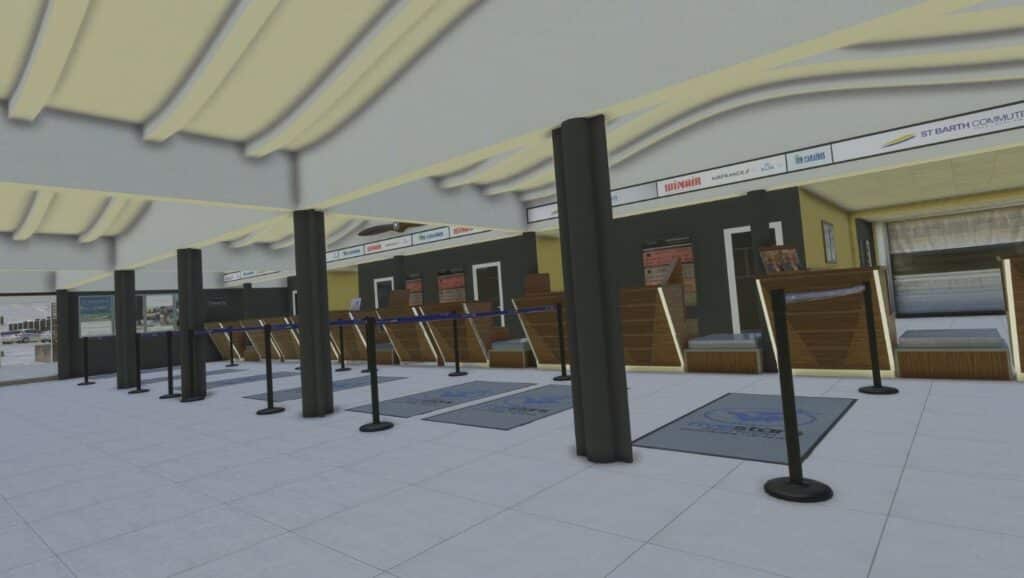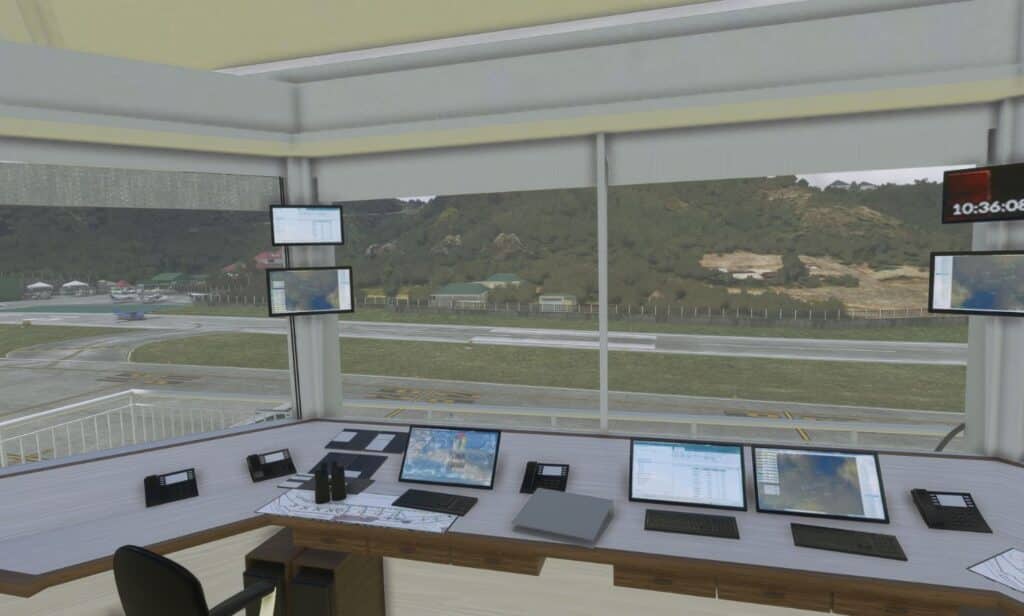 The Island
In addition to the detailed airport of Gustaf III the package includes a very detailed reproduction of the complete island of Saint Barthélemy. The landscapes and shorelines were gorgeous. I can see why the rich and famous flock to this island. The topography of the rolling hills, trees and vegetation, rocky cliffs and beaches are all rendered in high definition. The majority of the structures are low residential type units with some larger buildings for hotels and resorts.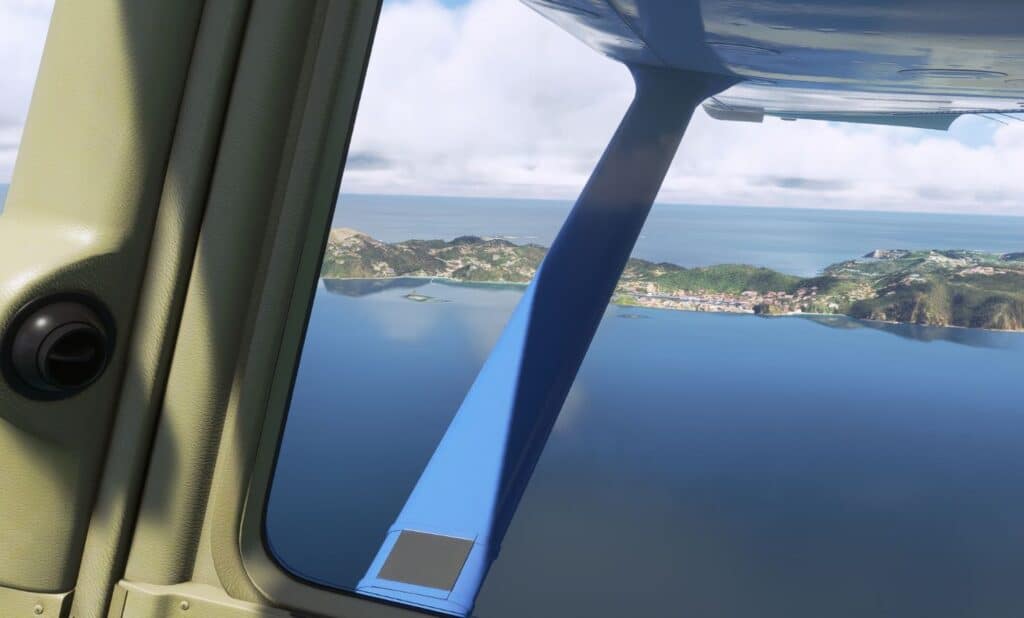 Near the airport on the west side of the island is the town of Gustavia which is the capital and the main town of Saint Barthélemy. They've captured its essence by including the commercial port, industrial and residential areas and marina.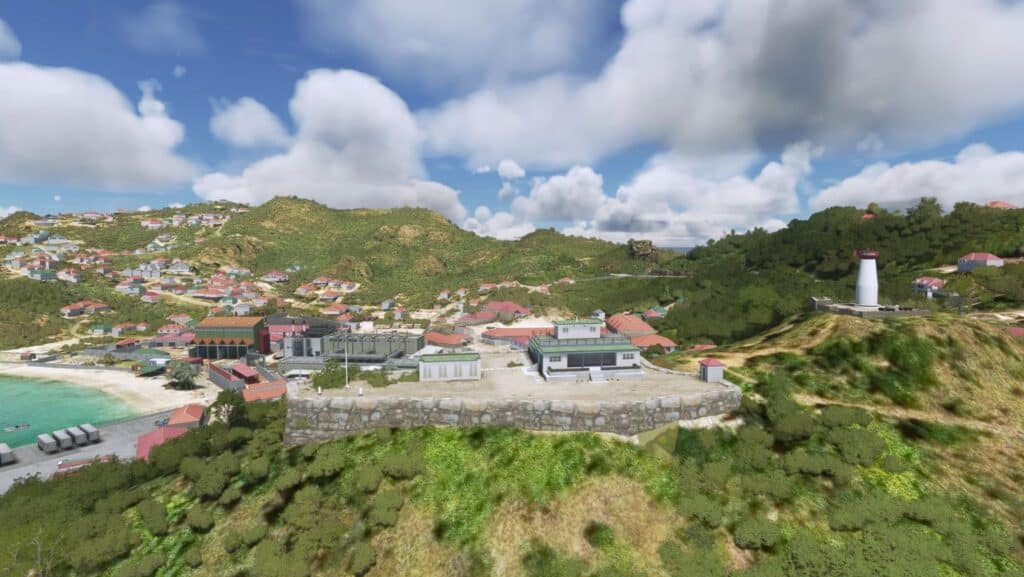 For those of you who follow the lives of the rich and famous Eden Rock which is ranked in the top 100 hotels in the world is included and is clearly visible as you make your approach to runway 28.
Night
Night time operations at the airport are extremely limited. Take offs are restricted to Medevac flights only and landings are prohibited. These restrictions are clearly indicated on airport charts. I did however fly around the island at night and did explore the airport to see how it looked all lit up. I feel that they did a very good job. At the airport ground lighting, signage, apron lighting were all rendered nicely making it feel quite realistic.
Airport Challenge
I must confess that when I took on the review of this package I had no idea that TFFJ was considered to be such a dangerous airport. With a few landing attempts under my belt it quickly became apparent that I would be in need of some practice to be able to land successfully. With only one runway each approach presents its own unique set of obstacles and circumstances that must be dealt with. To get a handle on how to best tackle them I watched several YouTube videos to see how real pilots tackled the obstacles presented. When at first you don't succeed try and try and keep trying. It clearly became evident that in order to pull off a good landing consistently it would take practice. No automated or assisted landings here. But that was a big part of the fun of this airport, the challenge it presented.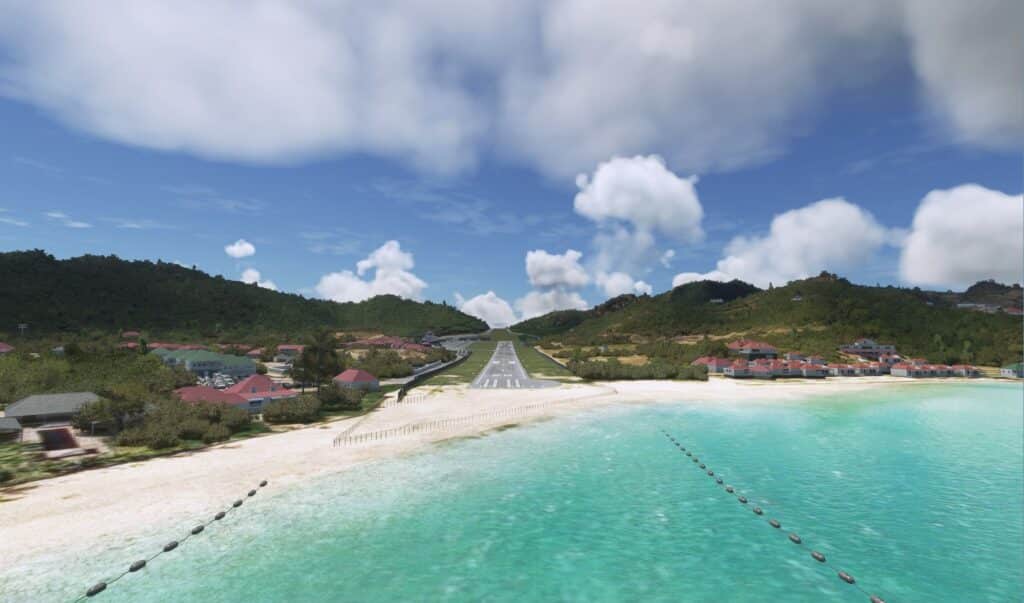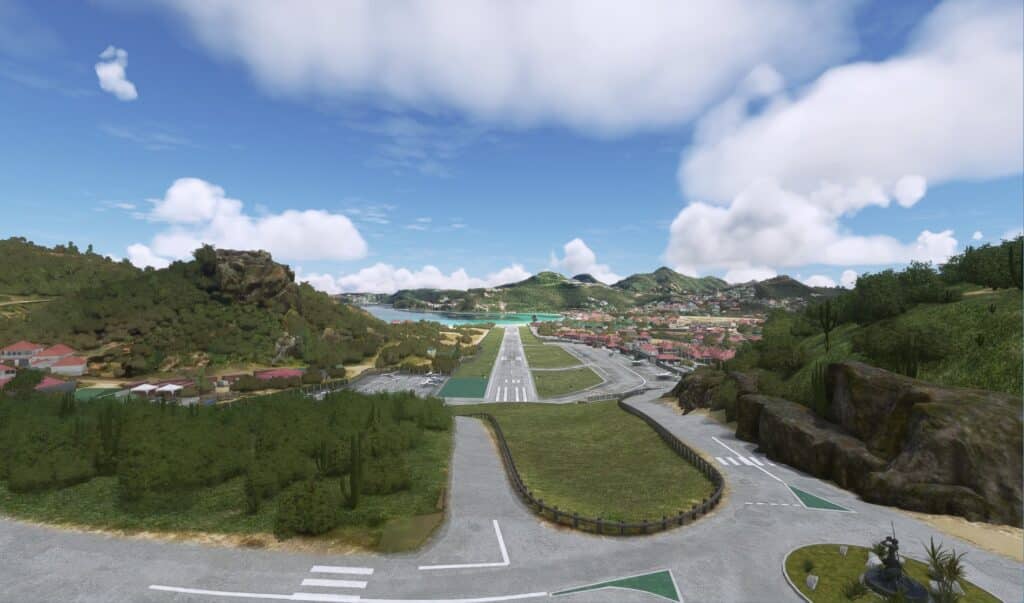 Performance
Performance was not an issue. Even with all of the details I never saw any degradation of performance. I believe that if you have a system that will run MSFS you will be able to run this scenery and be very happy with how it performs.
Final Thoughts
I thoroughly enjoyed all aspects of this scenery and highly recommend it. Whether you are someone who wants to enjoy a very beautiful part of the world or someone who is looking for a challenge of their GA piloting skills I think you will be very happy with this scenery package.
Review by Rick Desjardins
Pros
Cons
➢ Airport approaches test your skills as a pilot
➢ Lots of details
➢ Highly Immersive
➢ Very good performance
➢ Well priced
➢ Honestly, I really can't think of any
Purchase
Test System
simMarket.com
Developer: AirWorthy Designs
Price: EUR 18.50
Ryzen 5 5600X,
ASUS TUF X570-Plus MB,
1 TB NVMe SSD,
32Gb DDR4 RAM,
ASUS RTX 3060 OC w/12Gb VRAM,
Win 11,
Track IR, FSLTL AI traffic, MSFS graphics settings to Ultra.