I bet that you will be impressed by the latest preview screens posted by AUscene to showcase their upcoming add-on Hamilton Island MSFS. That could definitely make you want to fly in Australia just to display this excellently detailed and paradisiac site on your own screen !
In fact, AUscene designed two islands, Hamilton and Dent, who are located on the East coast of Australia, between Brisbane and Carns. The full features list sounds fantastic and really complete : HD mesh, HD terrain textures, PBR materials, 3D objects and vehicles including boats in the marina, hotels and custom airport buildings (YBHM), animations, custom vegetation, helipad, and many more. That's an exciting project, coming this month April 2023 at SIMMARKET.
That will be a perfect addition to their existing Reef World Great Barrier Reef MSFS.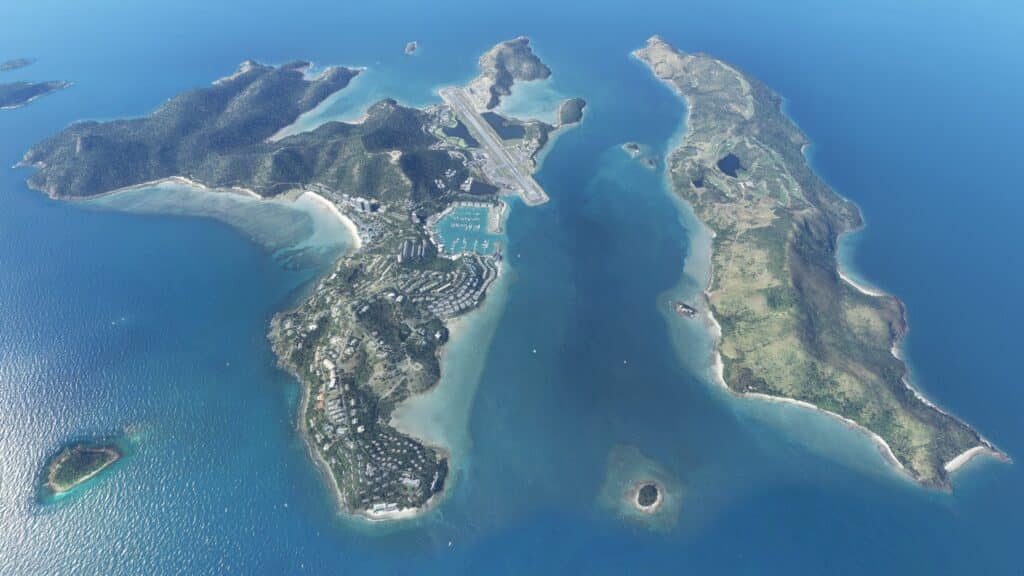 Features
Hand Crafted Rendition of Hamilton and Dent Island for MSFS
Authentic Representation of the Airport, Resort and Marina
High Resolution Aerial Imagery
1m DEM data which offers the Highest Quality Terrain
Over 300 custom assets!
Airport
Accurate representation of the airport area
Complete Interior Modelling of the Terminal, Control Tower and Hamilton Island Air
Custom Ground Clutter
Custom Vehicles and Boats
Golf Carts
3D people
Animated Flags and Fans
Optimized assets taking full advantage of LODs
Realistic PBR Textures
Authentic Aprons with Custom Materials and Markings
Accurate ground markings
Static Helicopters representing local operators
Realistic Night Lighting
Custom Airport Services Configuration
Custom Vegetation Placement
Marina
Detailed representation of the Marina
Plenty of POI's to discover
All the main buildings surrounding the marina are authentically recreated
3D boats and jetties
Custom Vegetation
Resort
Complete coverage of the resort and hotels
Animated Reef View exterior lifts
Qualia Helipad
3D Hobby cats in Catseye Bay
Custom Vegetation
Dent Island
Hamilton Island Golf Club
Dent Island Light House
Detailed jetty
Other
Multiple Helipads! (Hamilton Island Air, Qualia, Cruise Ship)
Plenty of custom buildings around Hamilton Island
3D boats around Whitehaven Beach
Modeled houses on Titan Island
And more!