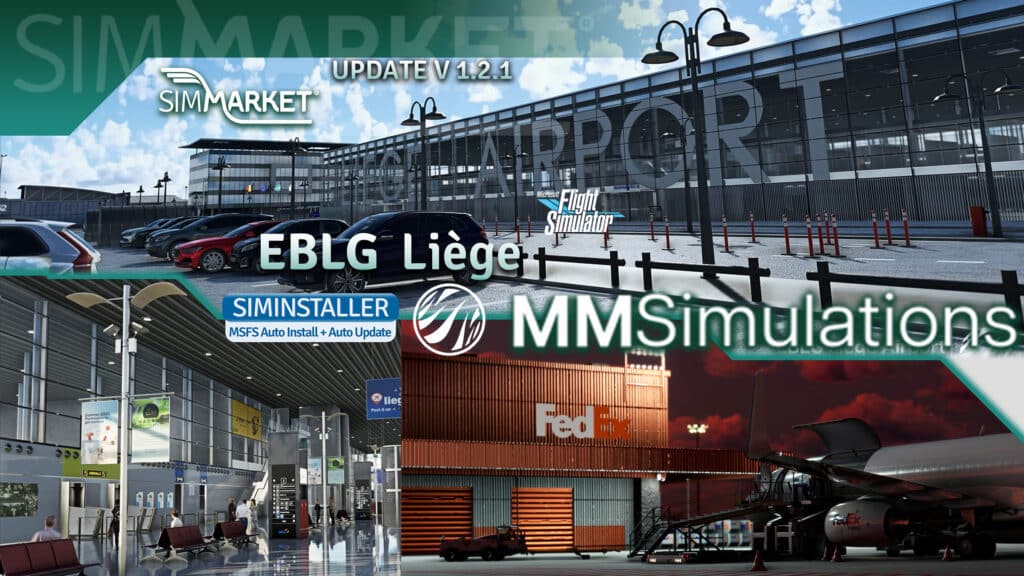 MM Simulations is a developer group that is raising among scenery makers for Microsoft Flight Simulator. Their latest update is made for the EBLG Liège airport, which is located in Belgium. EBLG Liège MSFS Update v1.2.1 is a free enhancement pack for registered customers of the airport with several fixes and new additions.
Appreciated for cargo operations, but also for some commercial airlines, this airports received new and optimized 3D models for better performance and higher number of FPS. The surroundings have been completed, and enhanced textures have been applioed to the apron, runway and the FedEx Terminal. The complete changelog is copied below.
How do you retrieve your update as a SIMMARKET customer ? Very easy. In SIMMARKET app, the notification area include the information about the new update v1.2.1 for your scenery of MM Simulations' EBLG Liège MSFS Update v1.2.1. In just a few clicks, the new files are automatically downloaded, installed, and all necessary are already installed ready for use in MSFS.
With their attention to detail and commitment to improving the flight simulation experience, MM Simulations is a developer group to keep an eye on in the future.
Changelog v1.2.1
Optimized 3D models for FPS and performance improvements
Included surrounding models
Integrated real world matching elevation model
Cargo parking signs specified
Updated texture of FedEx Terminal
Updated apron and runway textures
Fixed trailers parked in reverse (best update ever)
Updated logistics area in the North
Challenge Technic container at stand 132 has been placed
Updated blue light outside the main terminal
Addition of Fort de Hollogne and FlyIn building