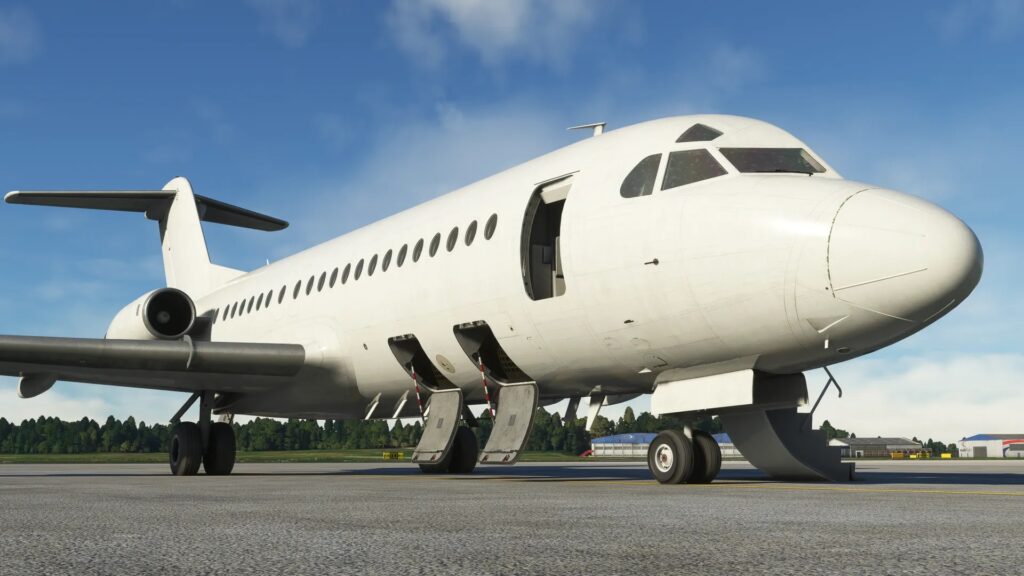 Just Flight has provided an update on their F28 Professional MSFS project. They announced that the systems coding team has been busy finalizing the code for the vast array of quirky systems in the F28, which is a regional jet aircraft produced by the Dutch manufacturer Fokker. The flight model team has also been busy tuning the unique flight models for each of the included variants, which includes the F28-1000, F28-2000, and F28-3000.
These tasks don't lend themselves to in-development content during the development phases, however, the company is now in a position to start sharing more content as all the pieces of the puzzle start falling into place. Earlier this week, Just Flight handed over a new build of the systems and flight model to their testing team. They are continuing to review and act upon their feedback as they receive it, to ensure that the F28 Professional is a high-quality product.
The artists working on the project have revisited various aspects of the interior and exterior model to make them as accurate and detailed as possible. They have improved texturing throughout the exterior of the aircraft, added a full set of decals, and included highly detailed cargo holds and landing gear bays. Additionally, they have added wear and tear where appropriate, such as to the speedbrake mechanism.
The company has also received a new build of the sounds, which they believe is key to ensuring that the aircraft comes alive once they are implemented. The sounds are going through thorough testing to ensure they live up to Just Flight's high standards, and they plan to share a dedicated in-development video on the sounds once they are finalised.
In other exciting news, Just Flight has added an exciting new feature to the interior of the F28 Professional. They did not reveal what the feature is, but it adds an entirely new dimension to how you can operate the aircraft. The company still has some work to do on this feature, so they don't want to show it off just yet. However, they are very excited to show it in action in an in-development video in the near future.
Just Flight hopes that their followers will stay tuned to their in-development page and social media channels as they begin to ramp up the in-development content in the run-up to the release. They promise to announce the all-important release date for the F28 Professional once they're ready. Overall, it seems that the company is making great progress on the F28 Professional project, and it will be exciting to see what other updates they have in store.