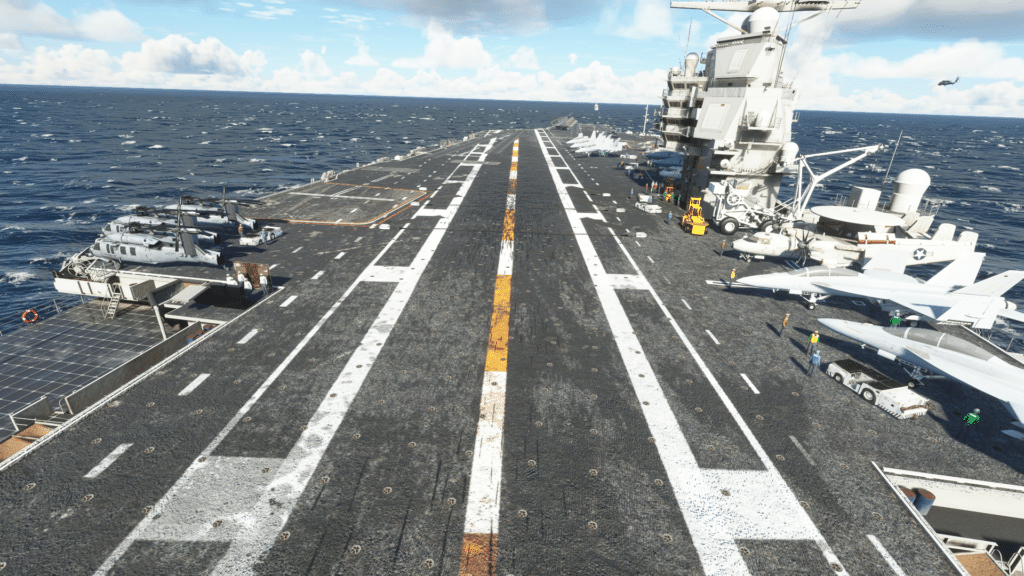 IndiaFoxtEcho has recently released an update for their Ford-class carriers in Microsoft Flight Simulator. The update has been released at SIMMARKET. This update is an almost complete remake of the previous package, as the company believes that the previous version did not meet the desired quality standards, despite its low price.
IndiaFoxtEcho has invested both time and money to make this package better, as it serves as a selling tool for their F-35 Lightning II. The first major change in the update is that all the static models have been turned into airports, allowing players to start their flights directly from them. However, it is important to note that launch and arrest functionalities for static carriers must be provided at aircraft level in IndiaFoxtEcho's implementation, making them compatible only with their T-45C and F-35C.
Additionally, static carriers now have TACANs, ILS systems, and tower and approach frequencies. The second major change is the addition of SDK-compliant dynamic carriers in front of Miramar MCAS and Oceana NAS. Users cannot start a flight directly from them, and they do not have navaids. However, they feature working IFLOLs and SDK-compliant arrestor wires, allowing players to land on them with other aircraft.
The update also adds Ticonderoga-class, Alreigh Burke-class, and Zumwalt-class support ships, all of which have working helipads. The deck rendition has also been vastly improved, with detail normal mapping and tire skid marks, and more detailed deck vehicles. Additionally, IndiaFoxtEcho has added the E-2C static model to the package.
Finally, IndiaFoxtEcho has developed an MQ-8 Fire Scout flyable model that is not currently included in this release. While IndiaFoxtEcho plans to release it for free, it is not yet in a state where it can be shared.