Just Flight has released Update 0.1.9 for their 146 Professional aircraft add-on in Microsoft Flight Simulator. This update brings a range of enhancements and fixes to improve the overall user experience. Notable additions include compatibility with Sim Update 12 and Xbox, pushback controls on the Electronic Flight Bag (EFB) aircraft page, and the ability to set failures instantly or after a specified time. Users can also randomize passenger and cargo load and enjoy various improvements such as HF antenna availability, VHF NAV 3 antenna support, and higher resolution compass cards. Furthermore, the update addresses issues related to weather visibility, livery, glass effect on the FMS screen, hardware compatibility, and more.
The 146 Professional update also focuses on flight model improvements and performance optimization. Users can expect enhanced realism in the aircraft's behavior during flight and improved frame rates for a smoother gameplay experience. Minor fixes have been made to livery textures, and the glass effect added to the FMS screen adds visual realism to the avionics. The update also includes specific fixes for different variants of the 146 Professional, addressing issues like the rear passenger door button appearing inappropriately and improving the functionality of the flight director go-around mode.
Overall, Update 0.1.9 for the Just Flight 146 Professional in MSFS introduces various new features, improvements, and bug fixes. It enhances compatibility with Sim Update 12 and Xbox, adds pushback controls and failure controls to the EFB aircraft page, and introduces a range of options and improvements to the overall experience. From flight model improvements to performance optimizations, this update aims to provide a more realistic and enjoyable experience for virtual pilots flying the 146 Professional aircraft.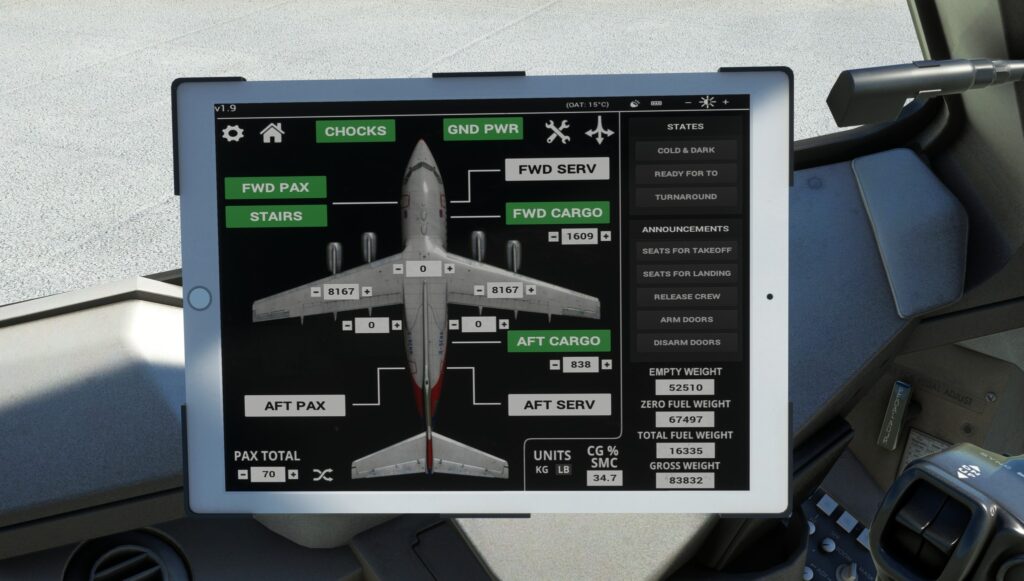 Changelog v0.1.9
– SU12 and Xbox compatibility added
– Pushback controls added to the EFB aircraft page
– Failure controls added to EFB aircraft page – they can be set to fail instantly (FAIL) or armed to fail after X number of minutes (ARM). There is also a random failures option with selectable probability for those occurring.
– Random passenger and cargo load button added to the EFB aircraft page
– HF antenna EFB option is now available on all variants
– VHF NAV 3 antenna (located on tail) EFB option added
– Speed card weights now show in LBs if that unit is selected on the EFB aircraft page
– Onscreen keyboard added to EFB aircraft page
– Numerous flight model improvements
– Performance (FPS) improvements
– Weather visible in -300 cockpit and cabin – fixed
– Various minor livery fixes
– Glass effect added to FMS screen
– Rear passenger door button no longer shown when QT variant is being flown
– Flight director go-around mode is now correctly commanded by two presses of the AP disconnect switches
– ADF 2 test mode fixed
– Fast e rection function added to standby ADI
– Altitude selector test mode fixed
– Tweaks to DME HOLD test
– Minor fixes for MWS captions and tests
– Elevator trim green band backlighting fixed
– Small gap around EFB screens fixed
– Higher resolution compass cards added
– Runway turnoff lights now illuminate fuselage
– Honeycomb hardware compatibility improvements
– Additional lighting added to -300 and QC/QT cabins
– Outside ambient noise is no longer heard when only the lower cargo doors are open