Review by Rick Desjardins
Introduction
I remember reviewing this same product in FSX and loved it back then. It made such a positive difference so I was anxious to see how this new product stacked up in MSFS.
As you can see in the image below the country is divided into six areas with this first product covering the North West portion.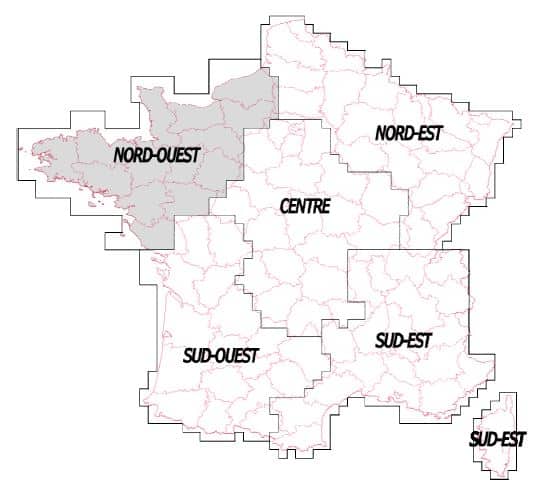 This part of France is comprised of the following three regions; Brittany, Pays de la Loire and Basse and Haute Normandie with the main cities being Caen, Rouen, Rennes, Brest and Nantes. The area covers approximately 32,000kms sq with a landscape dominated by flat plains and rolling hills. The northern coast line borders the English Channel and the western coastline the Atlantic Ocean.
What have they done to make this part of France better?
Here is a short description of the scenery directly from the PDF document included with the product that describes what this scenery is all about.
"FranceVFR Nord-Ouest MSFS is a pack bringing together in a single product all the elements and infrastructures necessary for practising VFR flight in the North-West area of France.
The scenery features over 30 airports and airfields including photo-realistic buildings, extremely detailed ground textures and markings, entire fleets of static flying club planes and reworked vegetation placed with the utmost precision."
As per the document here is how they've enhanced the area covered by this product.
• 29 enhanced airports and airfields with photo-realistic 3D modelling for some of them.
• 3 large military airports added (not existing in MSFS) with photo-realistic ground texture.
• Detailed ground textures and markings.
• Realistic static flying club airplanes on all the platforms.
• Numerous animations and accurate details.
• Vegetation reworked on the platform and its surroundings.
• Realistic night lighting.
• Photo-realistic areas reworked for 9 platforms including military surrounding areas (Angers, Belle-Ile, Dinard, Evreux, Landivisiau, Le Havre, Lorient, Saint-Nazaire and Vannes).
• Many photo-realistic areas added and perfectly integrated to replace masked areas including missing vegetation (Lanveoc airfield, Brest military harbour, Anse of Kerhuon, Le Conquet, Crozon area to cap de la Chèvre, military area North-West of Crozon, Ile Longue, Kerlouan, Kervillou, Paimpol, Porsmilin).
• Excess shoreline vegetation removed across entire scenery (Coastline and islands).
• Many vegetation areas added and improved especially on the islands.
• Main obstacles and VFR landmarks referenced by SIA (Aeronautical Information Service) (about 400 obstacles and VFR landmarks).
• Main lighthouses and beacons (approximately 60 objects) including approximately 30 extremely detailed lighthouses.
• Marinas and moorings with pleasure boats (about 200 sites) on the entire scenery.
• Numerous remarkable objects (5200 antennas, 6400 castle, 2400 water towers, 7200 churches, 1700 wind turbines, 5400 industrial tanks, 15800 green houses, 440 high voltage transformers, 3300 silos and agricultural tanks, 150 plaice huts…).
• Electrical pylons network (63kV to 400kV) including security altitude day/night markings.
• Roads and highways signs (about 13000 signs) on the main road network.
• Railroad pylons near airports and airfields platforms.
• Campsites near airports and airfields platforms.
• Coastline and main rivers partially cleaned of excess vegetation.
• Railroad and electrical networks cleaned of excess vegetation.
Installation
The product consists of two files, both executables. You must run each one and provide the serial number which you were given at the time of purchase; all in all a straightforward process.
Documentation
They include a PDF document that gives you an overview of the product as well as VFR charts for all of the airports they have enhanced.
Scenery Visuals
The first thing I did was print out a map of the area highlighting all of the enhanced airports/airfields so I could concentrate on using them for my departure and destination locations. I would have been a nice touch if they had provided a map with airport locations in their documentation. There is a good mix of airports/airfields ranging from small single runway grass strip airfields to large multi runway IFR equipped military airports so there is something for everyone here. They do not state that any of them are exact reproductions but rather enhanced representations. If you keep that in mind you won't be disappointed. Comparing the stock MSFS airports with those they've enhanced there are definite and clear differences. Depending on the airport it may mean upgraded ground textures or the inclusion of buildings, static aircraft, vehicles, ground objects and airport lighting. In the end each of the airports looked and felt much more realistic and each matched their respective provided charts. I was very happy with the results.
MSFS vs FranceVFR airport comparison screenshots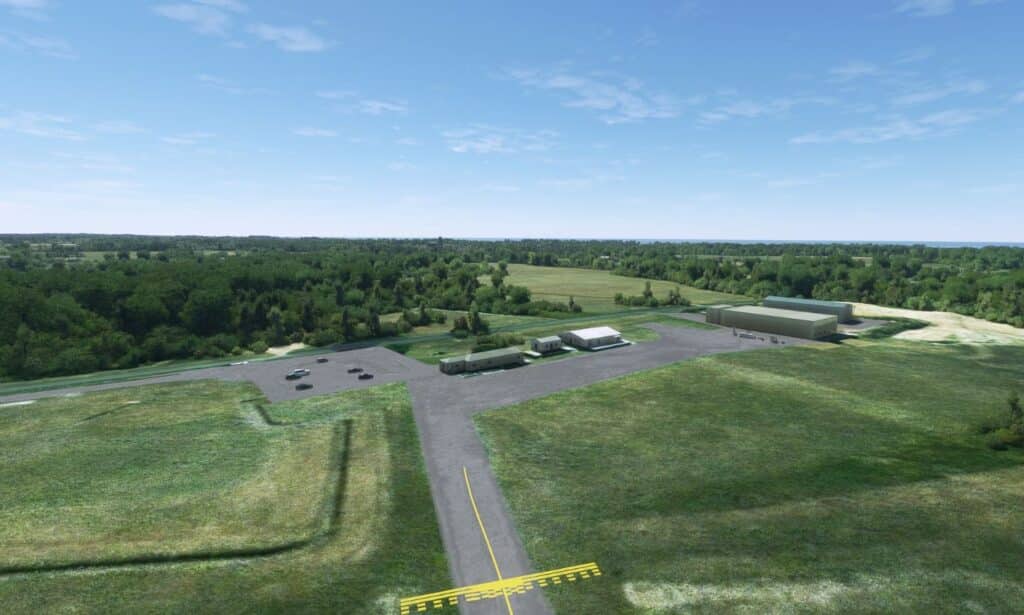 As the name implies this product is geared to the VFR pilot and it is with that mindset that I went about exploring the landscapes of this large area of France. I believe it is meant to give you a much more satisfying and visually rich and realistic experience while flying at lower altitudes. Did they accomplish this? In one word; yes. If you look at the list of enhancements you see that they are quite diverse and extensive. Again, as with the airports it would have been nice if they had provided some form of map showing the locations of the more well-known added landmarks. As I flew around I found myself constantly changing the direction of my gaze as I tried to take it all in. For an area that is dominated by rural landscapes and small towns you would think that it would all start to look the same but with all of the additional objects that was never the case. I think my favourite areas were those along the coast. There was lots of variety from long open sandy beaches to rugged rocky inlets and coves. This is a very beautiful part of the world and with this scenery you can truly see and appreciate that.
Not to ignore how the scenery looked at higher altitudes I did spend time touring the area flying at 18,000ft and as you can see in the following screenshots it still made for some great scenery visuals. There were clear distinctions between populated and rural areas. I also especially liked the coastal areas and the winding rivers. I found the overall appearance was much crisper and very detailed.
Night time flying was obviously very different and this aspect of the scenery was not ignored. The night lighting was not overdone with realistic light levels and a variety of colours as well. It was most beautiful flying at dusk or dawn with partial daylight along the coastline. Be aware though that not all of these small airports have night lights so you will need to plan accordingly.
Performance
Throughout all of my time flying the scenery area I never encountered any stutters or noticeable degradation of performance.
Final Thoughts
If your interests lean towards VFR flying I am sure you will be very happy with the results you get with this product. Looking at the long and varied list of enhancements you can appreciate just how much effort they've put into their product. It is well worth the price.
Review by Rick Desjardins
PROS
CONS
➢ Great value for the price.
➢ Truly enhances the area covered making any flight over the area an enjoyable one, especially at lower altitudes.
➢ Would have been great if they had provided some sample VFR flights to show off some of the more interesting visual features and airports within the scenery area.
Purchase
Test System
simMarket.com
Developer: FranceVFR
Price: EUR 33.25 (+tax EU customers)
Ryzen 5 5600X,
ASUS TUF X570-Plus MB,
1 TB NVMe SSD,
32Gb DDR4 RAM,
ASUS RTX 3060 OC w/12Gb VRAM,
Win 11, Track IR,
FSLTL AI traffic, MSFS graphics settings to Ultra.