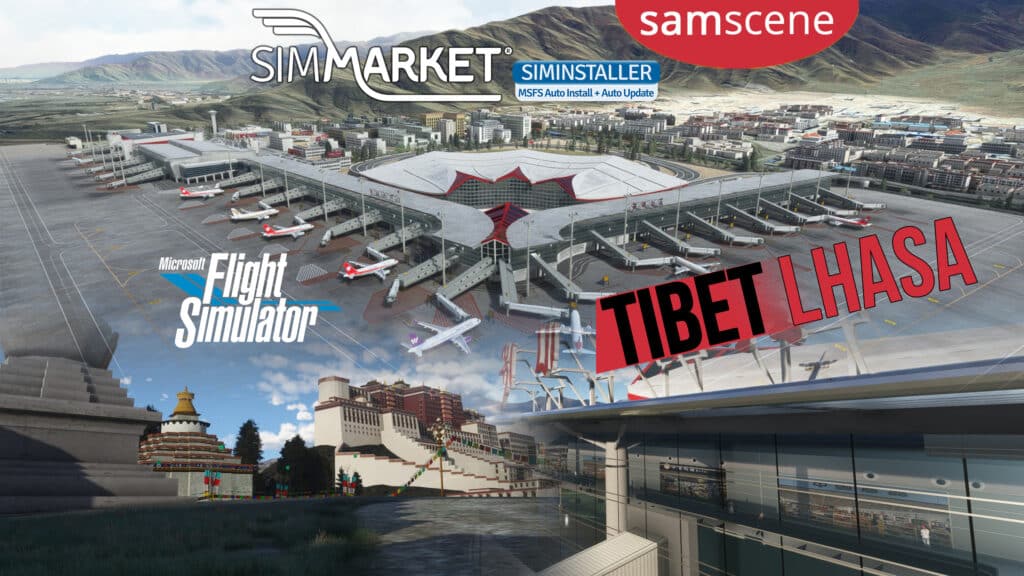 Are you ready for the beauty of Lhasa, the capital of the Tibet Autonomous Region ? With SamScene's Tibet Lhasa Gonggar MSFS scenery package, now available on SIMMARKET, get this add-on that enhances Lhasa Gonggar Airport, one of the highest airports in the world, and showcases the city center with meticulous attention to detail. With its stunning visuals and immersive features, this scenery package brings the beauty of Lhasa to life in Microsoft Flight Simulator.
At an elevation of 11,800 feet, Lhasa Gonggar Airport is a vital hub with connections to major cities in China and an international route to Kathmandu, Nepal. The scenery package offers a detailed airport terminal with an interior, stunning night effects, and two runways for a realistic flying experience. Additionally, the package includes iconic landmarks such as the Potala Palace, Jokhang temple, Norbulingka palace, and The Barkhor, represented with exquisite 3D models.
As you explore the simulated city of Lhasa, you'll encounter various attractions, including the 3D models of the seven bridges across the Lhasa river, Lhasa stadium, and the Lhasa InterContinental Hotel. To ensure a seamless experience, it is smoothly integrated with the surrounding terrain for an immersive flight environment. Immerse yourself in the rich cultural heritage and breathtaking landscapes of Lhasa with SamScene's Tibet Lhasa Gonggar scenery for Microsoft Flight Simulator. Visit SIMMARKET today and embark on an unforgettable journey to this mystical destination.
💻 With Siminstaller = MSFS Auto-Install and Auto-Update via SIMMARKET app