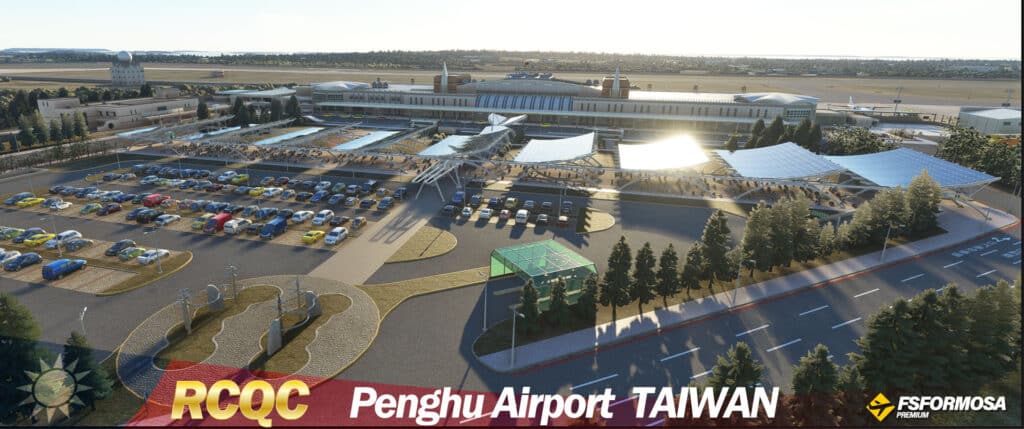 Experience the thrill of exploring Taiwan's enchanting Penghu Islands with FSformosa's latest addition – RCQC Penghu Airport for MSFS, now available at SIMMARKET. Formerly known as "Makung Airport," RCQC is a joint-use military and civilian facility situated in the middle of the Taiwan Strait, serving as the primary gateway to Penghu Islands.
With high-resolution details and full-spec PBR texture mapping, the scenery pack delivers realistic lighting and shadow effects, immersing virtual pilots in the captivating beauty of Penghu's landscapes and landmarks.
Whether it's the peak tourist season during summer, offering a plethora of water activities and geological wonders like basalt rock-formed pillars and cliffs, or the challenging winter months with the prevalent northeast monsoon, FSformosa has crafted an authentic experience for aviation enthusiasts. The airport's 3000m (9843ft) runway caters to regular flights by ATR-72, B737, A321, and DHC6, connecting Penghu to various cities in Taiwan, including Taipei, Taichung, Tainan, Chiayi, and Kaohsiung. The meticulously designed scenery pack also features local buildings, ground service vehicles, taxiway signs, and animated lighthouses, enhancing the realism of the simulation.
FSformosa's RCQC Penghu Airport ensures an optimized performance-friendly environment by utilizing LODs based on official guidelines, striking a perfect balance between detail and smooth performance. As virtual pilots take to the skies, they'll encounter the DHC6s of Daily Air, providing inter-island flights between Penghu and Chimei (Qimei) island, and the emergency medical transportation services offered by Emerald Pacific Airlines' Leonardo AW169 helicopter. Step into the cockpit and embark on a captivating adventure to Penghu Islands with this meticulously crafted scenery pack, allowing aviators to soar over breathtaking landscapes and experience the charm of this unique region. Secure your boarding pass now and witness the magic of RCQC Penghu Airport at SIMMARKET.
💻 With Siminstaller = MSFS Auto-Install and Auto-Update via SIMMARKET app