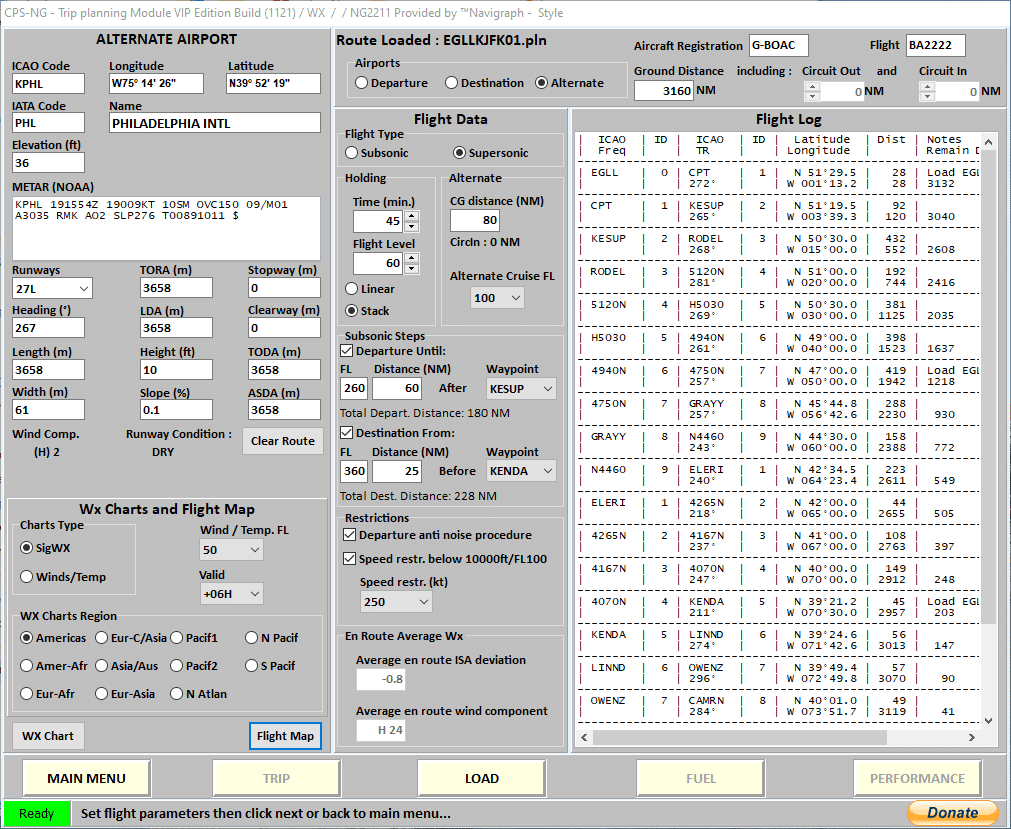 For aviation enthusiasts who have longed to experience the thrill of piloting the iconic Concorde, the wait is finally over. Introducing the Concorde Performance System New Generation (CPS-NG), the successor to the beloved CPS-X flight preparation utility. After being discontinued in 2018, CPS-X left a void in the flight simulation community, but the anticipation for CPS-NG has been nothing short of exceptional. With its impending public release candidate, CPS-NG is set to revolutionize Concorde flight simulation like never before.
The Legacy of CPS-X
Back in 2011, the pioneering CPS-X emerged as an essential flight preparation tool for Concorde simulations. Despite the halt in its development, CPS-X has remained popular on AVSIM, boasting over 3000 downloads. Now, CPS-NG is ready to carry the torch forward, catering to even the most discerning Concorde enthusiasts.
Supported Simulators and Features
CPS-NG takes flight planning to new heights by supporting two leading simulators: FsLabs Concorde X for FSX and P3D up to version 3, and Colimata Concorde FXP for X-Plane along with Gaston Reif's remarkable mod, the Heritage Concorde Avionics Package. With CPS-NG, users can export waypoints to the INS, manage payload and fuel for the aircraft, and embark on a comprehensive flight planning journey.
Authenticity at its Core
Continuing the tradition of its predecessors, CPS-NG relies on authentic Air France data and charts, ensuring an unparalleled sense of realism. Users can access a detailed flight map featuring navigation points and points to protect from the supersonic bang during departure and arrival.
User-Friendly Flight Preparation
CPS-NG offers a user-friendly flight preparation process, allowing users to configure subsonic steps and calculate anti-noise procedures with utmost accuracy. The aircraft loading can be modified by the user to achieve the perfect centering, and the fuel calculation adheres to the precise filling law of both Air France and British Airways, replicating real-world scenarios.
In-Depth Concorde-Specific Settings
For an unmatched flight experience, CPS-NG presents a plethora of Concorde-specific settings, including the initial climb angle, time to anti-noise procedure, throttle levers angle during anti-noise procedure, fuel flow, maximum pressure in P7 compressor, trim adjustment, and everything else a pilot and flight engineer could desire for a seamless flight.
Comprehensive Flight Report
Upon completion of the flight, CPS-NG generates a detailed PDF flight report encompassing all necessary elements for aircraft preparation. The report also includes take-off and landing forms that faithfully mirror the real documents used by Air France and British Airways.
Weather Customization Options
CPS-NG offers flexibility in weather options, enabling users to choose real-time weather from NOAA, personalized weather, or weather generated by Active Sky 2016, Active Sky for P3D, and Active Sky for X-Plane 11 or 12. This feature ensures a dynamic and immersive flight experience that can be adapted to individual preferences.
A New Era for Concorde Simulation
With the availability of its public release candidate, CPS-NG is all set to usher in a new era for Concorde simulation. Boasting an array of advanced features, authentic data, and a user-friendly interface, CPS-NG is sure to delight flight simulation enthusiasts and Concorde lovers alike. Get ready to embark on an unforgettable journey as CPS-NG takes virtual Concorde flights to unprecedented heights. The future of Concorde simulation is here, and the sky is the limit!
Please take note that the user manual is not included yet, it's in the writing process.