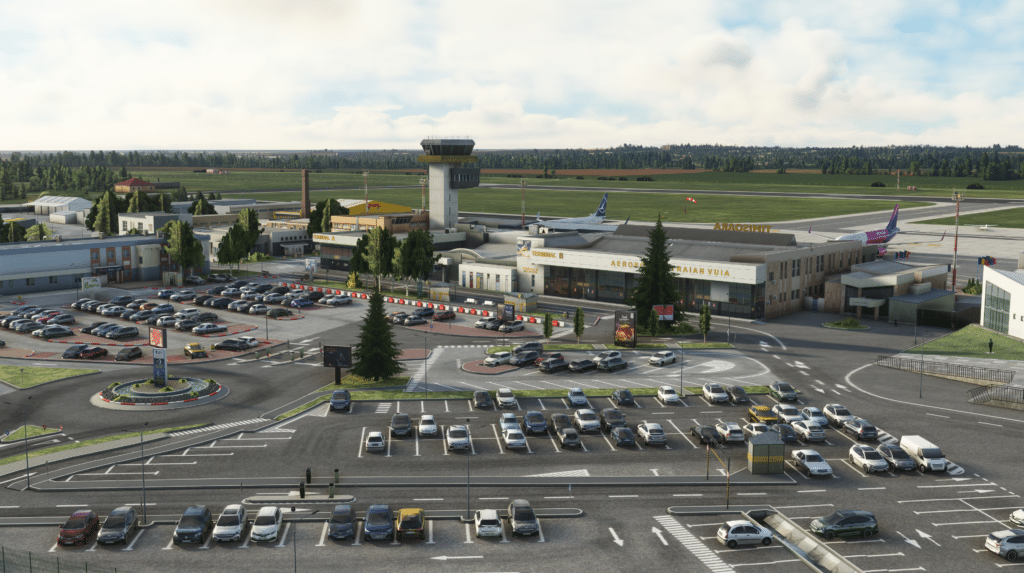 Visit Romania to enjoy MLD Scenery – LRTR Timisoara Intl Airport, available on SIMMARKET for MSFS. Check the screenshots to view how realistic looks this airport scenery that brings to life Timișoara Traian Vuia International Airport (IATA: TSR, ICAO: LRTR), a historical and modern hub in Romania. Named after pioneering aviator Traian Vuia, the airport stands as the third-busiest in Romania, connecting the western region to the world and holding historical significance.
Meticulously designed based on real-world references from March 2023, the scenery features PBR textures, custom ground polygons, and an accurate 2023 layout. These details ensure a lifelike and immersive environment for virtual pilots. The night lighting adds depth and authenticity, enhancing the experience during nocturnal flights. A GSX profile complements the package, enhancing ground services for a more realistic airport operation experience.
Immerse yourself in the rich aviation heritage and modern connectivity of Timisoara International Airport with MLD Scenery – LRTR. As an important hub for Wizz Air and a backup for key regional airports, this scenery encapsulates the historical significance and contemporary vitality of the airport. Elevate your flights by downloading this captivating scenery from SIMMARKET and embark on a journey that fuses the past and the present in the world of flight simulation.
💻 With Siminstaller = MSFS Auto-Install and Auto-Update via SIMMARKET app