As promised, SismoLink is an application developed by Sismo to be the interface between the Sismo Modules (Ethernet) and FS2020 with PMDG 737NG. A first release is available.
The key characteristics are:
Freeware license
Native application
Compatible with Windows 10 and 11 x64
Does not require 3rd parties plug-ins or Add-ons such FSUIPC
Works directly through the SDK Microsoft SimConnect
Requires PMDG 737NG for FS2020
Automatic syncronization between Hardware and PMDG
Manage the Sismo's modules and detects authomaticaly the following Ethernet Modules:
MCP/EFIS -> Included in Release V1 or superior
MIP (partially) -> Included in Release V1.2 or superior
Testing service for the SimCards called AlbatrossService to check inputs and activate outputs and displays. Included in release V1 superior.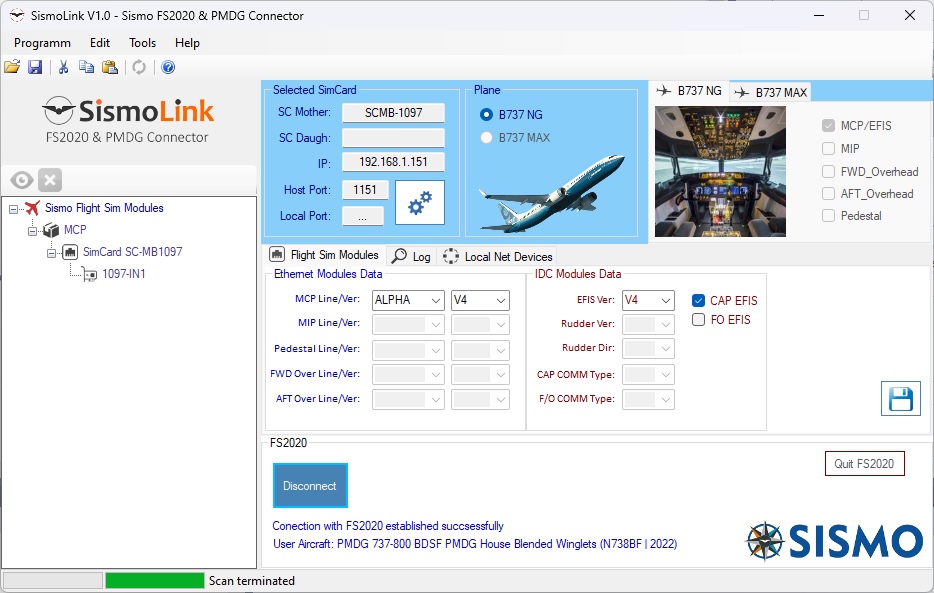 Read more about it here. And see the roadmap, on time for the FSweekend @EHLE in March 2024.