FranceVFR is proud to present their new MSFS scenery "South-East VFR Airports" as part of the VFR AIRPORTS PACKS product range. South-East VFR Airports MSFS is a pack bringing together in a single product 33 VFR airports and airfields located in the South-East of France including photo-realistic buildings, xtremely detailed ground textures and markings, entire fleets of static flying club planes and reworked vegetation placed with the utmost precision.
This product includes all the airports and airfields already available in our "VFR FRANCE South-East-Riviera" product for users wishing to acquire only the airports and airfields of this region.
FEATURES
– 29 enhanced airports and airfields with photo-realistic 3D modeling for some of them.
– 4 large military airports added with photo-realistic ground texture.
– Detailed ground textures and markings.
– Realistic static flying club and jet airplanes on all the platforms.
– Numerous animations and accurate details.
– Vegetation reworked on the platform and its surroundings.
– Realistic night lighting.
– Photo-realistic areas reworked for 9 platforms including military surrounding areas (Cannes, Albertville, Le Castelet, Le Luc, Hyeres, Istres, Orange, Salon de Provence and Solenzara).
– Compatible with all of our others product range.
– SIA – VAC – IAC – APT – ARRDEP charts provided.
For a more complete experience, combine these 33 airports added to a large VFR region with numerous and custom buildings, landmarks, marinas and more 3D objects, pick up the VFR Riviera MSFS package.
Also Available : LIVERY PACK FRANCE SOUTH-EAST MSFS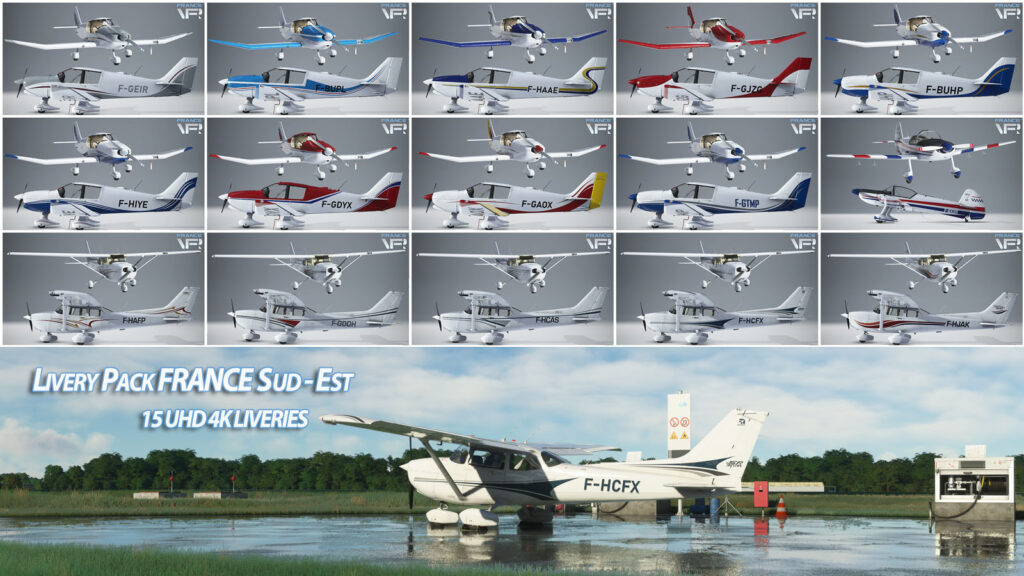 FranceVFR present here their new "MSFS Livery Pack France South-East" as part of the LIVERY PACKS product range.
Livery Pack France South-East is a set of 15 very accuracy ultra high definition 4K liveries for most famous aircrafts like DR400, Cessna 172, CAP 10 and DA40NG. The liveries contained in the product are faithful reproductions of paintings of flying club airplanes chosen from the airports and airfields covered by our VFR FRANCE South-East products.
FEATURES
– 15 original liveries (+ 2 registration variants) for the most popular
aircraft supplied as standard with Microsoft Flight Simulator (DR400,
Cessna 172, CAP 10 et DA40NG).
– 4K ultra high resolution textures.