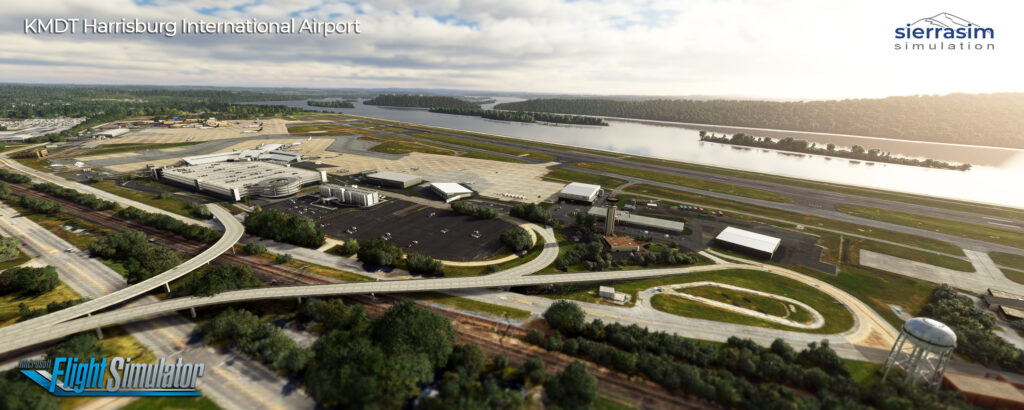 Sierrasim Simulation's KMDT Harrisburg International Airport for Microsoft Flight Simulator is available at SIMMARKET. It is a remarkable addition to the virtual aviation world to expand your US airports sceneries collection, in Pennsylvania.
Harrisburg International Airport (KMDT) is a crucial gateway to South Central Pennsylvania and serves as a hub for both passenger and cargo traffic. Sierrasim has done an excellent job capturing the essence of this airport, with a range of impressive features that truly enhance the flight simulation experience.
One standout feature of this add-on is the attention to detail in the ground images, offering a high level of realism. The airport's interior models are also meticulously crafted, providing an immersive experience for virtual pilots. Additionally, the use of photo-realistic PBR textures on buildings, vehicles, and other elements further enhances the visual appeal of the airport.
Sierrasim Simulation's KMDT package is optimized for performance, ensuring that it runs smoothly on a variety of systems. The inclusion of custom jetways, static traffic, and 3D taxiway lights adds to the authenticity of the airport environment. Moreover, the presence of military hangars reflects the airport's diverse usage. With its incredible night lighting and airport objects, this add-on is a must-have for MSFS enthusiasts looking to explore Harrisburg International Airport and its surroundings.
💻 With Siminstaller = MSFS Auto-Install and Auto-Update via SIMMARKET app