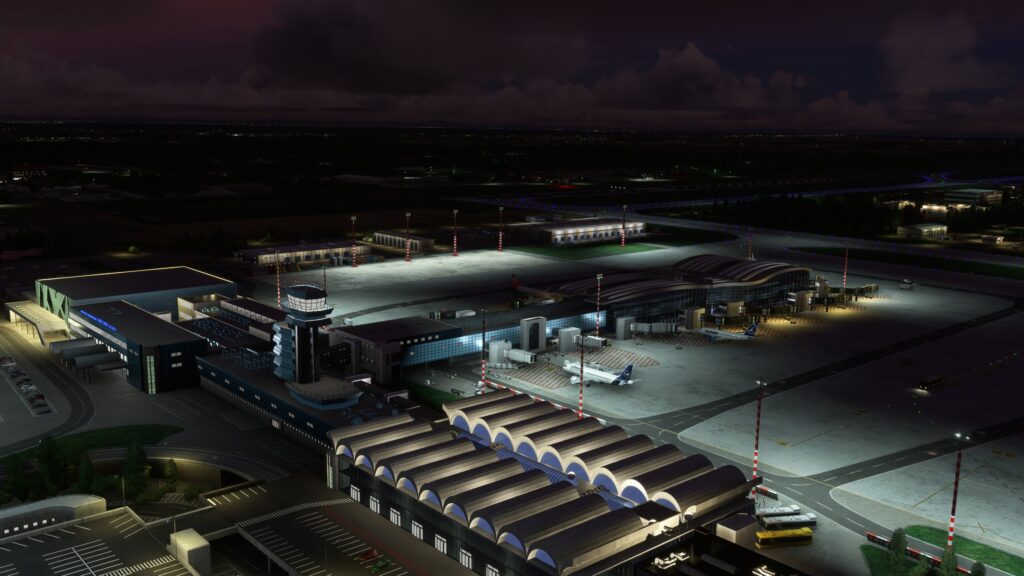 Barelli MSFS Addon – BMA Bucharest LROP offers a highly detailed and accurate recreation of Bucharest-Henri Coandă Airport (IATA: OTP, ICAO: LROP) for Microsoft Flight Simulator. From its military origins during World War II to its evolution into a major international hub, the add-on captures the airport's rich history.
Users can experience key milestones, including the construction of the passenger terminal in 1965, the addition of a parallel runway in 1986, and more recent developments like new terminals and a railway-metro line connecting Gara de Nord to the airport.
The simulation reflects the airport's status as a focus city for numerous international airlines, ranging from legacy carriers like Air France and Lufthansa to low-cost operators such as Ryanair and Wizz Air. This ensures a dynamic and diverse virtual aviation environment, enhancing the overall realism of the experience. Whether flying a historic route or exploring the latest infrastructure, Barelli's add-on provides a comprehensive and immersive journey through the decades at Bucharest-Henri Coandă Airport.
Available on SIMMARKET, this add-on caters to flight simulation enthusiasts seeking an authentic and captivating experience in Microsoft Flight Simulator. With meticulous attention to detail, it allows users to explore the past, present, and ongoing developments of this significant Romanian air hub for those looking to engage with the vibrant history and modern vitality of Bucharest Airport in the virtual realm.
💻 With Siminstaller = MSFS Auto-Install and Auto-Update via SIMMARKET app