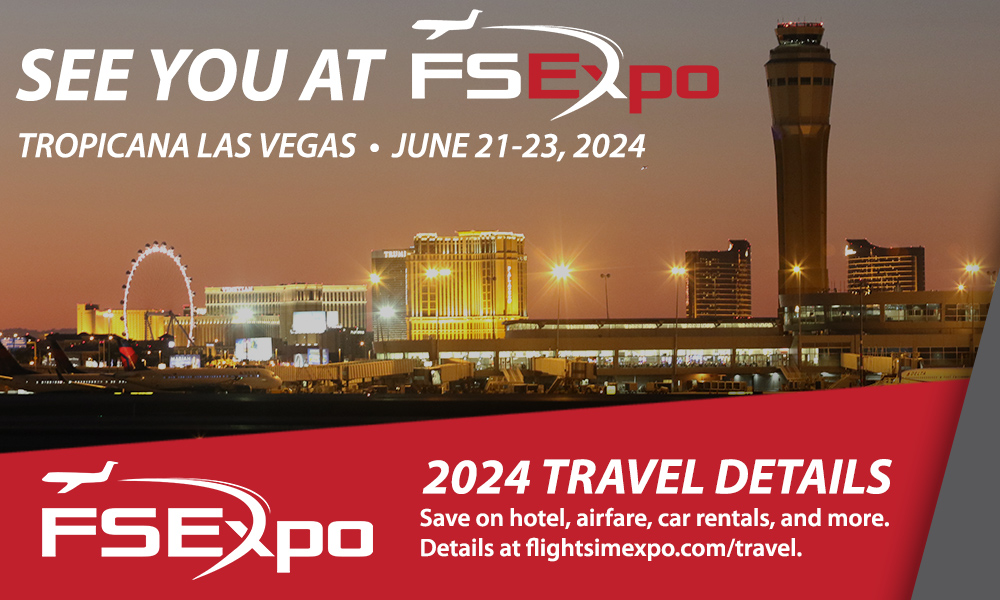 Aviation enthusiasts and virtual pilots, mark your calendars! Flight Simulation Association's highly anticipated annual conference, FlightSimExpo, is set to take place from June 21 to 23, 2024, at the iconic Tropicana Las Vegas. The event promises an immersive experience for attendees, featuring product reveals, exhibits, seminars, and the invaluable opportunity to connect with fellow flight simulation enthusiasts face-to-face.
Event Highlights
2024 Schedule & Call for Speakers
The 2024 edition of FlightSimExpo kicks off on Friday, June 21, with an expanded series of seminars and announcements from some of the biggest names in the simulation industry. Friday night will see registered attendees enjoying a welcome reception and social event, complete with light fare and a complimentary drink.
Over the weekend, on Saturday and Sunday, attendees will have access to a sprawling 40,000+ square foot exhibit hall showcasing the latest in flight simulation hardware and software. The VR Experience Center makes a return, allowing participants to try various virtual reality devices configured with popular flight simulators. Speaker stages will host how-to seminars and educational discussions throughout the weekend.
FlightSimExpo organizers are now accepting applications from community members, content creators, and developers to host seminars or panel discussions. Prospective speakers can apply at flightsimexpo.com/speak, and the content of the seminars will be influenced by a community survey in early 2024.
Activities
To enhance the overall experience, FlightSimExpo offers additional activities on Thursday, Friday, and Monday surrounding the main event. These activities include air traffic control facility tours, planespotting trips, and other aviation-themed outings. More details about these experiences will be revealed in the spring of 2024.
Travel Details
Hotel Accommodations
FlightSimExpo has secured significantly discounted hotel rates at Tropicana Las Vegas for attendees. The 2024 room rates are $75 for Thursday and Sunday nights and $155 for Friday and Saturday nights, plus taxes and resort fees. The all-inclusive price for a three-night stay from Thursday to Sunday averages $188 per night.
Booking at these special rates not only offers substantial savings but also includes in-room amenities such as bottled water, wireless internet for up to five devices, and free parking in designated areas. To secure these rates, visit flightsimexpo.com/travel, and remember that room rates are subject to availability, so early booking is recommended.
Flight Discounts
In addition to hotel discounts, FlightSimExpo has negotiated special rates on flights with Delta Air Lines, United Airlines, and codeshare partners. By using the provided link or booking code from the FlightSimExpo website, attendees can enjoy savings of 2-10% on hundreds of domestic and international flights.
Event Registration Opens in December
For those eager to secure their spot at FlightSimExpo 2024, attendee registration opens this December. A 3-day event registration will be priced at just $50, available for a limited time and exclusively to Flight Simulation Association members.
Don't miss this chance to be a part of one of the world's largest dedicated flight simulation conferences and tradeshows. FlightSimExpo promises an unforgettable experience for aviation enthusiasts and virtual pilots alike. Stay tuned for more updates as the event draws closer!
About FlightSimExpo
FlightSimExpo is a leading dedicated flight simulation conference and tradeshow, attracting over 5,000 attendees since its inception in 2018. Organized by the Flight Simulation Association, a community-driven organization of developers, simmers, and real-world pilots, FlightSimExpo aims to make home flight simulation more accessible. Join the community for free at flightsimassociation.com, offering resources, learning content, webinars, and discounts on top add-ons and simulation hardware.