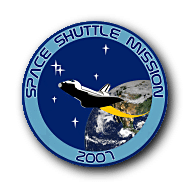 Exciting Simulations and NASASpaceFlight  are "….. happy to announce that starting December 1st 2008, and until December 31st 2008 Space Shuttle Mission 2007 licensees and NSF L2 members will enjoy a 10% cross-discount on the SSM2007 licenses and a 6 or 12 month Level2 NSF subscriptions…..".
"…..  NASASpaceFlight is the most up-to-date website about NASA Space Exploration while the Premium Level2 subscription offers inside information and access to official documentation, reports and media unavailable outside NASA. Leve2 areas are frequented by Astronauts, NASA staff, Air Force, academia and scientists, together with serious fans of the STS Program.
Level2 subscriptions and SSM2007 complement each other perfectly — one providing the opportunity to 'fly' the Shuttle and perform missions, while the other providing in-depth, official information about the STS Program and current and past missions.
The discounts are for new purchases only. All you need to do is subscribe for a 6 or 12 months Premium L2 account at www.nasaspaceflight.com and get the opportunity to buy SSM2007 at a discount, or, if you already own SSM2007, then go to the NSF website and provide them with your SSM2007 valid Licensing information and you get a Premium L2 account for 10% less the published prices…..".