Athens International Airport also known as Elefthérios Venizélos, ICAO: LGAV began its operations in 2001 after five years of construction. It was built to replace the older airport at Hellenikon which could no longer handle the increased demands of air travellers. The new airport with its two terminals and two runways now serves approximately 15 million passengers. The current configuration will allow future expansion to handle up to 50 million passengers.
Installation
Installation is straightforward. To start the process you simply run the executable file that you downloaded from SimMarket. Upon completion of the install you will have a newly created  FlyTampa program group and within it access to the documentation, updates, the FlyTampa website and the uninstall program. The installer also adds an entry in the scenery library for you. Next time you launch FSX you will be able to load the airport.
Configuration
Configuration options are only available at the time of installation. While performing the install you will see the screen "Choose components", by default all of the options are selected with the exception of "volumetric grass". If you want this option installed it is a simple matter of checking the box. If you decide to change any of these at a later date you will have to rerun the installer.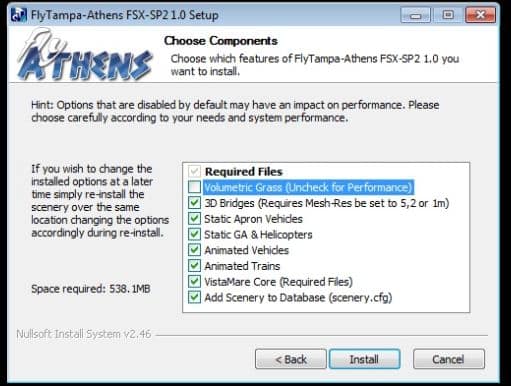 Documentation
Documentation consists of a 14 page PDF manual. The first couple of pages consists of some background on Athens airport along with statistics and runway information including an airport diagram. On this same page they also list two URLs where you can go to download airport charts. The remainder of the manual is devoted to giving you all sorts of information on installation, performance and how to set up your simulator to best experience Athens airport. The manual contains information for both the FS2004 and FSX versions. They make good use of screenshots to illustrate their points. I highly recommend taking the time to read the manual.
Scenery
I was one of many simmers eagerly awaiting the release of Athens, so when it was released I was very excited and anxious to see the finished product. The product was released for both FS2004 and FSX, my review is of the FSX version.
As real as it gets is the phrase that continuously came to mind as I discovered all I could about Athens. What I saw was a very detailed and realistic looking airport.
There are certain aspects to their work that put them in an elite group of scenery developers. Details, colouring techniques and object placement are the main ones that I see. From the largest building to the smallest object it was obvious to me that they took the same care in making everything look as realistic as possible.
Buildings
The buildings that FlyTampa create in their sceneries are among the best. The bitmaps they use are all hi resolution textures so even the most insignificant details are visible and they stay clear and crisp at close range. Small details such as light fixtures, signage, rivets and fasteners. This level of detail is most important when you are in close and to me a sign of just how well they have done their research and how much they care about the visual experience.
The way they use colours gives the impression of depth and weathering and is a huge factor  as to why the buildings look so realistic. What I see is that the colours are subdued, there are no bright bold colours, there are also signs of discoloration done through colour blending and bleeding and finally shading and shadows are used throughout. Everywhere you look; on the walls and roof tops you can see that these techniques have been used effectively.  All of these combined give the illusion of depth and a sense that these buildings although relatively new have been exposed to the elements.
The other important factor as to why their buildings look so realistic is the amount of detailing that has been added. These details complement and enhance those that are visible in the hi resolution bitmaps. There are some obvious examples of where these details can be seen, the roof tops being one of them. Here you can see such things as HVAC units, antennae, vent pipes and skylights. Some of the roofs also have multiple levels or are curved, these characteristics have also been modelled.
One of the best examples of how complex some of the details can get is on the underside of the roof that's over the long open stairways that lead to the ground parking west of the railway station. It is extremely complex and intricate in design.
I wanted to check how accurate the placement of the buildings were in comparison with the aerodrome charts and available photographs. With the information at hand I wasn't able to find any problems.
Between runway 03L and the cargo apron are several stores; Ikea, Leroy Merlin and Factory Outlet stores; they are colourful and unique.
Athens has something that most airports do not have and that is taxiway and road bridges joining the two sides of the airport. If when you installed the scenery you enabled 3D bridges and set your mesh resolution to the required setting (this is also noted in the manual) you will see the bridges that span the Attiki Odos roadway and rail route which splits the airport in two.
One other area that has been modelled at Athens that is somewhat unique is the waste water treatment facility.
Objects and Vehicles
When it came to this category I was looking for a number of different things; placement, realistic appearance, variety and also quantities. I saw everything I was expecting to see more.
One area of Athens stood out; the passenger arrival and departure area. This is probably the best I have seen up to now at any airport. Looking at the screenshots you can see just how incredibly detailed it is, and that is mostly due to all of the discrete objects added to complete the setting.
 They clearly put a lot of effort into this aspect of the scenery and it shows.
Ground
Ground textures like the remainder of Athens were for the most part very well done. The hard surfaces were exceptional, it's not uncommon to see developers add rubber marks and dirt stains because you expect to see these at any busy airport but here they went a step further and added visible signs of surface deterioration caused by aging and weather.
The ground textures used to portray such areas as the roads and parking areas appeared to be a bit on the blurry side when viewed at very close range but not enough to detract from the overall high quality of the scenery.
There was one area where there was some visible tearing and smudging along the banks of the recessed roadway running through the center of the airport.
Surrounding Area
Rural farmland is the predominant geographical feature that surrounds Athens airport. The rendering techniques are the same as those used for the airport; photo textures for the ground along with detailed realistic looking structures.
Cutting through this is the main transportation corridor consisting of highway 62 and a rail line. Just in case you aren't quite sure of how to get to your desired destination there is an abundance of signage to help you out.
The other noteworthy feature is just to the east of runway 21, there is a low hill that has a number of large fuel storage tanks and a radar dome.
Night
Night time flying into and out of Athens was interesting and very well done. There were several things I saw that stood out for me. The runway and taxiway lighting was especially good. I also noticed as I taxied to the gates that the illuminated taxiway and runway signage lit up the ground directly in front; this was a really nice effect. It is seemingly insignificant things like this that give the scenery that extra touch making it feel like you're really there.
Approaches
I carried out various IFR approaches to the four runways and was able to land successfully in each attempt.
Animations
Included are the customary road and apron traffic which together add a lot of activity. In addition however they've added the train that moves passengers to and from the airport's adjoining railway station.
To assist with aircraft parking many of the gates are equipped with a working AGNIS- Azimuth Guidance for Nose-In Stand system.
Performance
Despite being a large and very detailed airport I found that performance was never an issue. My frame rates always remained high.
Final Thoughts
I was not at all surprised by the high quality of the scenery. This group continually sets the bar when it comes to airport sceneries and Athens meets and exceeds that high standard. I give this scenery my highest recommendation.
My Ratings
Installer:  Very Good; simple to use, adds scenery to FSX scenery library.
Documentation: Good; brief but informative, no charts.
Modelling: Excellent; extremely detailed without sacrificing performance.
Extras:  Animated vehicle traffic. Compatible with AES ver2.13
Download Size: FSX 212Mb, FS2004 94Mb
Price: EUR 22.00 without VAT
Developer Homepage: http://www.flytampa.com
Link: http://secure.simmarket.com/flytampa-athens.phtml
Test System:
Intel i7 960 OC @ 4.2 Ghz, 6 Gb RAM, ASUS 480GTX w/1.5Gb video, Win 7 Ultimate 64, FSX w/acceleration, Ultimate traffic 2, REX Overdrive, UTX, GEXn, AES 2.13
Richard Desjardins