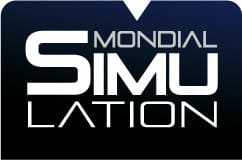 Holding almost only flight simulations exhibitors at first, the Paris Mondial Simulation has welcome other types of simulators along the growing success.
The airplanes still populate the main part of the exhibition with international partners like Aerosoft, FSAddon Publishing, Saitek, Thrustmaster, Checksix, Flight Illusion and much more.
Once again, the 6th edition will be held at Paris Le Bourget Air and Space Musuem between September 30th and October 2nd.