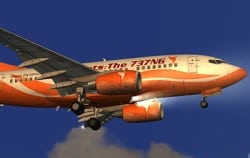 iFly Pro team member Jouni Törmänen has released a beta version of his tool designed to allow home cockpit builders to access all the features and functions of their 737 product.
Although the package is designed for use with the Pro package, it also works with both FS9 and FSX versions of the aircraft as well and can be downloaded from the Flight1 library pages, here.
For the full press release, please click on the "Read more" link, below.
Full press release:
"New iFly 737NG Interface Tool Public Beta
A new tool for the Flight1/iFly 737NG series has be launched to allow cockpit builder large or small to interface their hardware with all the functions available in the iFly 737NG range. This has be created by iFly Pro team member Jouni Törmänen and while initially designed for the Pro cockpit builder version it works on the current FS9 and FSX versions just as well. The tool is a public beta at the moment to allow any final bugs to be found and to get feedback from the community before the final release.
Jouni said
"This is the interface between iFly 737 and FSUIPC. With this interface you can use your FSUIPC compatible clients (OC,SIOC etc) with your Hardware to read lights/states from the iFly and to write commands based on your Hardware switches/rotarys etc. As this is public BETA version the documentation is not completed yet and bugs surely exists. You use this public BETA version at your own risk! Support is given via iFly home cockpit forum."
Pre-reqs:
1) FS9 or FSX Flight simulator
2) iFly 737NG addon
3) MS Visual C++ redistributable package (32bit)
4) FSUIPC addon
5) FSUIPC compatible client configured to use iFlyToFsuipc offsets.
The file can be found on the Flight1 file library, http://library.flight1.net"