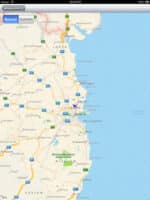 The latest release from Position Games for iDevices brings a number of useful utilities together in one package.
FSXSuite includes not only a moving map, with an overlaid flightplan over either satellite or drawn imagery, but also a Terrain Awareness and Warning System (TAWS), AI radar, weather radar drawn from cloud information within the sim and more. Available for both iPad and iPhone/iPod Touch, full details can be found at iTunes, here. The full press release can be found by clicking on "Read more", below.
PositionGames.com released FSXSuite. An all-in-one add on for FSX. It runs on iPad, iPhone and iPod touch. This easy to use add-on gives you, the pilot, access to important information. Everything needed for a safe flight is at your fingertips.
– Track your plane on a map, choose either satellite or drawn map. The flight plan is drawn as an overlay
– Track your plane on an elevation map. Airports, VOR and NDB's are drawn
– Use the TAWS module to get alerted by mountains on your flight path
– Radar screen shows AI and multiplayer aircraft
– Weather screen show cloud formation which is retrieved directly from the FSX weather engine
– No IP-address required
– Works on the go, you don't need to be on the same network
– Universal app
– Works with free client, download from www.fsxfollow.com
Happy flight!
http://www.positiongames.com/PositionGames.Com/FSXSuite.html