Warsaw is the capital city of Poland and it is also the largest city in Poland. This city including the metropolitan area has approximately 2.7 million inhabitants and is located on the Vistula River roughly 260 kms from the Baltic Sea. The city proper covers approximately 517km sq. while the metropolitan area covers approximately 3,000km sq. The city's history is long and storied with the first fortified settlements dating back to the 9th century. Over the centuries it has endured conflict and tasted prosperity. Most recently it suffered near total devastation during the Second World War but it is now experiencing an economic boom greater than anything during its history.
This package will allow the flight simmer to experience the entire city of Warsaw in an amazing amount of detail. I believe this package is best suited for the GA or helicopter enthusiast and VFR flying. The scenery is also available for P3D and FS2004.
Installation
The download from SimMarket consists of two large files for a total size of 4.16Gbs. After you download and unpack them you simply launch the executable, make a few selections and then the installer takes care of the rest.  When it is done you will have an entry in the scenery library for the Warsaw scenery and you will see a newly created program group "Drzewiecki Design" with "Warsaw City 2013 X" as a subgroup. In here you will find a link to the product's manual.
Configuration
There are no configuration options however they make mention in the manual about seasonal textures and the limitations of FSX in this regard. For anybody who has one of their scenery products you will probably already be aware of this neat little program; the season switcher utility. After you run this program and make your choice of season either fall, winter or summer you will see the appropriate ground and tree textures.
The utility is available from their website:
http://drzewiecki-design.net/forum/viewtopic.php?t=189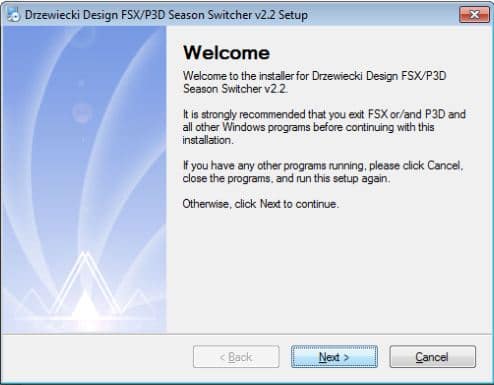 Documentation
Included is a 12 page PDF product manual. The first two pages are a very interesting history lesson on this very old city.
Following this is a page that provides some brief information on such topics as installation, compatibility with other products, seasonal textures and performance. Charts are not included but they do provide a website where they can be accessed along with a username and password for logging on. The remaining six pages are dedicated to providing relevant information for each airport/heliport that has been upgraded as part of this scenery addon. For each one we get a brief description with some other specifics such as runway lengths, orientation and geographic coordinates to name just a few. The manual is a worthwhile read and good go to resource as I found myself referring to it often during my time flying around Warsaw.
Scenery
Just going by the exceptionally large file size of this addon you know that visually there will be lots to see. I'd like to begin by using some of the developer's own words taken from their website. I feel that it does a nice job of describing just what you are in for when you purchase this product.
"Our product, Warsaw City 2013, gives you a possibility to fly over an extremely large area of Warsaw city. We have included a full-season/night high quality photoreal ground textures of about 5000 square kilometers. The city centre has hundreds of custom buildings modelled, there are all important landmarks on the whole included area too. We have also created 14 variously detailed airports and heliports for the project:"
1. Modlin EPMO – a newly constructed base for low-cost carriers, with 2500m concrete runway and a modern terminal
2. Babice EPBC – a large GA airport with a massive traffic and a 1300m concrete runway, located in the center of the city
3. Chrcynno/Nasielsk – one of the oldest airports around Warsaw, currently being used for ultralights, paragliders and by skydivers
4. Sobienie EPSJ – a modern, private airstrip constructed as a part of a luxury housing estate and golf courses, with an operating flying school
5. Góraszka EPGO – constructed in 1994; International Air Picnics were organized at that airport for many years
6. Konstancin-Jeziorna – a private airport owned by an aircraft dealing company
7. Konstancin Heliport – a private, nicely located modern heliport with a hangar for two Robinsons
8. Ostrobramska Heliport – an extreme heliport located on the parking and on the roof of the BMW dealer's showroom building
9. Ręczaje – a small private grass runway with one tiny hangar
10. Kroczewo – a former military airport – for the last few years the small grass runway is used by private ultralights and paragliders
11. Trębki Nowe – a small grass runway next to a farm used by paragliders; very close to Kroczewo airport
12. Wincentów 1 – an unregistered private airport, used mainly by paragliters and ultralight trikes, very close to LIN VOR
13. Wincentów 2 – an unregistered private airport, used mainly by paragliters and ultralight trikes, very close to Wincentów 1
14. Zabia Wola – 440m grass runway surrounded by trees, difficult final approach with a lot of turbulences
Never having travelled to Warsaw I viewed the chance to explore it through this package as a wonderful opportunity. The scenery covers the metropolitan area which has a mix of both rural lands and densely populated areas. The rural lands include large tracts of agricultural lands and forests with small hamlets/villages and then there is the densely populated city of Warsaw with all of its buildings.
For the base they use photo textures so we get a detailed representation of the area and we can see all of the various geographic features. The use of photo textures also ensures that they have an accurate base whereby they can overlay the myriad of different objects and structures that are found throughout. The quality of these textures is such that at altitudes below approximately 1500ft there is some blurriness, which is a very common downside with photo textures, but as you get to higher altitudes the problem becomes less obvious.
I thought that the central core of the city and the area along the banks of the Vistula River with its many bridges were the most interesting. This is where the largest concentration of custom structures is found and the fruits of their hard work  shine and the city's rich history and diverse architecture can really be appreciated.
Just to give an idea of what the FSX default Warsaw looks like compared to the Drzewiecki-Design version here are a couple of screenshots of the downtown core.
Comparing the skyline and individual structures with available pictures I was impressed with how well they were able to reproduce so many of them.  Some of the highlights include the many bridges that cross the Vistula River, the Castle Square, National Stadium and the Palace of Culture. This is only a small sampling of what they've included as there are many more.
As you leave the central core area the landscape becomes less cluttered and we see much more in the way of farm lands and small dispersed pockets of houses and other structures such as power distribution towers. Their work in these areas was just as impressive as what they did in the central core of the city.
Airports/Heliports
Scattered throughout the entire scenery area are 14 airports/heliports that are ideally suited for starting or ending your flights. The variety is worth noting as they range from tiny single runway grass strips all the way up to Modlin Airport which is equipped to handle commercial jets. For those who would rather fly helicopters they also include two dedicated heliports. No matter what aircraft type it is you like to fly, you will find something that matches your requirements.  I did several flights in commercial jet liners however I chose to do the majority of my flights using a small single engine Cessna and a helicopter. This I felt was the best way to experience all of the airfields. Although I don't see these as the main focus of the addon they are integral to its appeal and both complement and complete the package.
Each of the locations benefited from visual upgrades, although some more than others. At most locations they typically added better runway/taxiway textures and custom buildings and objects. Images used in the creation of the buildings were generally high resolution and very good quality. The types of objects added normally consisted of items such as windsocks, parked vehicles, static aircraft and people.
As I explored the different airports I came across instances of some outstanding work. The high resolution imagery they use for many of the structures makes them look so real. Two of the airports stood out; EPMO Modlin Airport and EPBC Babice Airport. Both showcase some of the best aspects of the airfield upgrades.
Modlin Airport which is one of two major airports serving the city of Warsaw is used by low cost carriers. In their re-creation they've included the airport's buildings including the main terminal along with the old hangars that are located down near the end of runway 26.
These two hangars are some of the finest examples of how their use of high quality imagery shows all too well how badly some buildings have been neglected over the years. Paint is peeling, metal is rusting, there are dirt stains and broken glass; clearly they are in dire need of repair and routine maintenance.
Another visual gem I came across was Babice Airport which was actually my favorite airstrip. Primarily used by private pilots I felt that it had the most ambiance with lots to see. The location was also great being right next to the main central area of the city. The airport has a concrete runway and grass strip along with several helipads. The buildings are old and like those at Modlin show signs of aging and neglect; this is thanks again to the high quality imagery used. Another visual feature was their inclusion of static aircraft parked in various spots around the airport. There were different types of GA aircraft, gliders and several helicopters.
One of the most interesting features is one of the large hangars. What makes it special is that they've left the main doors open so we can see the interior. They've modelled both the vertical support and horizontal roof beams and then they included a variety of static aircraft and people that appear to be milling about. Another example of some great work that went into this project.
There are two dedicated heliports; Ostrobramska and Konstancin and both easily fit into the outstanding category. Again they've combined high quality graphics along with the addition of 3d objects to make these locations special. Ostrobramska is the more complex of the two and is sure to put your skills as a helicopter pilot to the test. If you don't know one helipad is in a parking lot and the other on a small rooftop.
To finish off on this subject of airports/heliports, the largest airport in Warsaw; Frederic Chopin Airport was not modelled in this scenery. This I believe was because Drzewiecki Design are currently working on a project that specifically targets this airport. Currently if you want to have an upgraded airport there is a freeware version of EPWA available. If you choose to install it the airport blends in quite well with this package and does offer a more realistic version than the FSX default one.
Seasonal Textures
As I mentioned in the configuration section of this review it is possible to fly in whatever season you choose and have the appropriate seasonal ground and tree textures. This is important because Warsaw does experience dramatic visual changes with the different seasons. You just have to remember to run the Season switcher utility before starting FSX.
The screenshots speak for the scenery here and clearly illustrate the starkness of the winter months as experienced in Warsaw.
Night
Night flying was very enjoyable as they include a full set of night time textures; another reason why the file size is as large as it is. Overall I was happy with the ground lighting, building lighting and airport lighting. The combination of these three elements made for some realistic night flying throughout the scenery area.
Performance
For anyone who might be on the fence about the scenery because they fear poor performance, I'd like to put your mind at ease. For a scenery that contains so many objects I was very happy with how it performed. With my scenery sliders to the extreme right and with heavy cloud cover I was still able to maintain frame rates high enough to have a smooth and fluid experience. Close to the central core where there is the  greatest concentration of buildings I did see some slight delays in texture loading but that was the only area where I encountered any type of issue.
Final Thoughts
I feel that this is one of their best products. Modelling a large city is a daunting task, you want to add as much as you can to make it as close to reality as possible while still maintaining acceptable performance levels. They have accomplished all of that with Warsaw City 2013. If you have any desire to fly in Poland you will want to get this package, it is well worth the price.
My Ratings
Installer:  Excellent. Little effort required, adds entries to FSX scenery library.
Documentation:  Brief but informative.
Modelling: Massive amount of objects/autogen with little impact on frame rates.
Extras:  Lots of airport/heliports to choose from within the scenery area.
Download Size: FSX 4.16Gb split in 2 files
Price: EUR 29.40 without VAT
Developer Homepage: http://www.drzewiecki-design.net/
Link: http://secure.simmarket.com/drzewiecki-design-warsaw-city-2013-fsxp3d.phtml
Test System:
Intel i7 960 OC @ 4.2 Ghz, 6 Gb RAM, EVGA GTX560 Ti w/1.2 Gb video, Win 7 Ultimate 64, FSX w/acceleration, Ultimate traffic 2, REX Overdrive, GEXn, UTX, AES, GSX, FSUIPC.
Richard Desjardins