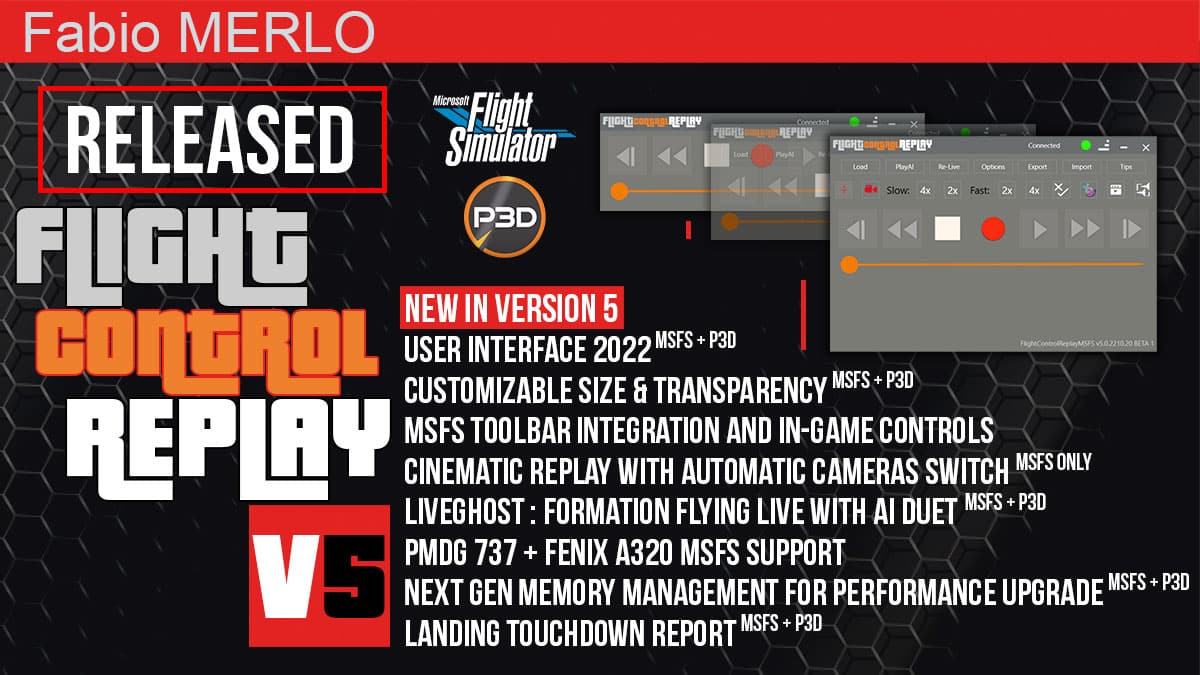 Fabio Merlo confirmed in his last press release that FlightControlReplay 5 has been released at simMarket. His software is the most complete software for Replay and Recording videos for MSFS and Prepar3D5.
Introduced with a totally revamped user interface, the significant changes impact all other aspects of the tool to make it easier to install, to handle, to setup and customize, and with new features quite spectacular even for a regular user of its previous version 4.5. The upgrade price is reduced compared to the base price you are a registered user of FCR v4.5.
In FlightControlReplay5, you get a customizable user interface with 3 sizes available that you can switch from one to another by just a click. You can also make it transparent, or ask to keep always on top of all other active windows on your system. That's not all, thanks to the implementation of FlightControlReplay directly in MSFS : the button is added to MSFS toolbar, and a new window lets you control the main features of the replay utility without leaving the simulator.
Then, you can start the entertainment with a Live Ghost to get a flying companion, an AI pilot, without need of a Recording first, loading a Replay. Just fly and activate the Ghost feature. Its position is customizable.
Another new feature announced here is Cinematic Replay. During a Replay, you can now enjoy what I always like in many other video games : watch the action with multiple angles of view with an automatic swtich between different cameras !
All previous features of FlightControlReplay are packed here again so you can keep on feeding your Twitch or YouTube channels with nice videos based upon the popular PlayAI, AI Traffic detection and recording/replay, or use InstantReplay.
Streamers and YouTubers are already on the line to showcase the potential of one of their regular tool. Among them, there are BLUGAMES, Q8PILOT, PILOT STUDD, DRAWYAH & KIWI MACE.