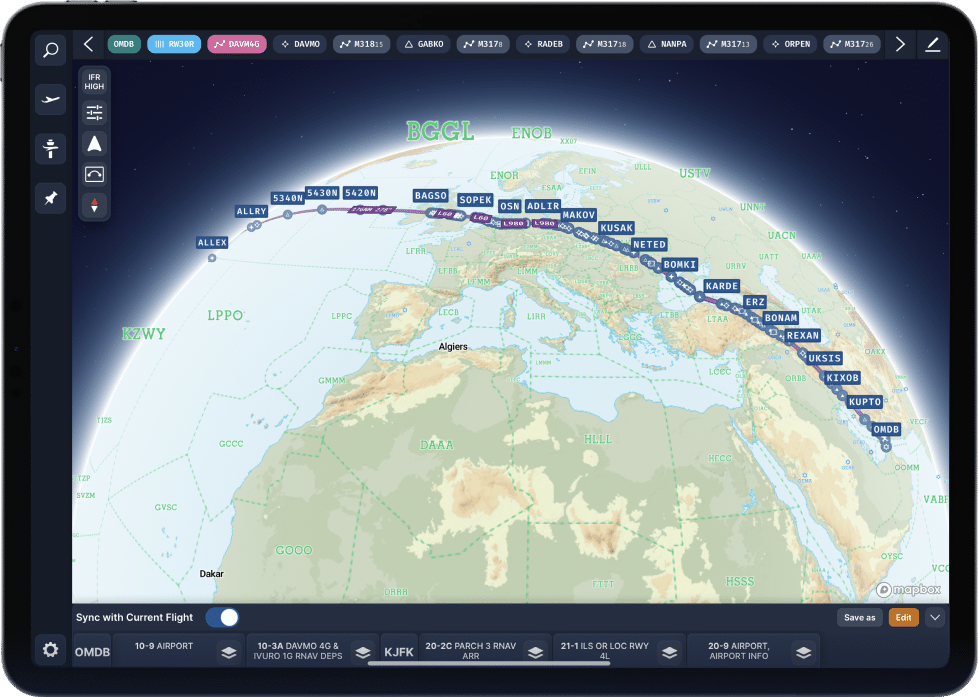 New Navigraph Charts Offers Worldwide VFR Coverage
We are proud to announce the release of Navigraph Charts 8. The most notable feature additions in the new version are worldwide VFR charts coverage, drag and drop rubber band route construction, seamless zoom down to gate level, and 3D globe projection. Following the initial release many more features await such as weather layers, profile views, navlog, traffic, and annotations. Navigraph Charts 8 has been developed with emphasis on delivering a seamless and intuitive experience, reducing the pilot workload in all phases of the simulated flight.
What's New?
Navigraph Charts 8 has been completely rewritten to accommodate an extensive roadmap of new features scheduled for release over the next couple of months. In the new version, you will see the following new features:
Worldwide VFR Charts
Drag and Drop Route Construction (only Desktop and Cloud in initial release)
Seamless Zoom
3D Globe Projection
Autopinning of Procedure Charts
Airport Crosswind and Weather Information
Vector Charts
A more detailed feature explanation, along with product videos, is available on the Navigraph Charts product page.
Subscription Renaming
Effective today, the Navigraph Ultimate subscription will be renamed to Navigraph Unlimited to illustrate that a subscriber now has access to all products, data, and services that Navigraph has to offer – including VFR charts.
Current Ultimate subscribers are automatically transferred to Unlimited.
Price Adjustments
Due to increased costs for product development, data licensing, and significant inflation, Navigraph will adjust subscription prices on December 8, 2022.
New prices:
Navigraph Unlimited Monthly 9.05 EUR
Navigraph Unlimited Yearly 81.64 EUR
Yearly Navigation Data 29.79 EUR
All prices are exclusive of VAT which is applied individually for each subscriber resident in a country within the EU.
This price adjustment applies to new as well as active subscriptions.
Coming Features
Scheduled to release in the coming months are the following features:
● Weather layers – winds, precipitation, cloud coverage, and more.
● Navlogs – to keep track of past flights, hours, and statistics
● Profile views – phases of flight, level changes, terrain
● Traffic visualization – other popular networks
● Charts annotations – to take taxi instructions on the charts
How to Get It
Navigraph Charts can be downloaded from navigraph.com, Apple App Store, and Google Play.
Navigraph Charts can also be accessed through a web version located at charts.navigraph.com.
[Video] What Do Runway Markings Mean and Where to Land?