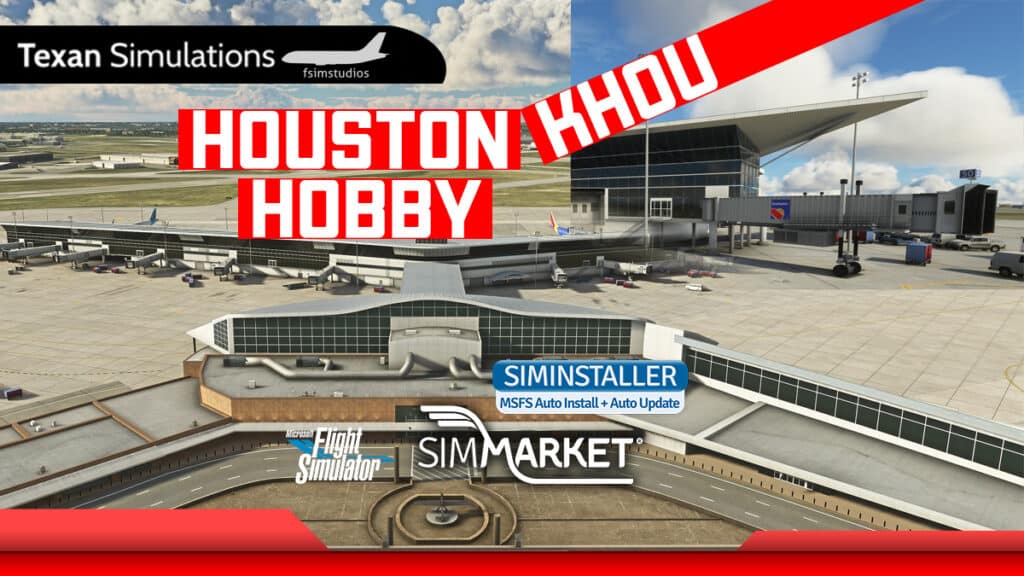 Experience the ultimate realism and immersion with FSimStudios' Houston William P. Hobby KHOU add-on for Microsoft Flight Simulator! This highly detailed recreation of Houston Hobby Airport will transport you to the heart of Texas, just 7 miles from downtown Houston.
As Houston's oldest commercial airport, William P. Hobby Airport holds a special place in the city's aviation history. Initially the primary airport until the opening of Houston George Bush Intercontinental Airport in 1969, Hobby was reopened after several years and became a secondary airport for domestic airline service, as well as a hub for corporate and private aviation.
The collaboration between FSimStudios and Texan Simulations ensures an accurate and up-to-date representation of Houston Hobby Airport. The add-on reflects the airport as it stands in 2023, featuring the complete removal of Runway 17 to match current construction plans. The attention to detail is remarkable, with custom taxiway signs, custom ground textures that accurately depict discoloration to match real-life conditions, and improved high-resolution orthographic imagery.
You'll be amazed by the handmade PBR textured buildings, with over 50 of them meticulously crafted to resemble their real-world counterparts. Step inside and explore the detailed interiors of all the concourses of the terminal. And for added flexibility, you can toggle the detailed interiors on and off according to your preference.
The updated AFCAD ensures that the taxiway names and parking spots are accurately modeled, further enhancing the realism of your airport operations. The terminal building itself is recreated with precision, capturing the essence of William P. Hobby Airport.
An exciting feature of this add-on is the inclusion of the Hobby Airport DoubleTree Hilton, which is hosting the prestigious FSExpo 2023 . Immerse yourself in the atmosphere of this special event and imagine yourself attending the first day of the expo.
💻 With Siminstaller = MSFS Auto-Install and Auto-Update via SIMMARKET app