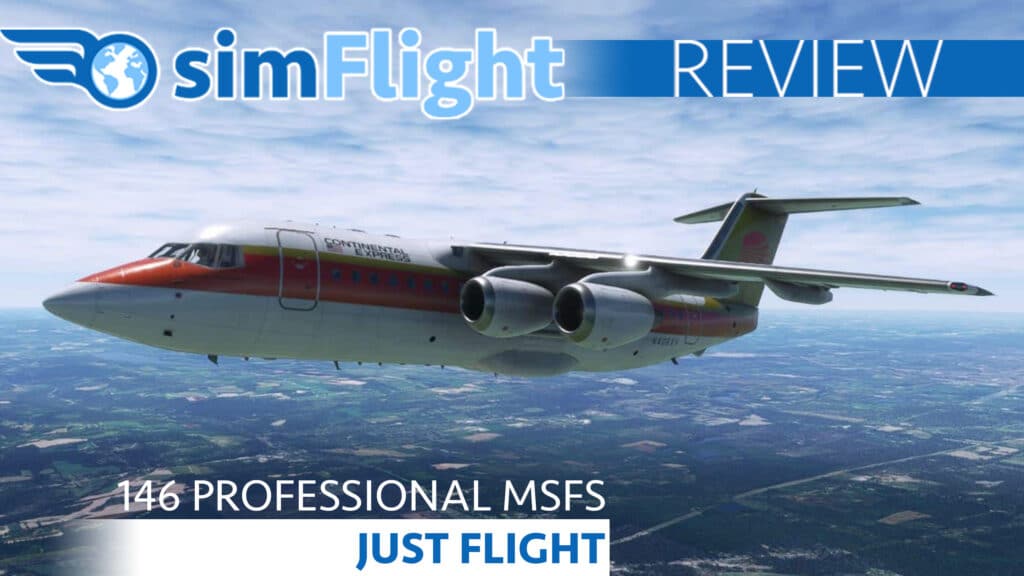 Review by Rick Desjardins
Introduction
The British Aerospace 146, aka BAE 146, is a short haul regional airliner that was produced in the United Kingdom from 1983 till 2001. An improved version known as the Avro RJ was manufactured by Avro International Aerospace starting in 1992. It is the most successful British civil jet airliner programme with 387 aircraft manufactured. It was marketed under the name "Whisperjet", because it was quiet.
The aircraft was produced in a number of different models and this package includes the following variants; – 100, -200 and -300 along with the "QC" (Quick change) a convertible freight or passenger model and the "QT" (Quiet Trader) for the freight-carrying version. As well, the RAF also flew this aircraft with the variation designations; CC2.MK 2 and C.MK 3.
Passenger loads and ranges varied depending on the variant.
146-100: 70 – 82 passengers with a range of 935NMs
146-200: 85 -100 passengers with a range of 1,176NMs
146-300: 97 – 112 passengers with a range of 1,090NMs
Installation
The size of the download is 2.81Gbs with the current version being 1.8. Installation of the product was straightforward. Running the executable you will be required to enter the license key which was provided at the time of purchase, this will allow the installation to finish. Once done it takes up just over 5Gbs.
Included in the package are 8 different variants with a total of 41 different liveries from all regions of the globe ensuring that no matter where you choose to fly you can utilize an aircraft that would have seen service in that area.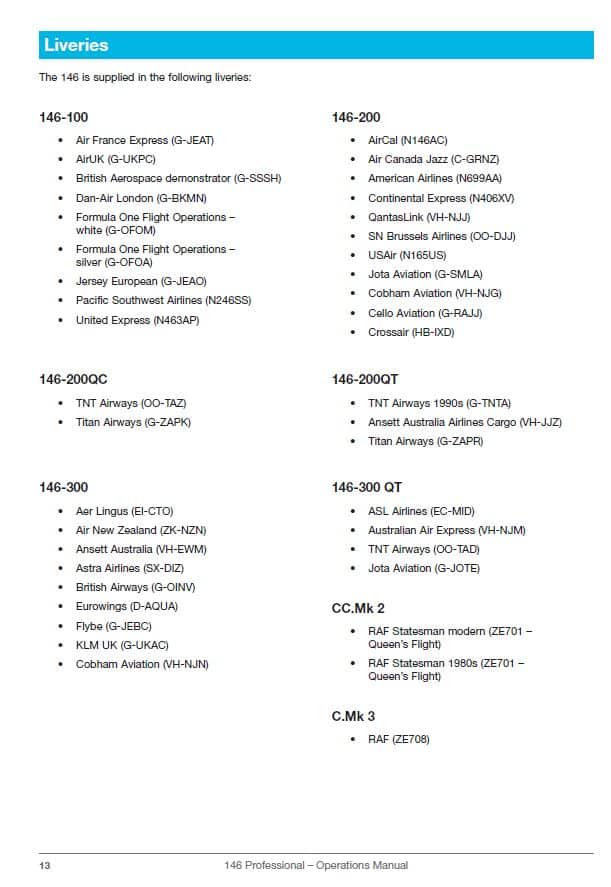 Documentation
The product comes with an in-depth 264 page pdf operations manual that covers all aspects of the product including but not limited to; installation, the EFB, discrete systems functionality, normal procedures, a tutorial flight and MSFS control assignments. All in all, a very good document with lots of great information which I found myself referencing on numerous occasions.
Exterior Visuals
Wow is a word that quickly popped into my head as I explored the exterior of this aircraft. I would definitely say it deserves to be considered as being amongst the best visually rendered aircraft currently available for MSFS. The aircraft's high wing and T tail silhouette is beautifully rendered in all its glory. Undercarriage, air brake, wing spoilers and the flaps are just a few of the exterior features which got my attention. This is definitely an aircraft that you should take the time to explore in order to be able to appreciate all the hard work the developers put into the product. Also worth checking out are all the great liveries included with the product.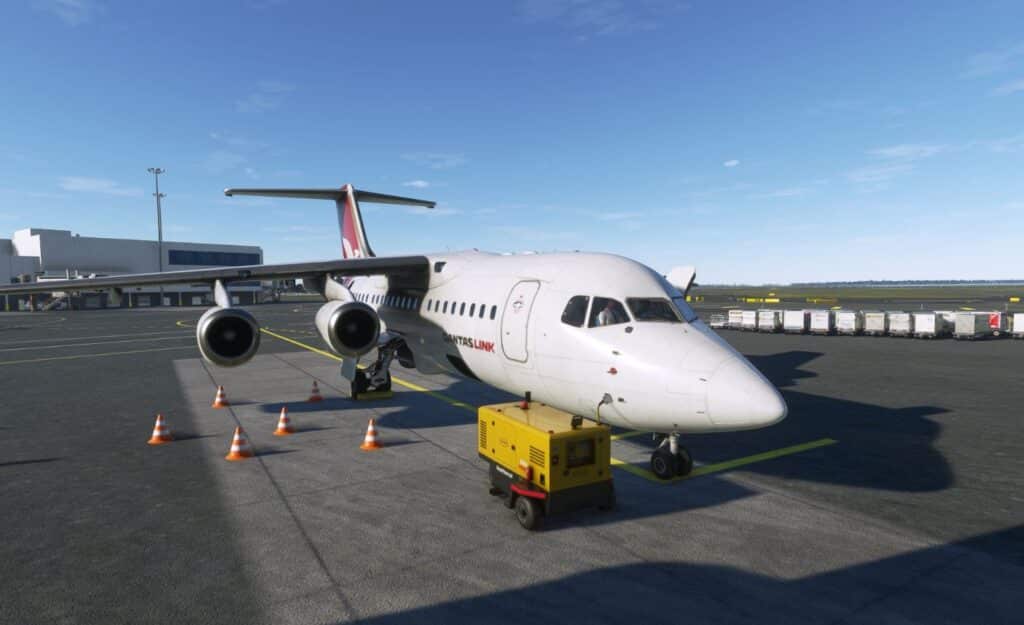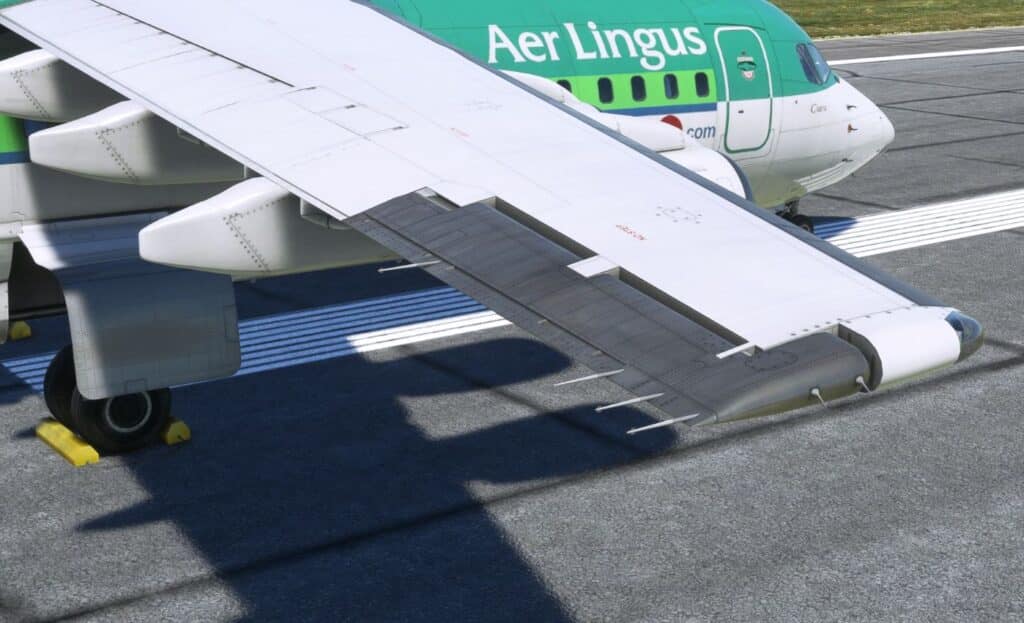 Interior Visuals
Attention to details was not limited to the exterior. Throughout the entire flight deck area you can tell they went all out in making you feel as though you were sitting in the cockpit of an aircraft that had seen its fair share of flying hours. Very noticeable also is the lack of any MFD or PFD, it is all analogue gauges. This aircraft precedes those modern innovations.
No matter where you looked they didn't shy away from going out of their way to include the smallest of details, whether it was under a seat or on the main flight deck panel, they were meticulous in their craft. I would also like to add that in addition to all the great graphic details something else that contributed to the realism was the fluidity of any instrumentation movements. It was another important factor in making you feel as though you were interacting with the real thing.
Their hard work and diligence didn't stop with the flight deck, the entire passenger cabin has been faithfully reproduced for the passenger variants and for the freight-carrying versions the cargo area has been modelled.
Systems
The systems' modelling is very extensive and the developers have put a tremendous amount of effort into ensuring the functionality of all of the various systems that are required for the safe operation of this complex aircraft. All have been custom coded to give the user as realistic an experience as possible. Air conditioning, auto flight systems, hydraulics, electrical, fuel, ice and rain protection, navigation are just a handful of the systems they've modelled.
There are system inter-dependencies that come to light as you follow the various flows and checks and if you are not mindful of them you may run into problems. An example of one is the simple procedure of retracting the front stairs. To do this you must have sufficient yellow hydraulic pressure, so you will need to turn the AC pump on prior to engine start. This could be a head scratcher if you aren't aware of it, but it is explained in the manual. With their manual and checklists they have given you the tools you need to handle all aspects of your flight.
Electronic Flight Bag
This aircraft comes with an interactive multi-function EFB that includes several very useful applications. If you have a free Simbrief account you will be able to link your current flight plan to the aircraft. This gives you the luxury of loading the payload and fuel based on the flight plan and then if you have the FMC CDU enabled the actual flight plan can be loaded into the FMC saving you the process of loading each individual waypoint. It is also via the EFB that you would open and close any doors, extend or retract the front stairs, set the chocks and request the GPU. If you have a Navigraph subscription you can access their charts and as an added small bonus you also get real time situational awareness while flying over any area covered by the chart in use. The map function also gives you that ability but at a much higher altitude. There are 3 different aircraft states available via the EFB; cold and dark, turnaround and ready for takeoff. A TOD calculator is provided and came in handy as the aircraft does not calculate that for you. Finally as I mentioned earlier they include a comprehensive set of checklists that will take you through all phases of your flight.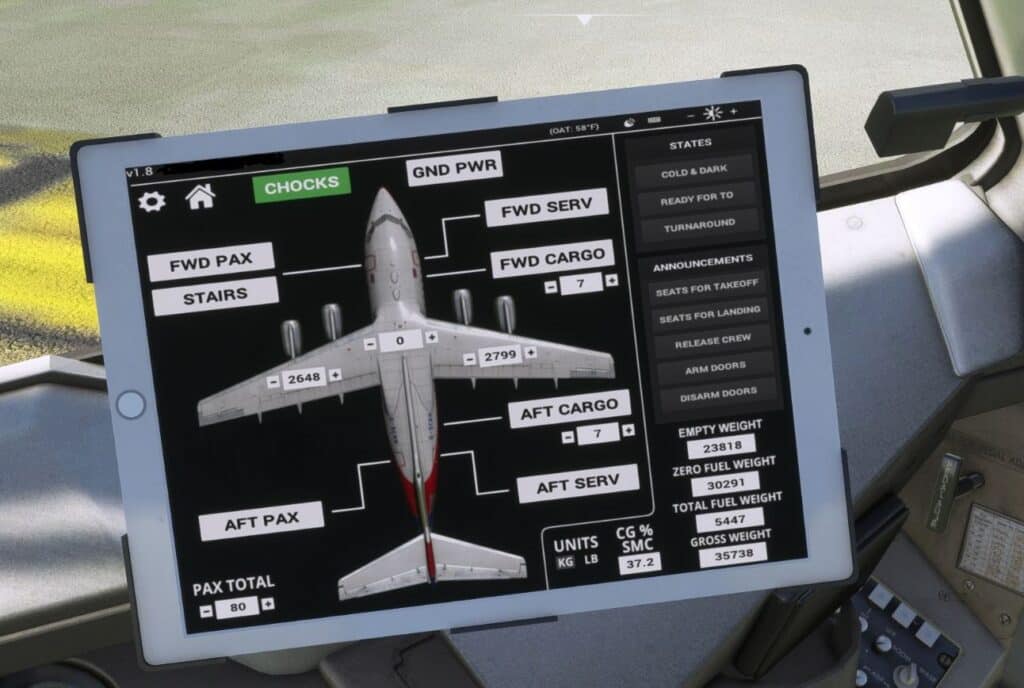 Flying the BAE 146
For anyone accustomed to flying modern jets this aircraft may take some getting used to. The autopilot is rudimentary compared to what you find in modern aircraft and it has no automated VNAV capabilities or auto throttle. If you choose to fly without the FMS enabled you will be navigating by VORs and NDBs. If you do choose to use the included FMS it is the Working Title CJ4 FMS that has had the radio, VNAV and MFD functionality removed.
Sitting in the pilot's seat one of the first things you will notice is that all of the gauges are analogue, this aircraft is from an era preceding glass cockpits. It is complex but this is where their inclusion of checklists and co-pilot callouts were a godsend as I made extensive use of them in all stages of my flights.
In the manual they include a tutorial flight taking you from Jersey Airport, EGJJ, to Liverpool John Lennon Airport, EGGP. It takes you from cold and dark to leaving the aircraft after shutdown. The flight uses radio navigation so it's a good starting point for anyone not familiar with that type of navigation. I am not a real world pilot so I cannot speak to how the handling compares to the actual aircraft I just know that it was responsive in a way that I felt was right for this type of aircraft.
In addition to the tutorial flight I made many other flights utilizing both radio navigation techniques and flights using the included FMC. Every one of them was very enjoyable. The favourite part of my many flights was the approach and landing phases, hand flying the final segments. Simply put it is a fun aircraft to fly as it requires your attention from power up to shutdown.
An interesting and very useful feature of this aircraft is its SYNC mode. This allows you to temporarily disengage the autopilot while making necessary changes to your V/S and then reengage it and continue on with the new setting. With no automated VNAV function this quickly became an aircraft feature I was happy to have.
Another shortcoming when comparing it to modern commercial jets is its lack of any auto throttle. To help overcome this, the aircraft uses what is known as the Throttle Modulation System or TMS. It is used to help control the engine thrust. It takes into account various parameters and temperature settings to better assist the pilot in setting the throttles depending on the particular phase of flight.
Final Thoughts
If you are looking for an aircraft in the short haul jet category that looks great and lets you immerse yourself in flying you will seriously want to consider this product. For me it checked all the boxes and did not disappoint. This aircraft is capable of steep descents and well suited for short runways which is a characteristic that made it all the more fun to fly.
If you need more help beyond what is provided in the manual there is no shortage of resources as there are numerous videos on Youtube from Just Flight as well as others.
At the time of my writing this review the developer had indicated in the product forum that they were actively working on an update to add the UNS-1 FMS which is typical of the type you would have found in this aircraft.
Review by Rick Desjardins
Pros
Cons
➢ Very detailed interior and exterior modelling
➢ Highly immersive systems modelling
➢ Lots of liveries
➢ Fun to fly
➢ Good value for the price
➢ Nothing that detracted from my enjoyment of the product
Purchase
Test System
simMarket.com
Developer: Just Flight
Price: EUR 49.96 (+tax EU customers)
Ryzen 5 5600X,
ASUS TUF X570-Plus MB,
1 TB NVMe SSD,
32Gb DDR4 RAM,
ASUS RTX 3060 OC w/12Gb VRAM,
Win 11,
Track IR, FSLTL AI traffic, MSFS graphics settings to Ultra.