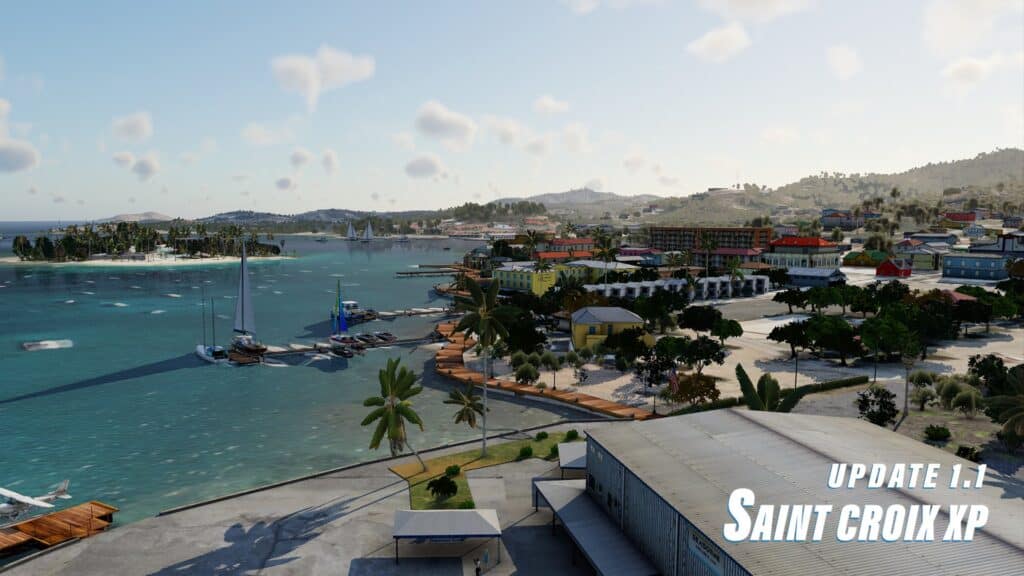 Aerosoft's latest update v1.1 for the Saint-Croix scenery in X-Plane 11 and 12, brings a range of exciting enhancements aimed at improving the overall experience of virtual pilots. With a focus on compatibility and visual enhancements, this update ensures that users can enjoy an even more realistic and immersive flying experience in the beautiful Saint-Croix island, in the US Virgin Islands of the Caribbean region.
One of the key features of this update is the XP12-compatibility of the Terrain Mesh. With the release of X-Plane 12, Aerosoft has worked diligently to ensure that the Saint-Croix scenery seamlessly integrates with the latest version of the simulator. This compatibility update allows users to take full advantage of the enhanced features and improved performance offered by X-Plane 12, providing a smoother and more optimized experience.
In addition to the XP12-compatibility, the update brings an updated Elevation and Bathymetry Model. This means that the terrain elevation and underwater topography have been refined, resulting in more accurate representation of the real-world landscape. Whether you're flying over the rolling hills or exploring the crystal-clear waters around Saint-Croix, the updated elevation and bathymetry model will provide a more realistic and captivating environment.
Furthermore, the blending of orthophoto and water has been updated in this release. Orthophotos are high-resolution aerial images that are used to texture the ground in the simulator, providing a highly detailed and realistic representation of the terrain. With the improved blending of orthophotos and water, the transition between land and water surfaces becomes more seamless and visually appealing. This enhancement contributes to the overall immersion and adds to the authenticity of the Saint-Croix scenery.
V1.1 Changelog
XP12-compatibility of the Terrain Mesh:
Updated Elevation and Bathymetry Model
Updated Blending of Orthophoto and Water