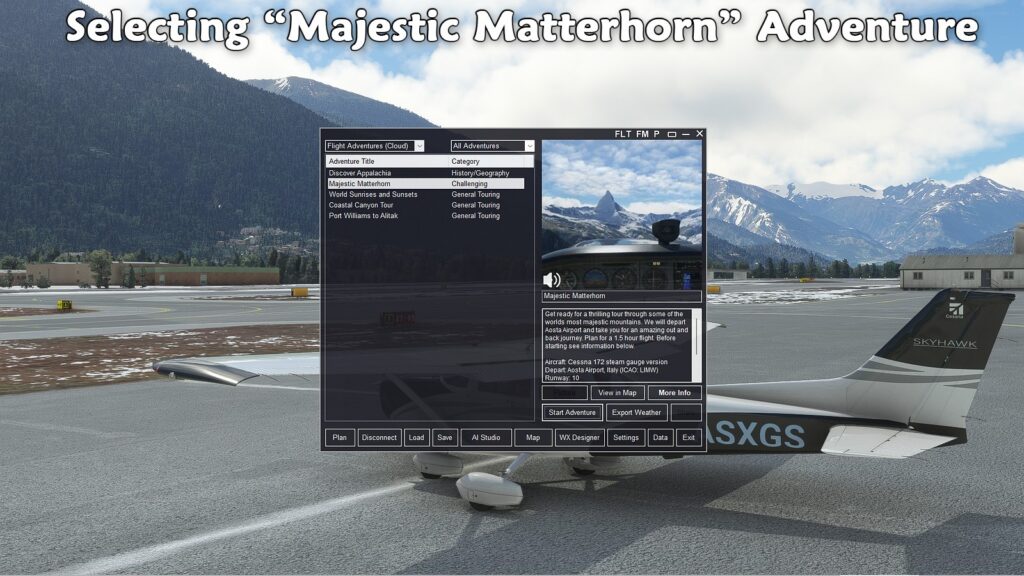 AnyoneFly is an entire suite of tools that allows you to experience the simulator world in ways you may never have before. With AnyoneFly you can make thousands of discoveries and share these discoveries with the world. The entire suite of tools in AnyoneFly can transform your MSFS experience and is a great addition to any VFR pilot's flight bag. There are features that even airliner pilots can enjoy on their long treks across the world!
The best way to begin to describe AnyoneFly is through videos!
How to create and fly the most basic of the three adventure types: https://youtu.be/MH6EbOcBMP4
Discovering locations around your aircraft. No adventure required! The data covers almost the entire world: https://youtu.be/_O8WYK58bjg
The first fifteen minutes of our advanced audio adventure titled "Majestic Matterhorn". The video includes the airport departure with us flying towards the Matterhorn: https://youtu.be/dxWX4pkgkqM
These videos just touch on the amazing things that you can see and do. The product itself centers around three separate databases of world geographical information, with millions of locations covering many categories. But the world does not need to be limited to the more than 12,000,000 locations. Users can create their own locations and share them with the world through their adventures or flights.
It was Flight1's goal in designing this product to bring out the best that MSFS has to offer and make it more fun at the same time. Think of a toolset that can provide an almost unlimited number of activities. Several advanced adventures are included which showcase the most amazing features of our new adventure engine. But do not let "advanced" fool you. No programming skills are required to create an adventure (even advanced adventures). When not flying an adventure, AnyoneFly has the ability to report back to you with information on your surroundings in real time. No in-sim interface is required during flight, which is perfect for VR headset users. Flight1 includes a Voice Designer which allows you to tweak Text to Speech (TTS) for more accurate voices when TTS is used.
The adventure engine allows you to include custom audio. Adventure authors can record their own voice directly via our tools and use it in the simulator. You can be the adventure guide, as well as the voice providing flight directions and basic ATC (ATC is linear and part of audio adventures). Adventures can also include animated animals and other object scenes created in our AI Object Studio. You can even create weather presets based on current METAR reports, or from scratch, and include them in your adventure.
Other tools include an In-Flight map similar to those in used in airliners, a weather preset designer that can also place hurricanes and thunderstorms, a map-planner that allows filtering by feature type, the sharing of weather presets via the cloud, a save/load/share flight system, and more!
Flight1 is releasing this version as an early adopter's special. Anyone can purchase it, but because the cloud is new with limited submissions, we wanted to get it into the hands of those that enjoy creating content.
To find out more about AnyoneFly, please visit https://www.flight1.com/products.asp?vid=flt1sf&pid=f1anyone1