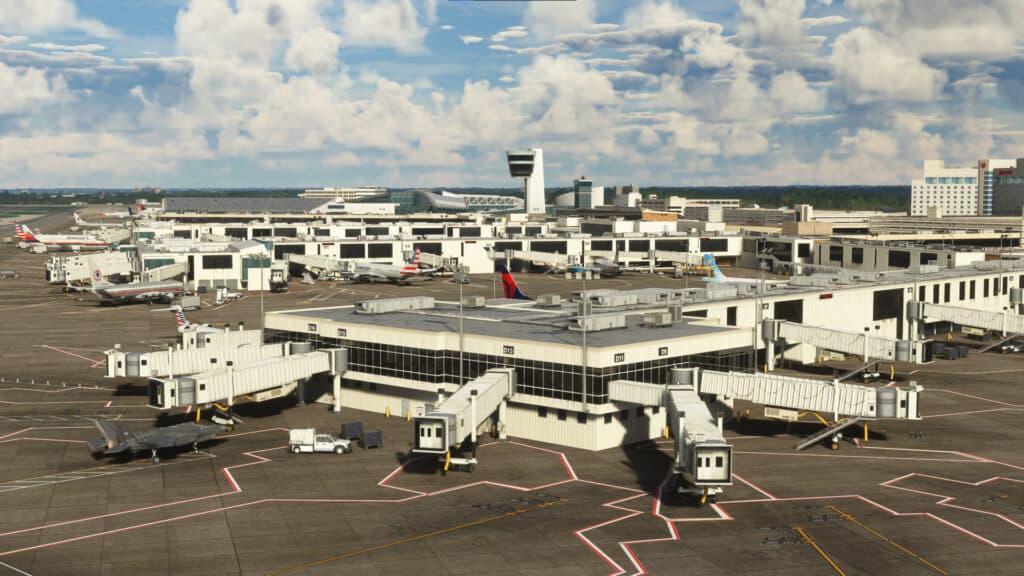 Join us at KPHL Philadelphia Intl Airport for Microsoft Flight Simulator designed by DominicDesignTeam, now available at SIMMARKET! This airport scenery is a visual masterpiece, featuring PBR Textures that bring a new level of realism with lifelike reflections and materials.
Dynamic Lighting adds to the immersion, illuminating the airport at night and creating a captivating environment. Real Ground Markings ensure every line and marking on the pavement is accurately represented, adding authenticity to the virtual airport. DominicDesignTeam has paid meticulous attention to detail, creating custom, hand-crafted pavement that showcases imperfections like dirt, providing a realistic and immersive experience. The custom jetway matches its real-world counterpart, enhancing the authenticity of the airport. The inclusion of custom animation objects, such as passenger and train airport animations, brings life and movement to the scenery.
To make the airport feel vibrant and alive, AI Aircraft parking code has been added, ensuring a bustling atmosphere with arriving and departing planes. This package is a must-have for flight simulator enthusiasts, offering a high level of realism and beauty. Visit SIMMARKET now to experience the incredible realism and immersive features of DominicDesignTeam's KPHL Philadelphia Intl Airport for MSFS.
💻 With Siminstaller = MSFS Auto-Install and Auto-Update via SIMMARKET app