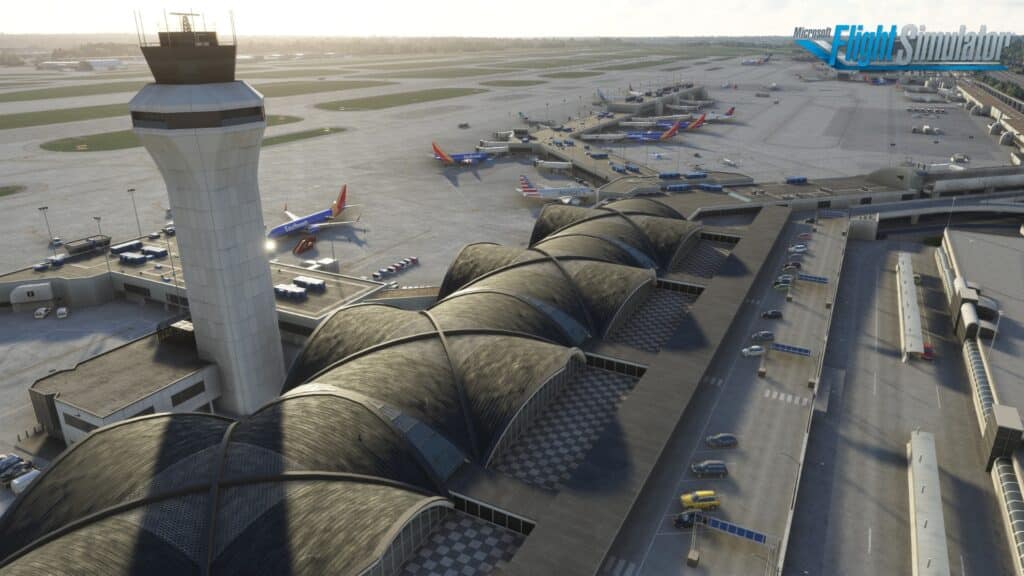 Experience the special atmosphere of KSTL St. Louis Intl Airport in Microsoft Flight Simulator with Feelthere's scenery available at SIMMARKET. Serving nearly 16 million passengers in 2019, this airport offers nonstop service to a wide range of destinations across the United States, Canada, Europe, and sun-soaked locations.
Immerse yourself in the rich aviation history of the airport, named after the prominent aviator Albert Bond Lambert and closely associated with Charles Lindbergh and Trans World Airlines. This scenery of KSTL by Feelthere boasts over 60 highly detailed buildings with PBR texturing, a complete modelled ground polygon with realistic decals, and custom animated jetways. The airport has been updated with an improved AFCAD, accurate parking spots, taxiway names, and taxi signs. Enjoy enhanced taxiway and runway lighting, improved night lighting, and apron lamps that create a more realistic and immersive experience. The airport's terrain accurately follows the real-world elevation, ensuring a seamless transition between the airport and its surroundings.
Don't miss the opportunity to explore and fly from KSTL St. Louis Intl Airport in Microsoft Flight Simulator. Feelthere's attention to detail and commitment to realism bring this iconic airport to life, allowing you to dive in the vibrant world of aviation history. Visit SIMMARKET today and add Feelthere – KSTL St. Louis Intl Airport to your collection of MSFS airports.