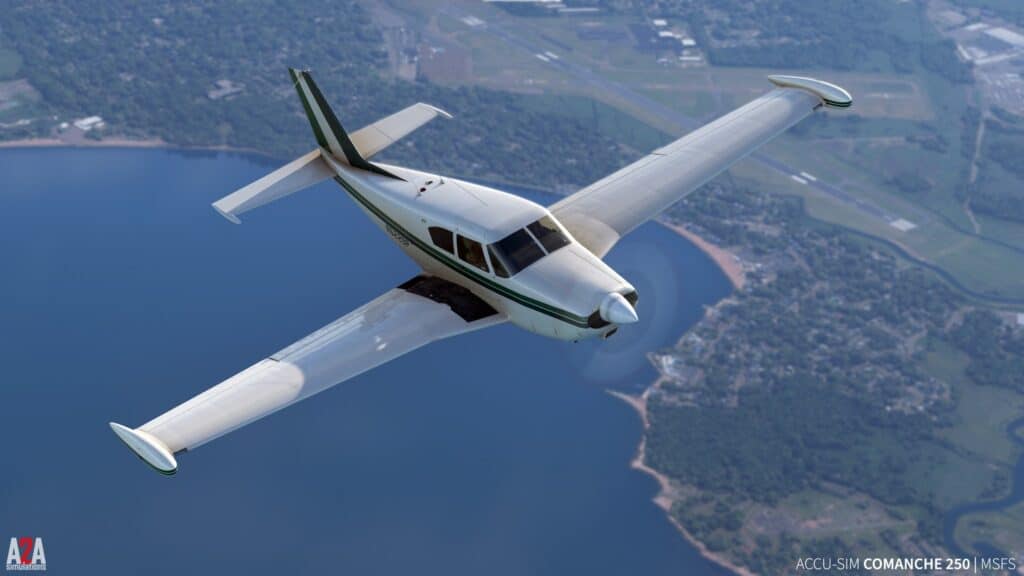 Flight simulation enthusiasts, are you ready to experience soon a new level of realism and immersion with the A2A Simulations' latest masterpiece – the Accu-Sim Comanche 250 for Microsoft Flight Simulator ? It will be released this month. This remarkable add-on aircraft is the product of cutting-edge technology and years of meticulous research, setting a new standard for flight simulation fidelity.
Revolutionary External Aerodynamics Engine
At the core of the Accu-Sim Comanche 250 is the brand new external aerodynamics engine, powered by Accu-Sim 2.0 'Merlin' technology. This groundbreaking innovation brings a level of authenticity to the aircraft's performance that was previously unmatched. A2A Simulations took their real-world Comanche 250, N6229P, and meticulously recorded its behavior over many years, resulting in unparalleled accuracy.
Impeccable Handling and Realism
A2A Simulations has invested extensive effort into the flight testing of the Accu-Sim Comanche 250, resulting in an aircraft that feels authentic and true to life. The handling characteristics and trim behavior have been fine-tuned to perfection, ensuring a seamless and immersive flight experience.
Physics-Based Per-Cylinder Simulation
The Lycoming O-540-A engine is at the heart of the Comanche 250, and A2A Simulations has taken the simulation of this powerplant to the next level. A complete physics-based per-cylinder simulation of the engine ensures that each cylinder operates independently, offering an unprecedented level of realism.
Dynamic Ground Physics and Turbulence System
The Accu-Sim Comanche 250 goes beyond typical flight simulation by incorporating dynamic ground physics. Experience true-to-life weight-on-wheels simulation, realistic tire side-loading, and accurate responses to different surface types. The advanced turbulence system and subtle wing flex simulation add an extra layer of realism, allowing the aircraft to respond realistically to turbulence strength, ground bumps, and fuel load.
Sophisticated Airframe Vibration Physics
The attention to detail extends to the airframe vibration physics. The aircraft's ground roll and engine vibration are realistically simulated, providing an immersive experience that reflects the complexities of real-world aviation.
Authentic Fuel and Oil Systems
No aspect of the Comanche 250 has been overlooked in the Accu-Sim simulation. The fuel system accurately replicates fuel lines, primers, strainers, and even fuel contamination. The custom oil system accounts for dynamic viscosity and contaminants that can degrade and change the color of the oil, adding an extra layer of authenticity to the experience.
Avionics and Technology Integration
The Accu-Sim Comanche 250 is equipped with a custom-coded Narco avionics stack, JPI EDM 830 engine monitor, and Century NSD-360A HSI. The integration of MSFS default/Working Title GNS 430W and 530W GPS units, as well as support for PMS GTN 750 and TDS GTN 750Xi (if installed), ensures versatility and compatibility for all pilots.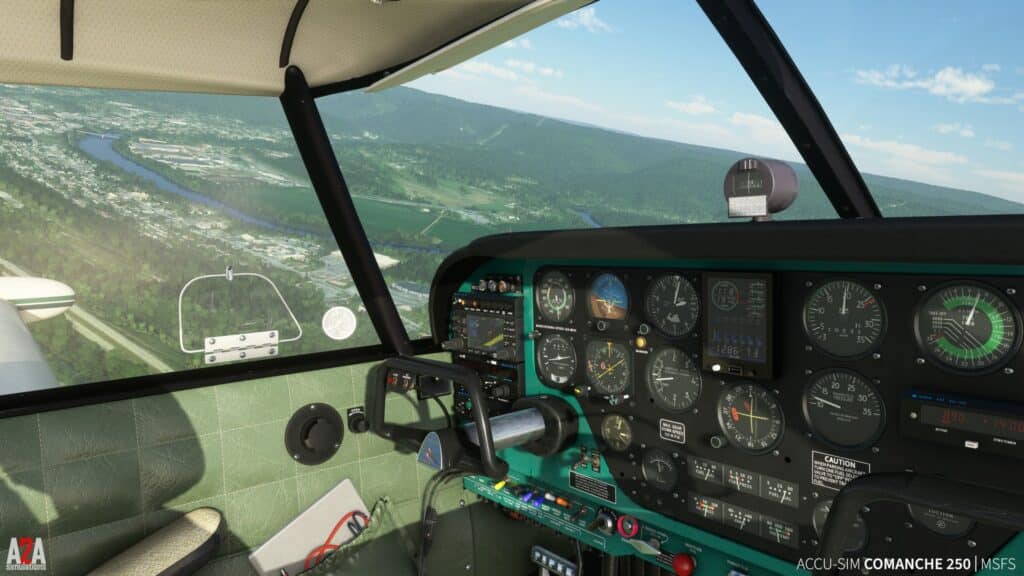 Interactive and Immersive Cockpit
The level of detail continues in the cockpit, with beautifully-rendered external and internal modeling and texturing. The interactive walkaround feature allows users to manipulate and inspect various moving parts, adding to the sense of realism.
Persistent Airplane and Real-Time Analysis
The aircraft's persistent failure and wear simulation can be adjusted or deactivated as desired, allowing users to tailor their experience. The graphical tablet engine analyzer provides an in-depth insight into the piston engine's operation, while the real-time load manager with dynamic weight and balance indicator aids in flight planning.
Aircraft with a Soul
A2A Simulations' Accu-Sim Comanche 250 breathes life into the virtual skies with a physics-driven sound environment featuring over a thousand dynamic sound effects. From the engine's compression cycle during startup to the multi-purpose dimmable cockpit lights, every aspect contributes to the aircraft's soul.
Conclusion
The A2A Simulations – Accu-Sim Comanche 250 MSFS is a testament to the developers' commitment to realism and authenticity in flight simulation. With its revolutionary technology and attention to detail, it offers an unmatched level of immersion and realism, setting a new standard for aircraft add-ons in MSFS. Whether you are a seasoned virtual aviator or a newcomer to flight simulation, the Accu-Sim Comanche 250 will undoubtedly captivate and amaze you with its unparalleled performance and fidelity. So, buckle up and prepare for an unforgettable flight experience in the virtual skies! Available soon until the end of this month.