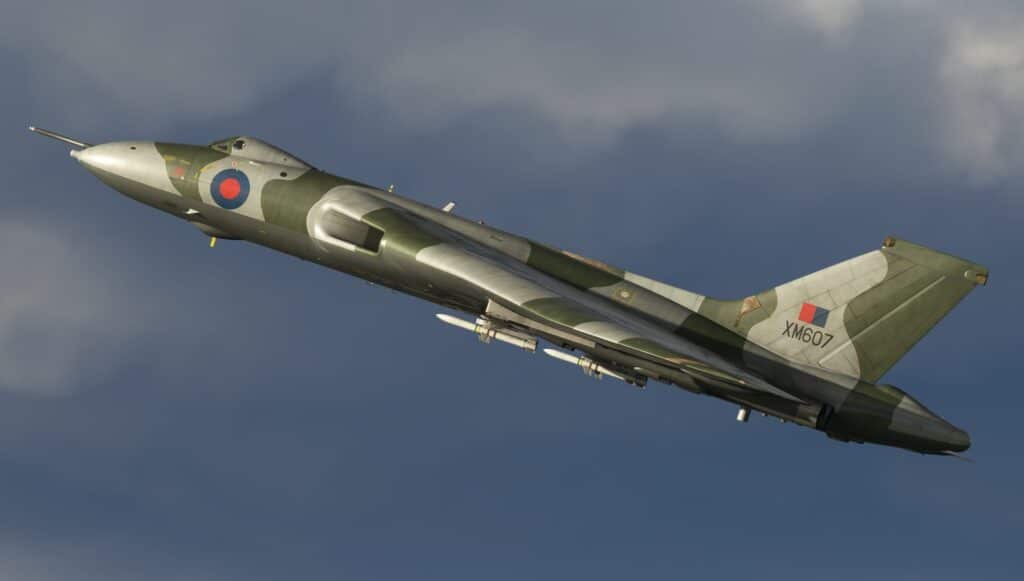 Welcome back to another exciting development update for their eagerly anticipated Avro Vulcan for Microsoft Flight Simulator (MSFS) by Just Flight. In this update, they'll be delving into the thrilling world of weaponry and configuration options that will be at your disposal when you take to the virtual skies in their Avro Vulcan B Mk.2, K.2 & MRR (MSFS). Strap in, because this is going to be a wild ride!
An Arsenal at Your Fingertips
First things first, let's talk firepower. The Avro Vulcan is no ordinary aircraft, and their MSFS rendition ensures you can harness its full potential. They've meticulously recreated a range of formidable armaments for your Vulcan, allowing you to tailor your loadout to the mission at hand. Here's a glimpse of what's in store:
AGM-45 Shrike Anti-Radiation Missiles: Equip your Vulcan with these precision-guided missiles to take out hostile radar installations with surgical precision.
Blue Steel Nuclear Stand-Off Missile: For those high-stakes missions, the Blue Steel nuclear missile gives you the ability to strike deep into enemy territory.
Mk13 Unguided Bombs: When precision isn't a concern, these unguided bombs pack a powerful punch for devastating ground targets.
WE-117 Nuclear Bombs: Go nuclear with the WE-117 bombs, unleashing unparalleled destruction when the situation calls for it.
But that's not all. Beyond weaponry, they've thought of everything when it comes to your Vulcan's configuration.
Customize Your Vulcan to Perfection
In the world of aviation, flexibility is key, and the Avro Vulcan MSFS offers just that. Apart from weaponry, you can also modify your aircraft with various non-weapon related loadouts, such as Cylinder Tanks, MRR-Pods, and Saddle Tanks. These options allow you to fine-tune your aircraft's capabilities to suit your mission profile.
All these loadout modifications can be conveniently managed via the Electronic Flight Bag (EFB) located on the pilot's seat. Familiar with their other MSFS aircraft? You'll be pleased to know that the EFB in the Avro Vulcan shares the same Navigraph and SimBrief functionality. But, if you crave an authentic cold war bomber experience, fret not. They're including an option to hide the EFB from view.
The customization doesn't end there. They've integrated a plethora of airframe and equipment options that can be toggled on/off using the EFB. From antennas and ground equipment to tanker equipment, you have the power to configure your Vulcan to meet your exact needs. Fancy opening and closing the bomb bay or crew doors? You got it. On the K2 variants, you can even extend the refueling hose.
A Dynamic Development Process
They're committed to making your Vulcan experience as immersive as possible, and that means being open to feedback and evolving the EFB options. As we approach the release date, they'll continue to refine and enhance the EFB based on community input. If you have specific options in mind that you'd like to see added, please share your thoughts with them, and they'll do their utmost to accommodate them.
Attention to Detail
Their dedication to authenticity extends to every inch of the Vulcan. Each livery included with the product comes pre-fitted with the correct equipment. For example, the K2 tanker liveries will automatically feature the Hose-Drum Unit (HDU). They've meticulously researched and referenced photographs to ensure that every individual livery is equipped with the correct airframe equipment, reflecting the Vulcan's real-world history.
It's their way of ensuring that your Vulcan is not just an aircraft but a piece of history.