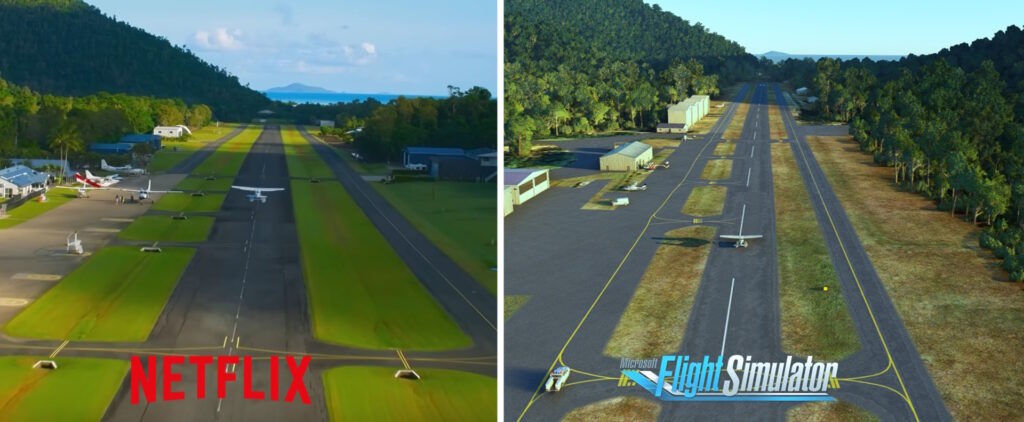 Since the end of September it is possible to watch the movie Love is in the Air on Netflix. Arguably, most viewers will focus on the "Love is" half of the movie but we will focus on the "in the air" half!
The movie depicts a small family company that operates a single airplane out of the gorgeous fictional town of Fullerton. Fullerton is in reality Whitsunday in Australia. Fortunately, Whitsunday is equally as gorgeous and definitely worth a visit, if not in real life, at least on the flight simulator. It is located on the Australian east coast near the great barrier reef. The airfield used in the movie is Shute Harbour Airport (ICAO: YSHR).
Departing from YSHR we made our way north-east to visit the Reefworld facilities and enjoy the great scenery by AUSCENE1. The Great Barrier Reef is an UNESCO World Heritage Site and this scenery is really worth having on your MSFS library.
On the way there we passed several beautiful islands as well.
Regarding which airplane to fly, things got a bit tricky. In the movie, the company operates a single Cessna 206 Stationair with floats. On the Simulator, the closest to the Stationair might be the default 172, the Amphibious Pilatus Porter or the Daher Kodiak with floats aka the Flotiak.
However, the hardest part wasn't even finding an airplane similar to the Cessna 206. In Love is in the Air, the inside of the 206 is actually a GippsAero GA-8 Airvan. Obviously artistic license was taken here but amusing, nonetheless. Most people will be oblivious to these small factual errors such as the company's mechanic fixing a radial engine when the only airplane they operate is a Cessna 206 or that one time when the pilot takes off with the fuel mixture on the cutoff position… Well, about the last one, they do mention high fuel prices hurting their business, so that's one way of doing things I guess.