12 miles west of the city of Cardiff in the village of Rhoose, Wales is where you will find Cardiff International Airport. It is the only airport in Wales that offers international flights. Its history can be traced back to the early 1940's when it was used for training by the Royal Air Force. Its potential for commercial flights was eventually recognized and over the decades it has seen scheduled flights to places like Spain, Ireland, France and the Netherlands. In 2011 approximately 1.2 million passengers passed through its gates, a number that has been on a steady decline since a high of just over 2 million in 2008. The airport has one runway 12/30 @ 7,848ft. The airport is also the main maintenance base for British Airways.
Cardiff Tremorfa Heliport, ICAO: EGFC, is located in Tremorfa, Wales and is approximately 18 kms east of Cardiff International Airport. Up until recently it was the operating base for the South Wales Police helicopter. With the end of their contract most of the traffic is now civilian in nature. The heliport can handle up to 180 aircraft movements per day.
Installation
When you make your purchase at SimMarket you get a link that allows you to download the full installer and retrieve the product key code from the UK2000 website. If you already have an account you simply log in but if this is your first purchase you will need to create an account which is also a very simple process.
The installation process is straight forward as most are nowadays.  You run the installer executable file, enter your product keycode, choose and confirm the installation path and let it continue. As the final step the scenery is added to the FSX scenery library.
The current download version is 1.02, it rectifies an earlier problem that had some misplaced buildings and trees.
When you go to download the scenery file you will see that there are also some optional files available for download that add 32 bit ground imagery for Cardiff airport and helicopter AI for Tremorfa heliport.
Configuration
After the installation has completed you will be presented with an options set up screen. The choices you make come into effect on the next restart of FSX. Each is well explained in the product manual.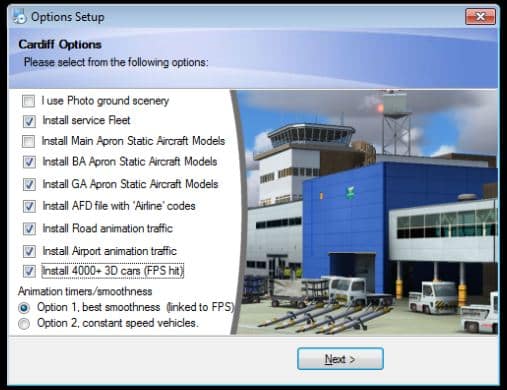 There are no options available for Tremorfa heliport.
Documentation
Included is an eight page manual in PDF format. It follows the same layout as previous UK2000 scenery manuals starting with a description of Cardiff airport and Tremorfa heliport. It then goes on with brief explanations of installing, uninstalling, display settings, known issues, compatibility, etc. They have a page devoted to the various selections found on the options screen. For anyone unfamiliar with their sceneries or unsure of the selections it is a very useful page. The manual is an easy and worthwhile read.
Charts are not included but are available from the site I have listed below. This is a great site that lets you access charts for many European countries.. You only need to register and create a user account, all of which is free.
http://www.ead.eurocontrol.int/eadcms/eadsite/index.php.html
Scenery
The scenery brings us accurate representations of both Cardiff Airport, ICAO: EGFF and Cardiff Tremorfa Heliport, ICAO: EGFC. Comparing this addon to the FSX default version of both of these locations the screenshots show quite clearly how dramatic the differences are.
Cardiff Tremorfa heliport does not even exist in FSX.
Ground Textures
The scenery ground textures are the base for any scenery and in this addon they are rendered from hi resolution photo images. This gives us nice crisp clear images even at extremely low altitudes. The test for ground textures can be found in the roadways and parking lots that are usually next to the main terminal. As you can see in my screenshots, even at the extremely low altitude I was at, the quality is not compromised.
Hard surface textures were also extremely well done. The textures show good detailing and there are colour variations you'd expect to see from weathering and traffic. I also noticed that there was some subtle shadowing that coincided with jet ways and building protrusions. It's these small touches that help put the scenery quality above others.
I chose to download and install the 32 bit ground texture files. To install them you simply unzip and copy to the scenery's texture folder. Always make a backup before making changes in case you need to revert back to a previous configuration. I experienced no degradation in performance with these textures.
Regarding seasonal changes, the textures for fall/winter are different than the summer/spring ones so you can get a sense of the different seasons.
Buildings
Cardiff is not a large airport and it does not have many buildings but those that are in the scenery have been faithfully reproduced. Using hi definition photo images, lots of details, great colouring techniques and accurate placement on the ground textures what we see here are some very realistic looking structures.
North of runway
South of runway
Of all the buildings at the airfield the most complicated in design is the terminal building. It is only several storeys high, with the tallest part being the control tower, and looks like it was made up by joining together a number of smaller buildings over the years. This gives it a somewhat disjointed look and so it lacks the clean lines of most modern structures. From a scenery perspective I suspect it was probably a difficult building to get right because of that. Regardless of where and how you look at this building the results are very impressive. They have made an unassuming structure interesting by putting in features that could have easily been left out but were instead included. As an example there is the open spiral staircase that goes from the ground up to the controller's level on the tower. The controller's pod is also worth checking out with its transparent glass and detailed console. Other noteworthy features are part of the high resolution images; there is the brick work, security cameras and doorways; all realistic looking because of the quality of the images.
The British Airways hangar is the other large building at the airfield. Located just north of runway 12 its design is typical for a hangar. Where it differs slightly is with the exposed metal roof trusses; a feature that has been modelled in detail.
South of the runway is a cluster of small buildings that are made up of the various maintenance buildings, Cardiff Academy of Aviation building and the airfield fire station.  Despite these buildings being small and simple in design the developers used the same techniques employed in the much larger and complex terminal building to bring these to life. If you look at each one closely you will see where those techniques such as using hi resolution images and added details is clearly visible. These buildings show signs of aging and some neglect which gives them a very realistic look. Another plus of the great image quality is that you can distinguish between the  different building materials used in their construction.
Objects
The scenery includes the normal array of objects and vehicles you expect to see at an airport and the quality as I anticipated was very good. The care and attention to detail is everywhere. Apron areas have vehicles and tow bars that appear to be ready and waiting for the next aircraft to arrive, cargo areas include freight and the general aviation area has a variety of items like mobile power units, oil barrels and fire extinguishers. Of course we find all types of ground lighting, signage and nav aids. Everything has a purpose and adds something to the setting and the overall feeling of reality.
The addition of objects in the scenery isn't confined to the airfield. Along the perimeter we see chain link fencing, the roadways have streetlamps and there are some large advertising billboards. Looking through the fence into the airport at ground level you could almost believe you were actually there.
Within the options menu you have the ability to add static aircraft to the aprons plus cars to the large parking lots. This is something they have done for several of their airport sceneries and I think it is great. If you have a PC that can handle it these added objects go a very long way in making the whole area look so much more lifelike. After all, how often are you going to see empty parking lots at a busy airport?
I found that enabling them added so much to the visuals with no degradation in performance.
Unfortunately there is one type of object that stood out from the rest but it was for the wrong reason. The 2d people they add in their sceneries have come to look out of place; their quality is sub-par when compared to the rest of the airport. They should seriously consider upgrading these to better models or removing them altogether.
Animations
This scenery includes animated vehicles on the roadways adjacent to the airport as well as within the airport along the aprons and service routes.  The vehicles follow realistic paths and stick to the roadways. I noticed a variety of vehicles moving around but the favourite of mine was the fire truck. I observed it moving along perimeter roads.
These guys go that extra step and include an animated service vehicle fleet and marshaller for your aircraft. The service fleet includes catering trucks, fuel truck and baggage conveyer. I did notice a problem with the vehicles sometimes not lining up correctly with the aircraft and had to revert to slewing the aircraft to correct this. You will see that you can enable or disable the service fleet via the Options menu. I chose to eventually remove it as I am running GSX but it is a great alternative if you are not running a third party addon.
Cardiff Tremorfa Heliport
The Cardiff heliport consists of the main terminal building, several static helicopters, vehicles and people. Unless you already know where this heliport exists or you select it from the airport listing in FSX you would likely never find it since it's so small. Overall the quality was very good and it shares many of the same characteristics mentioned previously with Cardiff International airport. There were a few things that stood out though. The first was the people standing outside the terminal building; they are of a much higher quality than the older graphic 2d people found at Cardiff airport. The second item I noticed was that the scenery was completely dark at night; no overhead lighting or building lighting what so ever. The only visible light was some ground lighting.
Night
As I expected the night time rendition of Cardiff airport was quite realistic looking. All aspects of night lighting were very well done. I especially liked the images they use to portray the buildings and their interior lighting. Again, they use high resolution images so it gives you the illusion of actually looking into the building. I was half expecting to see people walking around waiting for their flight.
Final Thoughts
I was extremely happy with the product and its quality. Despite a minor problem with the outdated 2d people graphics I can say with confidence that they have done it again and given users another realistic airport that everyone will enjoy. With each new release this developer continues to solidify their reputation as one of the best airport scenery developers for FSX.
My Ratings
Installer:  Excellent. Little effort required, adds entry to FSX scenery library.
Documentation:  Good manual.
Modelling:  Great visuals and outstanding quality overall.
Extras:  Lots of animated road and apron traffic. Service fleet included for those who don't have AES or GSX.
Download Size: FSX 75MB, FS9 74MB
Price: EUR 20.91 without VAT
Developer Homepage: http://www.uk2000scenery.com/
Link: http://secure.simmarket.com/uk2000-scenery-cardiff-xtreme-egff.phtml
Test System:
Intel i7 960 OC @ 4.2 Ghz, 6 Gb RAM, EVGA GTX560 Ti w/1.2 Gb video, Win 7 Ultimate 64, FSX w/acceleration, Ultimate traffic 2, REX Overdrive, GEXn, UTX, AES, GSX.
Richard Desjardins