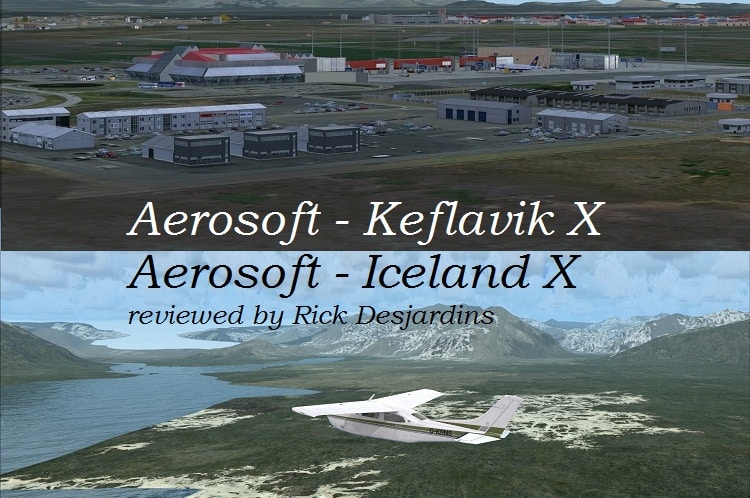 In this review I will be looking at two products from Aerosoft; Iceland X and Keflavik X.
Iceland also known as the Republic of Iceland is an island country with an area of 103,000sq kms in the North Atlantic. It is sparsely populated having only about 320,000 inhabitants and of those almost two thirds live in the southwest region near the capitol city of Reykjavik. The city's airport, Reykjavik Airport is also the center for domestic flights. In 2010 Iceland made the news when the volcano Eyjafjallajökull erupted causing major disruptions to flights in western and northern Europe for a number of days in April of that year.
Keflavik International Airport, ICAO: BIKF also goes by the name of Reykjavík-Keflavík Airport. It is the largest airport on the island and the main hub for international air travel. The airport was originally built by the United States military during World War II. In 1947 it was handed over to Iceland but was jointly operated by both the U.S. and Iceland until 2006 when full control was given to the government of Iceland. The airport has two runways; 02/20 @ 10,020ft and 11/29 @ 10,056ft.
Installation
The first thing you should be aware of is that if you choose to install both products it is recommended you install Iceland X first.
Iceland X uses what I'll call the original Aerosoft installer. There is no launcher program so no need to activate the scenery. This means that you only need to execute the installer file and add your registration information when prompted to do so.  During the process you are asked if you want dynamic ship traffic installed. As the final step the scenery is added to the FSX scenery library for you.
Keflavik X uses a two-step process with a slight twist. The first part is the familiar installer where you add your registration information. After the scenery has finished installing the Aerosoft Launcher program will start. The difference here is that the scenery does not need to be activated it is simply listed as being installed.
Configuration
Both sceneries use the Season tool, this is the tool used to load the appropriate seasonal textures for the vegetation and ground. The difference in this version of the tool is that with Iceland X you have an additional option that prompts you to choose whether or not you want to install mipmap textures when you update the season. The choice to select or not will depend on your particular situation.
Documentation
Both sceneries come with a manual. Iceland X with a 20 page PDF document and Keflavik X with a 10 page PDF document. Keflavik X also comes with a full set of airport charts.
The manual for Iceland X covers all of the usual topics such as installation and removal, display settings, scenery settings and traffic settings. In addition it has some scenery specific information that I found interesting and useful while using the scenery. What I am referring to are such topics as:Icelandseasons, places to visit, texture tool and airport information. All of these are worthwhile reading in order to get the maximum benefit from the product.
Charts are not included for any of these airports but a link is provided where they can be accessed and downloaded.
Included with the documentation for Iceland X is a nice graphic of the island that shows the locations of all the airports along with some other sites that are worth exploring.
The manual for Keflavik X also contains the typical material found in most manuals. In addition it has a nice little table that provides a correlation between the seasons and months of the year. I am a bit confused as to why this information wasn't part of the Iceland X manual, to me that would have seemed more appropriate.
Keflavik X documentation includes a full set of airport charts which were very useful.
Scenery
Iceland X
Scenery features as listed by Aerosoft:
* Coverage of the whole island
* High resolution mesh
* Special land class textures to render Iceland`s typical colors (like Lava, Glaciers,   wasteland,…)
* Accurate coastlines and islands
* Thousands of rivers, lakes and roads
* Photorealistic glaciers
* Revolutionary new waterfall effects
* Geysers, hot spots and more typical Icelandic landmarks
* Individual seasonal adjustments for all 12 months
* All Icelandic airports included (*)
* More than 40 airports with custom layout and buildings
* High detailed airport scenery forReykjavik, Akureyri, Egilsstadir, Isafjordur and         Vestmannaeyjar
* Custom scenery for villages, harbors and landmarks around the island
* Weather and snow effects
* Dynamic AI ship and air traffic (VFR aircraft) included
* High resolution map included
Aerosoft in cooperation with the Icelandic Flightsim community have accomplished quite a feat with this scenery addon modelling the entire island. This is a massive undertaking considering that there are approximately 50 airports along with pockets of populated areas and then you add some interesting sights such as the glaciers, waterfalls and volcanos. There is surprisingly a lot to see and keep your interest.
The majority ofIceland's landmass is barren and uninhabited making it ideal for those who enjoy the beauty of nature. In my opinion this is where the Iceland X scenery really shines. It is in portraying the natural beauty and the ruggedness of the landscape. The textures appear to be photo scenery and therefore look very realistic. Only at very high altitudes do you see some tiling effects.
To best enjoy the beautiful landscape I spent the majority of my time flying around the island in a Cessna CT210 at low altitudes and at relatively slow speeds. The airports are small and perfectly suited for small GA aircraft. As I flew around the island several words kept coming to mind; breathtaking, beautiful and unspoiled. This is the scenery's strong suit.
Using the map of Iceland that was part of the documentation I was able to find and identify most of the noteworthy geographical features such as the waterfalls and glaciers. Finding some of them was a feat as there often wasn't much to go by as far as visual clues but it was interesting searching for them. During many of my flights I used real world weather which most times meant overcast and low cloud cover.
Iceland is exposed to all four seasons and so as expected the scenery addon reflects those changes. Each season has its own characteristics. I initially thought that winter would look washed out, I was expecting to see a massive amount of white but I was pleasantly surprised. There were different shades of white and the contrasting landscapes were actually quite stunning. I got the sense that this could be a cold and inhospitable landscape.
When I moved on to the populated and industrialized areas I felt that the scenery was lacking slightly. Most if not all of the ground textures they used appeared to be generic landclass textures. This caused several problems; roadways and autogen did not match the underlying graphics and there was no transition between these areas and the adjacent natural textures. The vast majority of the island is unpopulated so the problem was only noticeable when you were near these pockets of civilization.
There are 40+ airports included as part of the scenery many with custom objects and buildings. Most are best suited for smaller aircraft and have limited facilities. Combine these small strips with real world weather and see if you are up to the challenge. The manual provides basic info but no charts; they are available via a download link if you really need them.
This is an island so it stands to reason that there will be a maritime presence. All around the island in various locations I came across small private vessels, large container ships and everything in between.
The rendering of the capitol city Reykjavik includes the airport plus some of the local landmarks like Hallgrímskirkja which is the largest church in Iceland and Perlan which is a domed structure sitting on top of six geothermal water tanks.
The ground textures suffer the same deficiency I just mentioned in my previous paragraph, however because it is a larger area I don't think it is quite as obvious.  In my comparison screenshots you can see that the differences between the default scenery and the Iceland X are dramatic, especially the coastlines and port areas. You can see that the port area is totally non-existent with the default scenery. The high resolution mesh and accurate coastlines are definitely two very significant improvements to the scenery.
The airport at Reykjavik has been given some extra attention. This is after all the main domestic airport onIcelandserving flights within the island and also to Greenland and theFaroe Islands. They've added higher resolution ground textures, custom buildings and objects throughout. The quality of this airport is equivalent to one you would purchase.
Keflavik X
The largest airport on the island; Keflavik International Airport was not rendered in any great detail in the Iceland X addon but instead was given special treatment as its own separate addon.  Overall I felt it was very well done and met the high standards found in other Aerosoft releases. The airport is rather large with several different clusters of buildings spread out over the airport grounds. It's time as an American military base are easily seen by some of the remaining aircraft shelters and housing complexes.
Ground textures throughout the airport were hi resolution and very convincing. The hard surfaces especially, the airport has been around for some years and you can see the results of that with dirt and weathering clearly visible.
Modelling of the buildings at the airport was very good. The use of quality high resolution textures made sure that any intricate details were clear and well defined even when viewed at close range. These same textures also showed some of the effects of weathering and ageing. Complimenting these were discrete details in the structures like indented doorways. Several stood out as exceptional; the water tower is one and then a radar dome. Each happens to have exposed metal stairways that show the discrete stair tread and railings.
The main passenger terminal is an interesting looking building; whoever designed it made extensive use of geometric shapes and angles for the walls and roof and then several walls have what I can best describe as a slatted venetian blind type facade. Both features very nicely recreated.
The airport had plenty of objects and like everything else I saw they were high quality. They included pretty well everything you'd expect to find; signage, ground lighting, approach lighting, pole lighting, fencing, baggage and freight, storage containers and of course the different types of vehicles.
To show you what I mean about the quality I've included a screenshot of one of a number of signs found around the airport.
After spending some time at Keflavik X I began to get the feeling that something was lacking and then it struck me, the only activity was that of the AI aircraft. There is no apron traffic included with this airport. I've become accustomed to seeing that feature as an integral part of recent Aerosoft airports and to not have included it I feel was a significant omission.Keflavikhowever has been added to the list of supported airports in version 2.13 of AES so some functionality can be had via that addon.
Seasons
Seasonal ground textures are also included and can be selected via the season tool. Winter textures showed partial snow cover along the less travelled areas of the airport making it look so much more realistic. With winter textures selected you also get snow covered rooftops. It was important that they got this right as winter and snow are significant here.
Night time flying is special for obvious reasons, but I found night time in Keflavik in the dead of winter to be quite dramatic. It just felt so cold and eerie. All of the elements that go into night time scenery were present and Well done I felt.
Final Thoughts
Iceland is one of those places we dream of going to but rarely ever get the chance.
Aerosoft have given us two addons that together provide the means by which you can have the opportunity to see and experience the beauty of Iceland. As you take the time to explore this island you will find yourself in awe of what you see and will want to come back again and again. I thoroughly enjoyed both products as they complement each other and together make for a great package.
My Ratings
Installer:  Very good. Simple to use. No online activation required for either product.
Documentation: Very good. Informative scenery manuals, Keflavik X includes a full set of charts.
Modelling: Good. Easy on the frame rates.
Extras: High resolution mesh, accurate coastlines and islands. Dynamic ship traffic.
Iceland X
Download Size: FSX 362MB
Price: EUR 20.97 without VAT
Developer Homepage: http://www.aerosoft.de
Link: http://secure.simmarket.com/aerosoft-online-iceland-x.phtml
Keflavik X
Download Size: FSX 234MB, FS2004 186MB
Price: EUR 15.08 without VAT
Developer Homepage: http://www.aerosoft.de
Link: http://secure.simmarket.com/aerosoft-online-keflavik-x.phtml
Buy 2 for EUR 15.76 each (+VAT where applicable)
Test System:
Intel i7 960 OC @ 4.2 Ghz, 6 Gb RAM, ASUS 480GTX w/1.5Gb video, Win 7 Ultimate 64, FSX w/acceleration, Ultimate traffic 2, REX Overdrive, GEXn, UTX, AES 2.13
Richard Desjardins